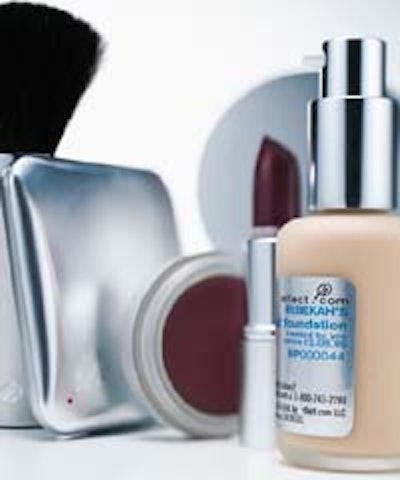 Researching a packaging story can sometimes lead an editor down an unfamiliar road. Few routes were as foreign to this editor as one taken through cyberspace recently to create a "beauty profile" for his wife. Created at a Web site called reflect.com, the profile information is used by the company to formulate custom cosmetics, skin and hair care products for women. With a few more clicks of a mouse, the online consumer can also specify container graphics and closure styles for those products.
San Francisco-based Reflect.com's Web site went live in December. And though its beauty products are priced to compete with entry-level offerings at "prestige" stores, Reflect.com's products are sold exclusively on its Web site. The beauty profile created for each woman creates the potential for more than 50ꯠ SKUs. Product sizes range from 3 mL to 16 oz.
"We're a first-of-its-kind company in a customized, interactive beauty segment online," believes Reflect.com's Alex Zelikovsky, vice president and chief logistics officer. He served as the keynote speaker last month at "Packaging for e-commerce, direct-to-consumers," a two-day program hosted by Michigan State University's School of Packaging.
Selling to individual consumers via the Internet presents its share of packaging and logistics challenges. Unlike the retail environment, where product is often shipped in pallet loads holding product-filled shipping cases, Reflect.com has to package and ship individual orders as they're entered on its Web site.
"We have a unique contract manufacturing and fulfillment process," Zelikovsky says. "We are not a mass [merchandiser]. We work in units of one, therefore our supply chain is designed based on consumer demand for individual SKUs."
He continues, "In traditional distribution, cases are shipped to stores where they're broken down, with items stocked on shelves. For an e-commerce company, there is no store, so we are packing and shipping products to the end consumer from our distribution center. The 'checkout' is on our Web site."
Packaging and shipping are done at a leased distribution center "in the greater Cincinnati, Ohio area," says Zelikovsky, "which is centrally located to serve customers in the United States and Canada." He says sales will likely be global in the future. Perhaps not so coincidentally, Cincinnati is also the headquarters for Procter & Gamble. P&G, says Zelikovsky, invested $35 million for a 65% stake in Reflect.com.
Shrink wrapper adds value
Zelikovsky is quite guarded when it comes to revealing packaging materials or vendors. The only supplier the company was willing to divulge is Eastey Enterprises (Rogers, MN). Eastey's Model ET2412 shrink wrapper is the workhorse at the center.
"We shrink-wrap every outbound shipping package because we feel it lends integrity to the package," says Zelikovsky. "We use one wrapper and we run a package through it once every five or ten seconds," he estimates. "As our business continues to grow, we'll add machinery.
"We use conveyors and scanning and manifesting equipment, but much of our packaging process is manual. That's not uncommon for e-commerce distribution because of the diversity of products we handle. The return on investment [on a large packaging machine investment] would look pretty grim," he says, given the uncertainty inherent to e-commerce orders.
For shampoos and conditioners, formulations are based on factors such as hair length, fineness of hair, water hardness, time spent in the sun, and so on. Similar factors are used on the site's "Creation Lab" to create skin care products including body wash, night moisturizer and toner. Cosmetics products include foundation, blush, eye liner and shadow, mascara, lipstick and nail polish.
Once a product is selected, a prompt on the screen gives the consumer a choice of "designing" the primary package. The packaging options don't require the detailed profile necessary to create the beauty product, but the opportunity for a consumer to directly select any packaging components is unusual, if not unique. Each person can select a container graphics pattern from several "accent" options shown on the screen. Additionally, a screw-on or dispensing pump provides closure options.
Packaging mystique
"Packaging is extremely important for us," says Zelikovsky. "We sell a prestige line of beauty products, and we work diligently to develop a look, feel and mystique for our packaging. Once the package is shrink-wrapped, it has to arrive in pristine condition each and every time. The package has to convey the overall experience for each woman. It has to delight her."
At Reflect.com's distribution center, containers, bottles and tubes are used to fill orders. These primary packages may be glass, plastic or metal. As the accompanying illustrations show, container shapes vary, which is common for cosmetics packaging. Zelikovsky points out, "We use container suppliers [located] worldwide."
He wouldn't reveal how these products are filled. "We've come up with a cost-effective, efficient contract manufacturing/filling process," he notes. "It's one of our biggest competitive advantages in the marketplace. I'm not prepared to discuss the details of that."
Several packaging "lines" are staffed by employees, with different processes used for multiple or single product quantities, and for sample and promotional packs.
The chief logistics officer does say a mix of permanent, temporary and part-time workers are used, based on consumer demand, to best manage costs. "We like to control the quality, and we feel we need 'owners' on the floor. That's why we decided to go via the amazon.com model," he says. Zelikovsky previously served as amazon.com's director of logistics.
While that aspect of Reflect.com's business is similar to amazon.com, he explains that the two use completely different business models. "We're not competitive with them," says Zelikovsky. "They're a mall and they resell products. We are a customized online service where products don't exist until a consumer makes them."
Products, he says, are priced "at the entry level of the prestige beauty segment, competitive with over-the-counter products at stores like Nordstrom's, Macy's and Sachs Fifth Avenue, but you cannot buy them at retail. They're made just for you."
This editor ordered a 10-oz shampoo with dispensing pump for $12, a 0.4-oz hypoallergenic foundation for $16.50 and a 14-oz body wash with screw-on cap for $14. There was no shipping fee and a confirmation number was provided with the credit card order. The site indicates the transaction is secure. Shortly after placement of the order, an e-mail order confirmation was returned, verifying the order, price and order number. A few days later, a second e-mail said the order had been shipped.
When the order arrived two days later, the spiral-wound paperboard package arrived intact, with the shrink wrap protecting the attractive exterior graphics. The inside diameter of the container measures 4¾". The container itself is about 3/16" thick and 8" tall. Circular plastic end caps completed the package.
The container held all three individual product packages, each wrapped in colorful tissue paper. None of the packages included a supplier identification "bug." The shampoo bottle included a recycling code indicating it was high-density polyethylene. The body wash bottle carried no code, though it appears to be polypropylene. The powder foundation came in what looks like a brushed aluminum case.
Each container had two pressure-sensitive labels. One wrapped around the container, near its center. That label was decorated with the graphics selected on the company's Web site. The other label had the company name and product size in black type on a silver background. Standing out on that label is a colorful, personalized identification that says "Tammy's powder foundation," or "Jimmi's shampoo," followed by "created by you online 05/12/00," along with a code.
What made the informational label unusual was that it included no ingredients statement. Zelikovsky says that each product is customized, with ingredients not listed on the label, but made available online.
Safe shipping
Personnel pack beauty products into one of two types of outbound shipping containers. Most go into a spiral-wound paperboard cylinder, which Zelikovsky believes "raises a few eyebrows. It's extremely distinctive and unique. We use four different sizes that vary in height and diameter." The second shipper is a corrugated box.
When pressed for specifications or supplier names for these containers, Reflect.com declined, citing competitive reasons.
Each decorated outbound container may hold one or several beauty products, depending on size of the product(s) and container. Workers use what Zelikovsky describes as "reinforced" tissue paper as dunnage around each product and at both ends inside the outbound container. Zelikovsky notes, "We're also considering other dunnage options, but our shipping tests have shown virtually zero degradation or product damage with the tissue paper."
Preventing damage is critical not only to product integrity, but ultimately to the success of the company. If a consumer is not pleased, Zelikovsky says Reflect.com will make an attempt to satisfy the consumer, at no charge.
"Our products are well-protected, and they have to be. It's conceivable that a box carrying a 27-inch projection TV could sit on top of our cylinder," he says. "So we test our product/package for very high weight tolerances and use thick corrugated grades that are virtually unbreakable."
Shipments are usually made via United States Postal Service Priority Mail and arrive at the consumer-specified address between seven and 10 days after the Web order. "Just like with our products, we learn from our consumers every day. We learn what they want and need and based on that information, we'll expand our shipping operations to include priority or overnight service if needed. For example, some of our alcohol-based product cannot be shipped by air carrier, so we use ground services."
Zelikovsky points out that Reflect.com is a private company and therefore won't reveal sales or volume data. However, he says, "as an e-commerce company, there's difficulty in predicting demand because we're growing so rapidly. We have a tremendous number of repeat clients and we've grown incredibly quickly. In the near future we plan to start shipping globally."
As unpredictable as the future may be for Reflect.com, Zelikovsky oozes enthusiasm when it comes to the company's business concept. "We are redefining commerce and operations as we know it." Looking at the concept from a U.S. historical perspective, he explains, "We've gone from hand-tailoring a product to an industrial revolution and the era of mass merchandising. With this new channel called e-commerce, we are seeing the supply chain in the manufacturing world back to that unit of one. We can make the product just for you."
Companies in this article