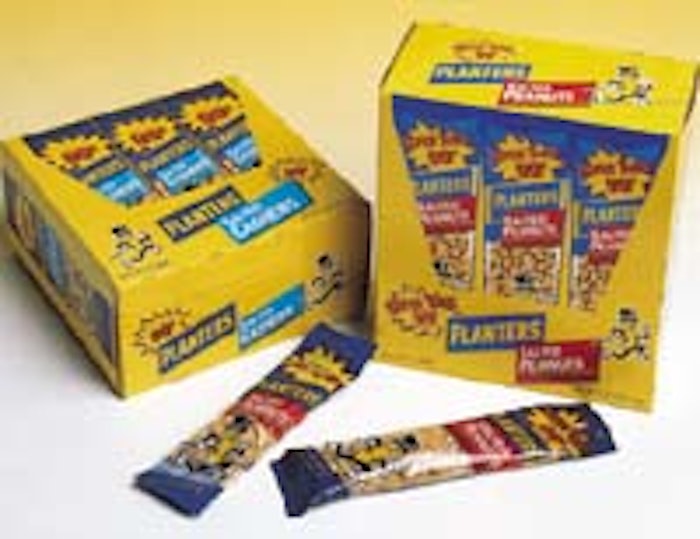 Demand for single servings of nuts packed in plastic film has grown steadily in the last few years at Planters Specialty Co., a division of East Hanover, NJ-based Nabisco. Sold for less than a dollar each from display cartons at retail check-out counters, these tubed nuts, weighing between 1 ½ and 2 ½ oz, appeal to on-the-go snackers of all ages. They're a big hit at mass merchandisers like Wal-Mart, so it's no wonder Planters' sales are surging.
Vertical form/fill/seal machines were an obvious solution for primary packaging of these products almost from the very beginning. But for a long time, secondary packaging remained a manual operation at the Fort Smith, AR, plant where the tubes are produced. That changed in January '99, when an integrated system of automated machines was custom-designed and installed by Goodman Packaging (Lake Forest, IL).
"They worked with us to determine what we needed and then delivered the whole package," says Ted Brown, engineering manager at the Fort Smith plant.
The "package" Brown refers to represents an investment of $1.7 million. Before the equipment was installed, the only automation consisted of two Rovema (Lawrenceville, GA) twin-tube vf/f/s systems each fed by a 14-head Ishida combination scale from Heat and Control (Hayward, CA). Their output was delivered to workers who erected, filled and closed tuck-style cartons. Case packing was done manually, as well.
The integrated system installed by Goodman freed up 10 workers for redeployment elsewhere in the plant. "It also boosted capacity by 50 percent," says Brown. The system consists of the following:
• Carton erector
• Three dual-infeed, top-load carton packers
• Checkweigher
• Carton closer/gluer
• Case erector
• Case packer
• Case taper.
Two cartoners, one frame
The Model PPR2 Plus dual-infeed carton packers are perhaps the most intriguing components. Each machine is two cartoning systems within a single frame. In each machine, two robotic heads pick and place three bags of nuts at a time into a waiting carton. The bags vary in size slightly, but essentially they're about 8" long and 2" in diameter. Cartons are in three sizes: 8"x7 ¾"x4 ¼", 9"x7 ¾"x4 ¼", or 8 5/8"x5 ¼"x4 ¼". The first two hold 18 bags of nuts each, the last one holds 12.
The ability to handle these carton varieties and to change easily from one to another was a critical consideration, says Brown.
"We're a just-in-time-type company reacting to customer orders much faster than most companies," says Brown. "So we're forced into changeovers on a regular basis. On the Goodman equipment, it's close to tool-free. Rapid-access bolts and locking levers are helpful."
All three cartoners can be changed to a new carton size in about an hour. Operators physically adjust infeed guiderails in a handful of locations. The rest of the cartoner changeover is taken care of at the human/machine interface panel. The operator selects which product is to be run and the three machines automatically configure themselves for that product (see sidebar for more on the controls running the carton packers).
"The biggest delay in changeover is in cleaning the scales and other product-contact surfaces if we go from one product to another," says Brown. That kind of changeover, he estimates, takes about four hours.
Shaped like a U
When the automated cartoning and case packing equipment were installed, Planters also added a third twin-tube bagger from Rovema topped by another 14-bucket Ishida combination scale from Heat and Control. The new line is essentially a long narrow U that begins and ends in the warehouse adjacent to the actual packaging room. Carton erecting, carton closing, case erecting, case packing and case taping are all done in the warehouse.
First is carton erecting, performed by a machine built by Packaging Machinery Service Co. (Lithonia, GA). The Model GF42 uses hot melt glue to form the cartons. Supplied by International Paper (Memphis, TN), the cartons are 20-pt SUS printed offset in three colors plus aqueous coating.
Cartons are conveyed through the wall and into the packaging room, where each twin-tube bagging system feeds a dual-infeed carton packer. Baggers are positioned in a straight line one beside the other, as are the carton packers. The total distance from the beginning of the first cartoner to the end of the third one is about 35'.
The empty-carton conveying system runs right past all three dual-infeed cartoners. A network of photo cells and proximity switches delivers inputs to one central programmable logic controller that controls the flow of cartons along the entire 35' length of this conveying system.
As soon as a carton packer discharges a full carton and thus requires a fresh one, a photocell signals that information to the PLC. The PLC, an Allen-Bradley SLC 5/04 from Rockwell Automation (Milwaukee, WI), then signals a pneumatic solenoid to fire, which causes a small metal finger to block the forward progress on the empty-carton infeed conveyor. A pick-and-place head with a single vacuum cup strokes over and down to pick up one empty carton. The head pivots 90° to orient the carton properly, and then it strokes back to drop the carton on a staging area between the two robotic pick-and-place heads of the carton packer. From this central staging area, the carton is pushed left or right, depending on which carton-loading station requires a fresh carton.
Bags from the other side
While empty cartons are being fed into the cartoners from one side, individual bags of peanuts are fed from the opposite side. The bags are made of a two-layer adhesive lamination of 75-ga oriented polypropylene and 2-mil coextruded metallocene linear low-density polyethylene/DuPont Surlyn®. Converter Bryce Corp. (Memphis, TN) reverse-prints the OPP flexographically in five to eight colors, depending on nut variety.
Each bagger/cartoner pair operates identically. The bags drop from a twin-tube bagger onto two 12'-long inclined infeed conveyors. Each inclined conveyor deposits the bags onto its own flighted conveyor, and each flighted conveyor feeds one robotic cartoning head. Servo-motor driven, each flighted conveyor is timed so that it indexes one flight forward every time a bag comes up the inclined conveyor.
When three bags are positioned correctly beneath the robotic carton loader, it picks and places them into a waiting carton. As it does, three more bags position themselves to be picked in the next cycle. Cartons receive either four layers of three or six layers of three, depending on bag size. Should one of the two robotic cartoning heads go down for any reason, the other can continue to operate.
Filled cartons are discharged onto a takeaway conveyor running in the opposite direction of the empty-carton infeed. The filled cartons enter the takeaway conveyor from any one of six positions. To prevent collisions, photocells send carton-position information to the system's PLC, which in turn signals a clamp to gently hold a carton back if necessary until the path is clear.
Each bagger/cartoner tandem operates at 60 bags/min. So the combined output on the line is 360 bags/min. That may not be blistering in some product categories, but here it's mighty impressive considering the complexity of the task at hand.
A Hi-Speed (Ithaca, NY) checkweigher rejects any carton containing an incorrect number of bags. Once outside the packaging room and back in the warehouse, filled cartons run through a Model 3FL carton closer from Packaging Machinery Service. The top panel is plowed closed and hot melt glued. Then, in a second section, the ends are closed and glued.
More pick and place
Case packing on a Goodman robotic pick-and-place machine is next. The machine receives a steady supply of RSCs from an automatic case erector made by Packaging Machinery Service. Mounted on the case erector is a Matthews (Pittsburgh, PA) ink-jet coder that imprints the case with product identification and date.
Case bottoms are taped by an Accuglide II taping head from 3M (Minneapolis, MN). The forming mandrel moves laterally to transfer the case over the taping head. This provides a positive backing and improves case squareness and tape application.
The infeed system of the case packer delivers filled cartons to a load station. Once three cartons are in place, a servo-driven robotic head uses vacuum cups to pick and place all three into the waiting case. Metal flaps hold case flaps clear and out of the way on all four sides during the time the robotic head is inserting cartons into the case. As soon as the last layer of cartons is in the case, the metal flaps rotate slightly up and out of the way, thus releasing the full case and allowing the next empty case in.
The case packer is run by an Allen-Bradley SLC 5/03 PLC. The actual loading head is driven by two Rexroth Indramat (Hoffman Estates, IL) servo motors, one for the vertical and one for the horizontal axis. All actions performed by the loading head, such as placement depth into the case, are changed automatically by selecting from a menu at the Allen-Bradley Panel View 500 touchscreen.
All that remains is taping of the case top, done by a 3M system. Palletizing is still done manually, though Brown says that should soon be automated, too.
Payback, he says, on the $1.7 million already invested is expected to take about 3 ½ years. Could firms other than Goodman have engineered and installed such a system? Possibly, says Brown. "But Planters has a 25-year relationship with Goodman," he says.
It doesn't appear the relationship will end anytime soon. Two more dual-infeed cartoners, as well as upstream and downstream equipment similar to that already installed, are on their way to Fort Smith now, says Brown.
See sidebar to this article: Controls play a key role
Companies in this article