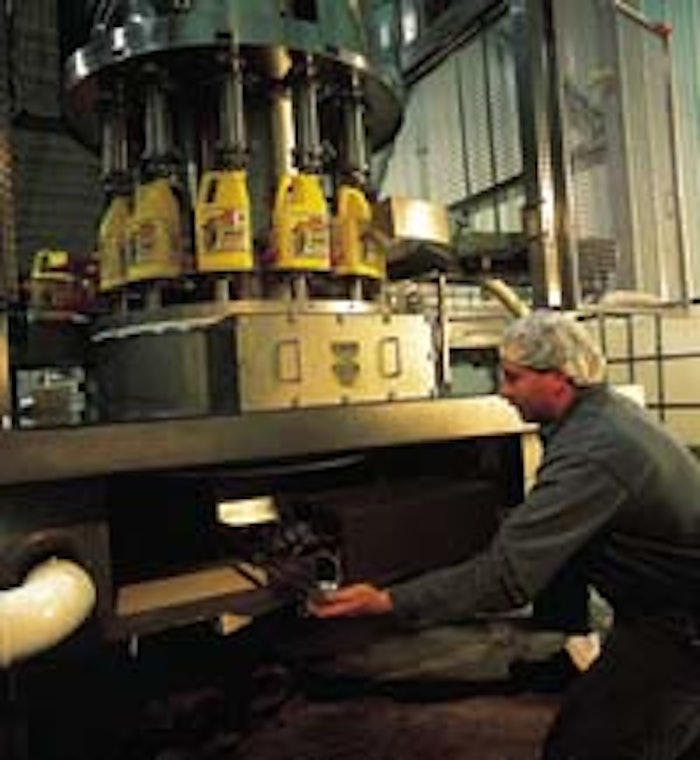 According to Charles Sutera, head of sales at Catania-Spagna, steady growth in sales of the firm's vegetable and olive oils over the past two years brought the company two choices in its approach to packaging: add more shifts or find a faster filler.
Faster filling was the choice made by the Ayer, MA, firm, and the filler selected was a 12-head net-weigh rotary filler from EPSI (Bogart, GA). Its PC controls system allows it to fill 1-gal plastic bottles of edible oils at 85/min, up from 52/min on the old filler. Vice president of operations Steve Sampson calls the filler, purchased through Jaffco Packaging Machinery (Uxbridge, MA), "phenomenal."
"Everyone we talked to in the field said we'd need at least 18 filling heads to reach the speeds we needed," says Sampson. "But we didn't have the room for an 18-head filler, and it would have cost another $100ꯠ."
Sampson is equally pleased with the machine's filling accuracies. "Quotes from other machinery builders were in the range of plus or minus five grams per gallon," he says. "EPSI quoted one to two grams." In operation since February, the machine has actually exceeded its maker's claim. "I have the statistical data to prove that on our one-gallon bottles, we're holding to within five hundreths of a gram," says Sampson.
The new filler performs as admirably as it does, says Sampson, partly because it's mechanically solid. But structural reliability is not what makes the filler such a powerful tool. "It's powerful because of its controls package," says Sampson.
PCs are linked
That package consists of two PCs connected via the Arcnet communications protocol and a third PC connected over Ethernet. Both Arcnet and Ethernet are open standards not dominated by any one supplier. The PC controller on board the filler, a 486 100-MHz processor, runs Intellution's (Norwood, MA) Paradym PC-control software on top of the standard DOS operating system. This PC handles all the real-time machine control. Based on machine position, it determines when to signal the solenoids that open and close the filling valves. It monitors the load cell in each station, and with each fill cycle it tares the empty bottle, begins filling, stops filling and makes corrections for the next fill if the previous fill was off target.
The second PC in the network serves as the human-machine interface (HMI) station running Intellution's Fix HMI software. It is a Pentium II, 400-MHz PC that's connected to the on-board PC controller via Arcnet.
The operator uses the HMI to choose filling parameters from a menu, and this information is transferred to the onboard PC over Arcnet. The onboard PC then controls the filler based on the parameters it receives from the HMI PC.
The controller also sends back to the HMI via Arcnet a wealth of real-time data—how long it took to tare the empty bottles, weight of empty bottles, how long it took to fill, fill weights, etc.
The third PC, linked over Ethernet, is a view-only node in Sampson's office that lets him monitor filling activity right from his office. He can also download any filler information he wants for statistical analysis. He could have had the option of using his office PC for performing the same tasks routinely performed at the HMI PC. But he rejected it. "There's too much room for error that way," says Sampson. "Besides, it's enough to be able to monitor real-time operating data from my office."
Sampson says he's especially pleased that the controls components that run the new filler are nonproprietary. "If the PC boards are proprietary to a specific vendor and a board fails, you can only replace it through that vendor, and it might cost $1겨," says Sampson. "If a PC goes down on this filler, I can go to Staples or Comp USA and buy what I need to have the machine running again in an hour. It's open architecture, and I don't know of anyone else in this industry who offers that."
Capturing data
The system's ability to capture statistical data is a welcome feature, says Sampson. For one thing, it means that if anything should go wrong with a load cell, Catania can continue running simply by selecting an option from a menu that causes that single filling head to fill not by weight, but rather by time. "The system stores so much historical data that it knows on average how long a valve needs to stay open in order to fill a container with the correct amount," says Sampson.
Computerized data collection is valuable not just in rare instances like the one above but on a daily basis, as well.
"I can pull up the history of every fill weight in an entire run," says Sampson. "In the past that was done by someone with a clipboard, who checked bottles at random and then transferred the data from the clipboard to a database on computer. Now it's all done for us.
"I need that data, too, to prove to customers that their bottles are on spec. For one account, we have to show that for every 800 cases we ship them, 10 percent of those bottles were weighed before and after filling and that the net weight of the filled bottles is correct. It used to involve taking empty bottles off the truck to the lab, where they were weighed and recorded. Then we had to weigh the same bottles full and record that data. Now those chores are eliminated."
What's more, adds Sampson, data is available for 100% of the bottles Catania fills. "We just ask the PC for whatever data we want and then print it out," says Sampson.
PC controls=speed
It's because the machine is PC-controlled that it operates as fast as it does with only 12 heads, says Sampson. Like other net-weigh fillers, the machine tares off the weight of each high-density polyethylene container before filling so that the product inside is the only thing being weighed once the filling valve opens. The onboard PC can communicate with each individual load cell at 2 Mb/sec, considerably faster than a PLC-based system, according to Sampson. And because it processes data at such high speeds, it requires less time to tare off the bottle weight and signal the valve that it's okay to fill.
Not only is the machine's PC fast and accurate, says Sampson, but it's also streamlined.
"Some other net-weigh fillers we looked at had all the electronics running off the top of the machine. It was a rat's nest of wiring and connections controlling each scale. That's not the case with our filler. The onboard PC is in a protected base. All wiring and anything involved in operating the machine runs down to the base, which is completely sealed and water tight. The base enclosure also has positive air pressure so no contaminants can get into the electronics of the machine. That means every day, we can take a 3ꯠ-pound pressure washer and wash and sanitize the machine thoroughly from the top down."
Another feature that Sampson appreciates is the accessibility of the onboard PC, mounted on a retractable slide. "Just take four bolts off and remove a locking pin, and the PC slides right out," says Sampson.
Changeover from one bottle size to another—3-L, 96-oz, 112-oz, 1-gal or 5-qt—is equally easy, he adds. "It's all snap-out parts that are color-coded. It takes about 12 minutes and requires no tools."
With about four months of production time behind him, Sampson is sold on the new filler and the controls package that makes it run so smoothly and reliably. "You can put a penny on edge at the input or discharge starwheel shaft and run the machine at a hundred bottles per minute without causing the penny to fall over," he observes. "No other machine we tested would even reach 25 bottles per minute before the penny would fall."
Sampson says he is working with EPSI on other Catania operations that could benefit from PC controls. When asked if he ever fears the PCs will "crash" as PCs sometimes do in office settings, Sampson says absolutely not.
Asked if Catania's operators have struggled to adjust to the new technology, the answer, again, is no. "Training was easy," says Sampson. "Our operators were running the machine the day it was installed."
Companies in this article