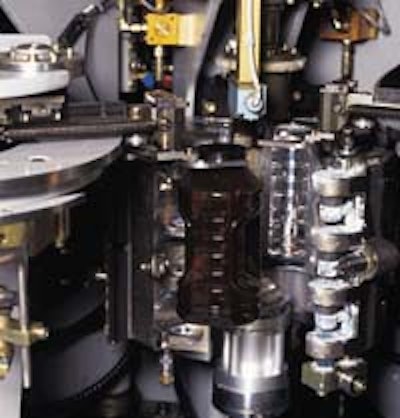 When Eagle Family Foods Inc. set out to convert its largest package of Cremora powdered non-dairy creamer from polyvinyl chloride to polyethylene terephthalate, the objective was direct enough: Reduce the cost of packaging materials and improve the package's consumer appeal without sacrificing packaging or distribution efficiencies.
Reaching this objective, however, was anything but simple, involving as it did a novel approach to blow molding of wide-mouth jars. The addition of a pinch-grip handle to the 1-kg (35.3-oz) container is what made the new technology necessary.
"This blow molder is the first of its kind," says Bob Larkin, director of packaging R&D at Tarrytown, NY-based EFFI. "It orients each preform neck finish in the mold so that when the bottle is blown, the thread-start is always in the same position relative to the pinch grip. This allows us to guarantee that when the closure is applied to the finished container, the flip-top pour spout is positioned where it needs to be if it's going to do the consumer any good: opposite the pinch grip."
With a 70-mm neck finish and a weight of 65 g, the 1-kg jars are blown by Ring Can (Oakland, TN) on an SBO Series 2 machine from Sidel (Norcross, GA). Introduced in June '98, the Series 2 machines retain many of the features found in the SBO Series 1. But some of these features have been optimized, says Ring Can's Doug Dygert, product development engineer, to yield a machine that is faster, more flexible and more efficient.
Ring Can was among the first companies to install an SBO Series 2, and it's the only company whose machine orients preforms in-mold prior to blow molding. Each of the blow molds (EFFI won't identify how many molds there are) has a small servo motor and a fiber optic sensor that looks for a tiny lug that is injection-molded into the neck of the preform. The servo motor spins the preform inside the mold until this lug is properly positioned. Then the mold locks shut and stretch blow molding begins. As long as the orientation lug is in the right spot, it's guaranteed that the thread-start on the neck finish is properly positioned. Consequently, when the closure is torqued down tight, the pinch grip in the back of the jar will be directly opposite the pour spout in the cap. Injection-molded of polypropylene, the closures are supplied by Weatherchem (Twinsburg, OH).
When asked if spinning the preform in the mold reduces bottle-making speeds, Dygert would not elaborate beyond "somewhat."
Dygert, who says he and project partner Mark Jackson spent more than a few weeks at Sidel headquarters in France to perfect the neck-orienting blow molds, says the container's pinch grip was another significant technical accomplishment.
"Pinch grips in PET aren't that new, but usually they're found in heat-set, hot-fillable bottles that are by nature very heavy," says Dygert.
"With this bottle, heavy was not an option because EFFI was trying to lightweight it to save money. So we had some hurdles to overcome in forming the grip while at the same time making sure it didn't feel too flimsy to the hand."
Key design features
Two key design features are the stiffening ribs in each grip and the oval-shaped "rib" that surrounds the grip. These add structural rigidity and help allow Ring Can to keep the total container weight down to 65 g. EFFI's Larkin emphasizes just how important the container's top-load strength is.
"Our corrugated cases are full wrap with no partition, so stacking strength comes primarily from the bottles themselves. Adding a corrugated partition was of course an option, but it would have required a capital investment in new case-packing equipment, as well as an added materials cost. That we didn't want."
The same rotary Sidel system is used to blow 22-, 16- and 6-oz sizes, too (see sidebar), though none of them has a pinch grip like the 1-kg jar. The three largest sizes all have a 70-mm neck finish. Changeover from 16- to 22-oz or vice versa is easy, says Dygert.
"For these sizes, all we need to change are the blow molds," says Dygert. "These are shell molds, too, which is one of the features Sidel has really perfected in the Series 2 machines. With shell molds you don't have to change any water lines. Each mold fits into a shell. We loosen four bolts on the shell, pivot the shell out, drop in a new mold and tighten the bolts." The base, which is a third component in the mold distinct from the two parts that form the sidewalls, has to be changed, too. But that's another tool-free task. It's accomplished, says Dygert, "in a matter of minutes."
It's a different story when the 1-kg size is involved. The shell won't accept the large mold that blows the pinch-grip jar. So a complete stand-alone mold must be used.
Changing to or from the 6-oz size also requires extensive changes. Its 53-mm neck finish means the spindles that carry preforms through the heating oven have to be changed, as do the grippers that transfer preforms into the oven. Tool-less, quick-change features newly available in the Series 2 Sidel machine help considerably, says Dygert. But still, this changeover requires more time than when the 6-oz container is not involved.
Eliminating handling problems
Injection molding of the Cremora preforms is notable, too. It's done on rotary-indexing systems at Ring Can. The rotary indexing concept was introduced by Husky (Bolton, Ontario, Canada) at NPE '97, and about 100 of these machines have been installed since then. But the machines at Ring Can are believed to be the first used for wide-mouth preforms.
Actually, the use of two-stage blow-molding for wide-mouth jars is relatively new, too. According to Ring Can's Harold Riddell, vice president of engineering, until recently most wide-mouth PET jars had been produced on single-stage equipment. That's partly because a wide-mouth jar preform is much more difficult to handle than a narrow-neck preform for bottles.
"First of all, a conventional bottle preform is straight-walled with a high width-to-height ratio," says Riddell. It's also heavier at the base than at the neck, so it's easy to orient it neck-side-up out of a hopper and down a track leading to a blow molder, says Riddell.
Despite the handling challenges posed by the squat dimensions of the wide-mouth preform, commercial blow molders were still attracted by the advantages generally inherent in two-stage, reheat-and-blow technology. These include, says Riddell, a greater degree of orientation in the PET, greater consistency from container to container and higher output.
To gain these advantages, commercial blow molders pushed machinery suppliers to develop handling systems modified specifically for wide-mouth preforms. Machinery suppliers responded, and now wide-mouth PET containers can be economically produced with two-stage blow-molding equipment.
Once handling issues were solved, commercial blow molders looked at wide-mouth preform injection molding for the next process improvement. That's where Husky's rotary indexing concept comes in.
High output, few cavities
"Husky's rotary indexing concept allows us to run high output but with fewer cavities than on a conventional system," says Dygert. "And with fewer cavities, less clamping tonnage is required. That means a smaller machine, easier mold changes and less expensive molds."
To build a smaller machine requiring less tonnage without sacrificing throughput, Husky threw out the traditional model for preform injection-molding machines. In these machines, core face and cavity face meet, clamping force is exerted, plastic is injected around each core, cores are cooled with cold water to set the plastic, and the core face and cavity face open to discharge a finished part.
The rotary indexing concept retains the fundamental core/cavity structure. But rather than having all the cores mounted on a single core face, the cores are mounted around a rotating turret block. Husky designs both a Quad-face, where four sets of cores rotate 90º with each injection cycle, or a Dual-face, where two sets of cores rotate 180º with each cycle. Ring Can doesn't reveal which of the two styles it has, nor does the company identify how many machines it uses for the Cremora containers.
The key advantage to the rotating turret block is that it allows cooling to take place outside of the cavity. While the core cooling occurs, the cavities can be used to mold the next group of preforms. It's a more productive use of the cavities, so fewer cavities are required on a rotary indexing machine than on a conventional machine. Productivity is maximized, says Dygert, and because less clamping tonnage means a smaller machine with a smaller footprint, higher output per capital invested is achieved.
Both EFFI and Ring Can prefer not to disclose actual cycle times in the production of the Cremora preforms. But according to Husky's product manager, Simon Martin, the rotary indexing system can reduce cycle times as much as 30% over conventional preform molding solutions.
For EFFI's Larkin, efficient injection molding is just one of the processes behind the new pinch-grip jar that makes it special. "It's a combination of things that makes it a first," says Larkin. A patent, he adds, has been applied for.
See sidebar to this article: Across-the-board switch
In a hurry? Request more info via Web-based reader service by clicking on the reader service number.
Or you can jump right to their Web site if one is listed.
Companies in this article