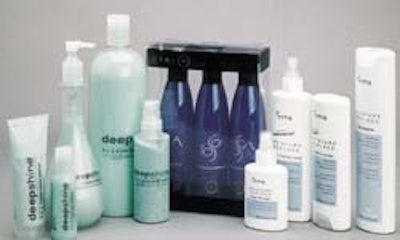 Many of the National Assn. of Container Distributors (Philadelphia, PA) award winners are banking on consumers' desire for packaging convenience. This year's winners successfully combine esthetically pleasing design with ease of use.
Announced April 1, 2000, in St. Thomas, U.S. Virgin Islands, the 37th Annual NACD Packaging Awards were given to three products in each of seven categories: Food, Cosmetics, Pet & Vet, General Industrial & Automotive, Drug & Pharmaceutical, Novelty and Household Chemicals. This year's Bernard M. Seid Best of Show winner was awarded to TricorBraun (St. Louis, MO) for the line of styling aids from L'anza Research Intl., Azusa, CA (see Packaging World, April '00, p. 25, or packworld.com/go/lanza). Other NACD award winners follow.
Cosmetics
Gold: Arroyo Packaging (Anaheim, CA) took the gold for redesigning Redding, CA-based KMS Research's Moisture Replace line of hair-care products. The patented high-density polyethy-lene bottle can stand upright or inverted on its flip-top closure.
Silver: Rusk, Stamford, CT, had a tall order for Lerman Container Co. (Naugatuck, CT). The centerpiece of Rusk's Deep Shine line of haircare products is a clear, 16-oz beaker-shaped bottle. By modifying equipment, Lerman was able to screen-print copy straight across the oddly shaped bottle, without warping.
Bronze: Berlin Packaging (Chicago, IL) earned the bronze for the redesign of Tosca Shine 300-mL bottles marketed by JPL Intl., Montreal, Quebec, Canada. Berlin converted the shampoo, conditioner and hair-spray bottles from HDPE to polyethylene terephthalate for bottle clarity. The dark cobalt blue color hides the dip tube extending from the pump or sprayer.
Food
Gold: Berlin Packaging took home a gold for San Leandro, CA-based Ryan Coffey Co.'s faceted PET bottle of Victorian House Concentrated coffee. Formerly available in an HDPE juice square, the product now enjoys greater shelf life and national distribution, thanks to improved barrier properties. Sales have also increased as a result of the bottle's attractive and innovative design.
Silver: Valley of the Moon Winery, Glen Ellen, CA, displays its Pinot Blanc in a package designed to play up the celestial theme: an antique-green-colored glass bottle accented with platinum, which earned a silver for TricorBraun. A silver metallic capsule seals the package and accentuates the platinum decoration.
Bronze: Nesting side-by-side in a wooden crate, three 'S'-shaped, wide-mouth jars of Walls Berry Farm jams and jellies spelled bronze for Ryco Packaging (Omaha, NE). The jars' front and back panels are flat, allowing substantial billboard effect. For product display, three crates are stacked together and shrink-wrapped, retailing for $14.95. The tall, silhouette shape of the final package, as well as its gift-pack identity, was exactly what Portland, OR-based Trailblazer Food Products had in mind.
Drug & Pharmaceutical
Gold: The Don't Be Stuffy aromatic spray bottle from New York-based Origins Natural is a soothing green color suitable for a sensory therapy product. Lerman Container executed the design of the 50-mL container, closure and overcap. The snap-on pump means the filler only has to apply down pressure to the pump ferrule to permanently seal the container, without crimping or torquing.
Silver: TricorBraun created an upscale package for Anaheim, CA- based Herbalogix's Provenance Objectives™ line of dietary supplements. A frosted stock bottle, eye-catching label design and smooth-wall black closure sets Objectives apart from the competition on store shelves.
Bronze: TricorBraun also earned a bronze for a waste container for biohazardous materials. Marketed by Bayer-Chiron Diagnostics, Medfield, MA, the container has a projection on the back that makes it easy to grip, and the indentations on the front help it fit into the appropriate machinery. A bright-orange cap warns of its hazardous contents.
Household Chemical
Gold: Winning gold for TricorBraun was a glossy, black Barex® bottle containing aggressive Vintage Leather Care product for Bloomington, IN-based K & W Products. A matching smooth, black dispensing closure tops the package, providing convenience and cutting down on product waste.
Silver: Designed to appear innovative but with the convenience and cost of a stock container, a simple 100-mL PET cylinder was custom-tinted by Lerman Container to win a silver. A snap-on pump and polystyrene overcap, tinted to match the bottle, complete the package for Sensory Therapy Pillow Mist from Origins Natural.
Bronze: Featuring a low-profile height to accommodate "shorter" retail store shelves, a 24-oz squat sprayer bottle containing All-Purpose Cleaner from Quick'n Brite, Mountlake Terrace, WA, earned a bronze for Packaging West, Inc. (Aurora, CO). The bottle's fingertip grip neck provides ease of use and reduces hand fatigue. Packaging West matches trigger-sprayer color to label color for improved shelf appeal. Another advantage of the bottle is that its reduced height gives it greater stability on the filling line.
Pet & Vet
Gold: I-Pak (Quincy, MA) earned a bronze for the 128-oz jug of Oster Pawformance dog shampoo from Tropical Products, Beverly, MA. The clear F-style polyvinyl chloride jug with handle allows for easy consumer handling.
Silver: The understated simplicity of Origins Natural's bottles of dog shampoo, detangler and pest spray earned Lerman Container another award. These pet products are directed toward the high-end pet-care market.
Bronze: O. Berk's (Union, NJ) design of Tuxedo, NY-based Les Pooches U.S.A.'s Pooch Brush container is a departure from the typical hanging blister cards in the pet-grooming aisle. The free-standing, clear rectangular tube is made of a flexible vinyl acetate. The black end caps hold the brush in place, and screen-printing on two sides of the package makes it quickly identifiable.
General Industrial & Automotive
Gold: Berlin Packaging picked up a gold for a custom 1-gal F-style container of engine oil sold by Polaris Industries, Inc., of Plymouth, MN. The handle's size and slant were designed to help reduce glugging, as well as allow a snowmobiler to pour the container while wearing a large glove or mitten.
One product's package features a molded cavity in the bottle, which holds a spout used to pour product directly into the appropriate reservoir. Molds were designed to accommodate both products: one with a spout cavity, one without. Additionally, an insert at the bottom of the packages can be molded with the company name.
Silver: A reusable surf wax with the cosmetic appearance of deodorant earned a silver for Alico Packaging, Inc. (Woodland Hills, CA). Rocket Surf Wax from San Diego-based Rocket Research bucks the traditional plastic wrapper packaging and instead employs a propel-repel feature for easy dispensing. In addition to keeping sand from getting into the wax, the container also fits easily into a swimsuit or wetsuit, reducing the likelihood of wax melting from being left in a car or backpack. Refills are included with each purchase.
Bronze: Concrete & Stucco Wash from Quickrete Co., Atlanta, GA, sports a 32-oz sprayer oblong with hose-end sprayer. The package was a bronze winner for Continental Glass & Plastic (Chicago, IL). Designed for ease of use, the bottle features a view stripe so consumers can monitor product usage.
Novelty
Gold: Ryco Packaging's work on a Procter & Gamble Pringles® Christmas canister for distribution through club stores was completed in lightning-fast speed. Fayetteville, AR-based Thompson Murray, a P&G marketing firm, required that Ryco design the canister, develop artwork and find a company to fill the canister in 90 days. The result is a gold-winning package for Ryco. Other Novelty winners include: O. Berk for the Hoffritz Spice Chef Carousel, marketed by Lifetime Hoan, Westbury, NY; and TricorBraun for Celestial Oil Lamps, marketed by English Garden Gifts, Central Point, OR.
In a hurry? Request more info via Web-based reader service by clicking on the reader service number.
Or you can jump right to their Web site.
Companies in this article