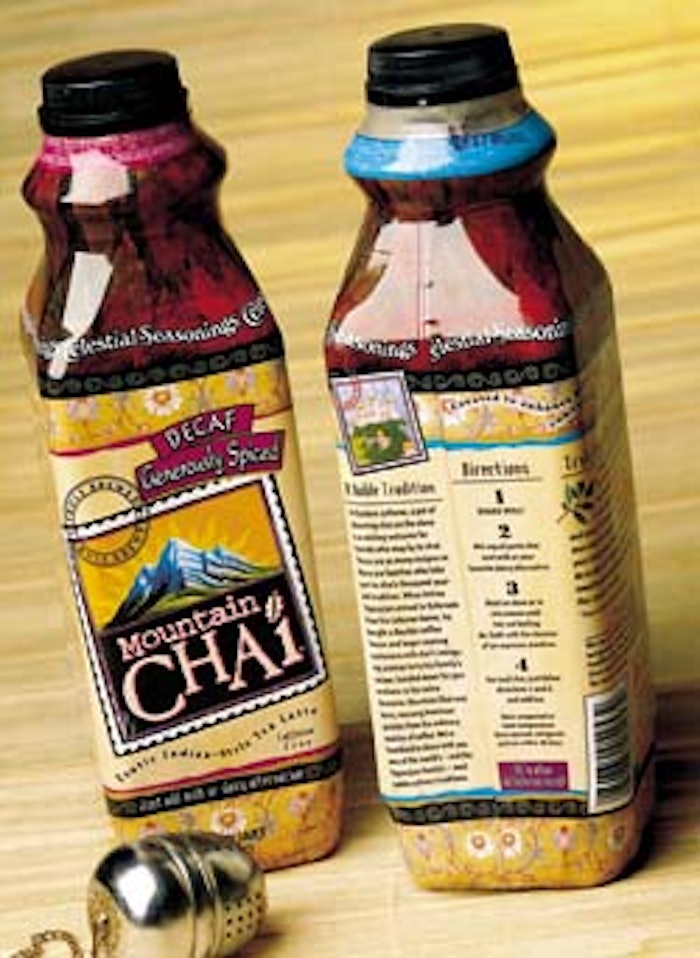 The striking label on square bottles of 1-qt Celestial Seasonings' Mountain Chai® does more than attract attention on the store shelf. The full-body sleeve label for the exotic Indian-style tea latte (shown below) is actually part of a cover-up. The cover-up stratagem is revealed by Gwen Burak, director of marketing for new and wellness products for the Boulder, CO-based maker of specialty teas.
"We began shipping the product with this new label last September," she tells Packaging World. "Before that we had a three-sided label. We conducted qualitative group discussions with consumers on both coasts and gained feedback that the appearance of the liquid itself wasn't all that appealing. The tea has a mix of spices and sugar in it. Some people [indicated] that it looks like salsa or barbecue sauce. So the ability to cover up the product and give us considerably more space for communication and imagery was behind why we went to a full-body label," Burak explains.
The 2-mil polyvinyl chloride labels are gravure-printed in seven colors by Gilbreth (Croydon, PA), formerly CMS Gilbreth Packaging Systems. A whimsical, flowery pattern provides label continuity on all four bottle sides. The label's front panel displays a mountain scene, with the product name and copy informing consumers to "just add milk or dairy alternative" to complete the Chai beverage. Copy printed on other panels describes Chai, or tea, as a tradition in Eastern cultures. Directions, nutrition facts and a bar code are also printed. A sell-by date is ink-jet coded onto the label near the bottle's neck.
Bottle challenges
While Celestial Seasonings designed the label graphics in-house, it enlisted the help of Gilbreth and technical consultants PackagingARTS (Mare Island, CA) to make sure the label would meet several challenges.
"Most full-body labels are for round bottles, so placement of the primary display panel doesn't matter a great deal," Burak notes. "But on a square bottle you have to have that panel placed perfectly on the bottle or else you end up with the primary label display panel wrapped over an edge of the bottle."
Providing a valuable historical perspective, Burak says the Chai product was introduced in a square high-density polyethylene bottle in the early '90s. When Celestial Seasonings purchased the product from a local entrepreneur about two years ago, it made some key changes.
"At that time, the bottle was able to withstand temperatures to around 150 degrees Fahrenheit," Burak recalls. "But we made some processing changes to further ensure we were killing bacteria [that involved] hot filling at 185 to 190 degrees [Fahrenheit], and the HDPE had some trouble with that." She says with the previous bottle there was some deforming and a "plastic aftertaste" in the tea. For product bound for the market, the company turned to a polypropylene bottle to withstand the hotter fill temperature.
The extrusion-blown PP bottle weighs 57 g and is supplied by Polybottle (Surrey, British Columbia, Canada). Bottles and closures are sourced through Packaging West (Aurora, CO). The injection-molded PP closures are made by Portola Packaging (San Jose, CA). The 38-mm closures provide tamper evidence.
Labeling challenge
Empty bottles and printed, flat label sleeves are shipped to Ally Labeling and Packaging (Hamilton, OH) for application and an unusual "steam," rather than the typical hot air, shrink-wrapping process (see sidebar).
Developing a label that would withstand the heat from the process and conform to the contours of the square bottle and tapered shoulders was at the heart of the labeling challenge. "The bottle is somewhat problematic as it relates to label shrinkage," Burak says. She credits Gilbreth and PackagingARTS "for helping us with a label design that accounted for the distortion that occurs when the sleeve is [shrunk] to the bottle. They were very careful in creating design elements that would withstand that distortion. We went through a number of iterations," before developing the final version.
Prelabeled bottles and closures are shipped to a facility Celestial leases in Boulder, CO. Burak admits the bottle voyage is not ideal but is still more economical than investing the money in labeling equipment, which Celestial does not have at the facility. That may change in the future depending in large part on the product's market success.
At the facility, Celestial employees also use leased processing and packaging equipment. No new equipment was necessary for the relaunch of Mountain Chai last autumn. After filling, capping, case packing, palletizing and stretch-wrapping steps, product is sent a ? mile to Celestial's distribution center. From the center, Chai is trucked nationwide to the distribution centers of retail grocers/supermarkets, natural foods stores and direct to Target's mass-merchandiser stores. Available in four flavors, Mountain Chai sells for $3.99 to $4.99. Unopened, the product's shelf life is 15 months. Once opened, refrigerated shelf life is 30 days, Burak says.
"We have been extraordinarily pleased with the results from the new label," she states. "I think it lets our competitors know we're serious about playing in this category. We've also received a lot of positive consumer comments and acceptance. Intuitively, as a company, we think the new label has been more effective in moving the product off the shelves at Target. This label is an eye-catching packaging execution that does its job by communicating to consumers that this is an exotic drink and represents something new and different."
See sidebar to this article: Chai label 'steams' to bottle
In a hurry? Request more info via Web-based reader service by clicking on the reader service number.
Or you can jump right to their Web site if one is listed.
Companies in this article