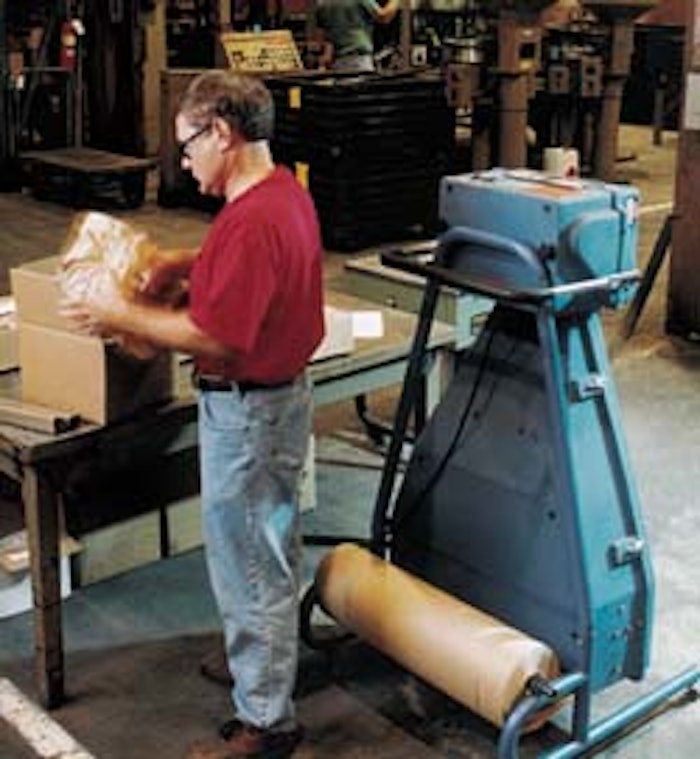 Materials handling equipment manufacturer Mathews Conveyor, Danville, KY, prides itself on what it considers "the best warranty in the industry"—customer service availability 24 hours/day, 7 days/week for one full year. With customers relying on this promise, the customer service department must ship replacement parts quickly and reliably. It soon became apparent that, while response time wasn't a problem, ensuring that the often-heavy parts survived shipping was. Mathews took action in August '98 by installing a PadPak® Jr. protective packaging system from Ranpak® (Painsville, OH), which was introduced to the company by distributor Crown Packaging (Louisville, KY).
"I expected it to ease our shipping problem," says Mathews Conveyor customer service representative Carmen Hampton. "But it solved it completely." The leased PadPak Jr. automatically converts three-ply kraft paper into flexible pads with excellent cushioning characteristics. Pads can be used for void-fill, wrapping, blocking and bracing, or cushioning items of varying sizes, shapes and weights.
During shipping, "we'd have cartons damaged in transit, and parts, such as axles, pins and bearings, falling out," Hampton says. "Because many of Mathews' customers are on a just-in-time schedule, missing products cause problems due to delays in production and extra expenses involved with installers on-site waiting on parts."
The search
Mathews' former method of packaging these heavy parts, which can weigh up to 50 lb each, consisted of cutting down a large box and folding it around the material to be shipped. Then the bundle was strapped down with nylon tape. This method, combined with rough handling in transit, sometimes allowed parts to slide back and forth inside the shipping box, eventually wearing a hole in the side of the box and causing parts to escape. Mathews lost both time and money when parts didn't reach their destination intact; replacement orders cost $30 to $40 each for rush delivery, and sometimes Mathews' production had to be interrupted to manufacture the necessary parts.
The company researched several alternatives for void-fill packaging, but none seemed viable. Expanded polystyrene "peanuts" weren't a good option because they would crumble and lodge inside the bearings of the rollers, causing damage to the bearings. Foam-in-place was deemed too expensive. As for bubble-sheet wrap, it couldn't stop a large axle from breaking through a corrugated shipping box. Using custom-sized boxes was no option either, as they'd occupy too much warehouse space, because of the many part sizes Mathews ships.
Eventually, Crown Packaging introduced Hampton to the PadPak Jr., which Hampton tested by first shipping a sample batch of parts packed the usual way to Crown. "[Crown's] lab took pictures of the shipment when it arrived. I was embarrassed," she admits. Crown packaged the same parts using the PadPak Jr. and shipped the box back to Hampton to illustrate the difference. "That is when I began my lobbying efforts to management to please let me try this machine," she says.
The solution
Mathews now uses the PadPak Jr. to help assemble the 50 to 55 packages of spare parts it ships out daily. Designed for lower-volume applications, the compact, portable machine met Mathews' needs perfectly.
Small parts are packed manually each day and shipped via UPS. Throughout the morning, as customer service receives orders for components, an employee manually pulls the parts from the warehouse shelves and packs them into corrugated shippers. The kraft paper supplied by the PadPak Jr. fills up the unused space within the carton, so heavy products are no longer able to slide around, weakening the walls and causing shippers to break open while in transit.
The company noticed the results of the new packaging system immediately. Customer service employees save time by not having to jump through hoops and log the paperwork necessary to obtain replacement parts for those lost in transit. In addition, shipping costs have been lowered because Mathews no longer has to pay for a constant stream of replacements to be shipped via next-day express service. Hampton estimates that at a rate of five such incidents a month, the company saves $200 each month simply by using the PadPak Jr. And because the machine's lease price is so low, Hampton asserts that the PadPak Jr. paid for itself with the first part that it saved from being replaced.
But possibly the best reward for installing the PadPak Jr. was the peace of mind it brought in allowing Mathews to keep its promise to customers. "Now our customers aren't calling as much [to complain]," Hampton says.
Companies in this article