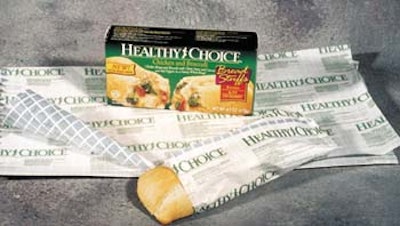 Packagers and converters alike continue to find creative and innovative uses for flexible packaging materials for foods. Evidence of that progress comes from the Flexible Packaging Assn., where food-related structures won three of the seven 1999 FPA awards. (Nonfood winners are detailed on p. 26).
One of the food winners is a contoured, stand-up snack food pouch that doubles as a collectible hand puppet once the food has been eaten. Another FPA food winner is a flexible wrap that allows even heating of frozen sandwiches in a microwave oven. The third winner described in this article is a multilayer plastic structure that serves as an alternative to multiwall paper sacks for pet foods.
Snacks stand out
The contoured, stand-up pouch for Keebler's Elf® Grahams snacks (1) is probably the most commercially recognizable of the three winners. Honey and cinnamon versions of the 7-oz Elf Grahams were introduced last fall (see Packaging World, Oct. '99, p. 2 or packworld.com/go/puppet). The contoured pouch represents a first for Keebler, though the company markets other snacks in stand-up pouches.
Pechiney Plastic Packaging (Chicago, IL) supplies the 41/2-mil film for the "hand puppet" pouch. It includes an exterior polyester layer reverse-printed by gravure in eight colors/white polyethylene extrudate/linear low-density PE sealant. Rollstock is then shipped to Specialty Films & Associates (Erlanger, KY) for pouch fabrication, including die-cutting. Reclosability is provided by a zipper from Minigrip/Zip-Pak (Manteno, IL).
What makes the pouch unique, of course, is its contoured shape. Copy and graphics instruct consumers where to cut the empty bag to provide space for a hand. By inserting a hand, a child can turn the stand-up pouch into a puppet. Elmhurst, IL-based Keebler sells collectible versions of the pouch, with its well-known "Ernie" character on the front, and one of four of Ernie's "Elfin friends" on the back: Leonardo, Elmer, Ma or Zoot.
Changes ahead
Material, machinery and merchandising changes are being considered by Keebler for Elf Grahams. "This package will evolve over the next year," believes Steve Carter, Keebler's manager of package development. "We want to make it even more kid-friendly."
Carter suggests he'd like to see the pouch "a little more pliable to make it easier to use as a puppet." He'd also like to bring down the costs, while maintaining the product's six-month shelf life. One change under consideration is blending LLDPE with ethylene vinyl acetate (EVA) in the sealant layer, with the aim of reducing the structure's thickness by about 1 mil. "EVA would give us a little more of an aggressive seal," Carter says, "though it would add cost. But if we reduce the thickness of the LLDPE we take away cost." Overall, he speculates, "there would barely be a savings if we did that."
Carter reiterates that these changes are strictly in the research phase. "We're working on different things, but none are in the market. We're investigating how easy it would be for our filling operation to handle a different structure, and we have to consider how a thinner material, with EVA, would affect bagmaking," Carter points out. "If you have a softer film, it could be harder for [our vendor] to die-cut the bag."
For now, die-cut bags are semi-automatically filled and sealed at the company's Athens, GA, plant. Operators pick up a bag, open it, and position it to a fill tube before heat sealing. Carter says the company is likely to automate this process in the future.
Carter says a new bag fill/seal machine sourced from Profile Packaging (Sarasota, FL) is on order to fill the bags. A likely filling location, he says, is the company's Bake-Line Products subsidiary in Des Plaines, IL. Carter estimates that new equipment being considered to pack Elf Grahams could double filling speeds while cutting labor costs by half.
As for the merchandising changes, Carter says, "We need to work on more effective ways to display the packs. Also, we want to get them into different stores and channels, such as convenience stores, as opposed to just supermarkets. And maybe merchandising the product on some racks and carousel-type displays, hanging it from a peg or attached to a clip strip, possibly in different areas of the store, as well as near the check-out aisles." Elf Grahams sell nationwide for $1.99 to $2.49.
Carter says, "People in packaging and the cookie and snack industry have given us a lot of positive feedback. As far as consumer appeal, it's been pretty steady."
'Enviro' winner
FPA's Green Globe Award for environmental achievement went to Wave Wrap™, a flexible wrapper used by Omaha, NE-based ConAgra for its line of Healthy Choice Bread Stuffs (2).
Wave Wrap holds a frozen, microwavable "sandwich." The wrap is converted by Phoenix Packaging (Maple Grove, MN), an independent operating company of ConAgra.
Phoenix Packaging sources 20# or 25# paper from Crown Vantage (Cincinnati, OH). The paper is treated with 3M's (St. Paul, MN) Scotchban for grease resistance. The converter adhesive-laminates the paper to metallized polyester film on a flexographic press. In the same pass, the press prints a repeating message on the wrap in one color. Phoenix Packaging uses water-based inks and adhesives in the process.
The approximately 2-mil structure is sent in rollstock to a sister company for horizontal forming, filling and sealing. Each wrapped sandwich is sold in a colorful folding carton.
First to 'wave wrap'
Phoenix Packaging national accounts manager Jeff Laney tells PW that ConAgra was the first to use Wave Wrap in a commercial application. What makes it unusual is that it's a flexible wrap for reheating the product in the microwave, and its polyester layer provides some oxygen barrier.
Laney says that Phoenix Packaging takes a one-side metallized film, places it on the unwind of a gravure press and runs the film through a caustic solution station before it contacts a gravure cylinder. "Wherever there's an image on the cylinder, the metal is removed from the film," he explains. "The process oxidizes the aluminum. We take off more than 50 percent of the metallization from the film so that the susceptor only heats up to about 250 degrees Fahrenheit." A completely metallized susceptor heats up to about 400°F, he says. After demetallizing, film proceeds through a wash/bath station, then through infrared and overhead drying stations.
The demetallizing process provides an important improvement for the sandwiches, which have a pastry-like exterior that holds filling inside. Cathy Shapiro, packaging manager for ConAgra Frozen Foods, says, "We went to this wrap to improve our product. In the past, we had some issues with hard crust ends and with inconsistent heating. It was [primarily due] to using a full susceptor. Phoenix Packaging demetallizes the portions of the structure that we require, and that allows for more even heating of the product."
Another important advantage, she relates, is that no new equipment was necessary to accommodate the Wave Wrap. She says a Fuji horizontal wrapper from Formost Packaging Machines (Woodinville, WA) is used to do the job.
Wave Wrap replaced a 1.7-mil susceptor with an outer cellophane layer that was adhesive-laminated to heat-sealable metallized polyester film. Shapiro says that the switch to Wave Wrap not only improved the product, it reduced cost compared to the previous flexible susceptor material.
Before using the previous flexible susceptor, ConAgra relied on a rigid paperboard susceptor sleeve and an overwrap. Compared to that two-part susceptor, Wave Wrap uses considerably less material, though Shapiro didn't have specific figures regarding how much less material, or a cost comparison.
When ConAgra began using Wave Wrap in early 1999, it coincided with a change in the "bread" and sandwich stuffing ingredients. The Bread Stuffs name also replaces the Healthy Choice Hearty Handfuls Meals to Go name for the product. One thing that does remain the same today are the four varieties of the 6.1-oz sandwiches. Bread Stuffs retail nationwide for $1.99.
Pet food bag
FPA also rewarded a "plastic pet food package" (3) that comprises two film coextrusions laminated together. The cross-linked, oriented polyolefin (COP) structure comes from Cryovac (Duncan, SC). Cryovac extrudes the film, laminates the structures together, then fabricates the material into bags.
Referred to as K-9000, the pet food package has been available for about one year, according to Cryovac representative Chip Cook. He points out that there are several commercial applications of K-9000 (a commercial application is necessary to win an FPA award). However, he said the companies currently using the package prefer not to be identified and choose not to share any packaging details.
The bag is targeted toward 20- to 50-lb quantities of dry pet food typically sold at retail, including pet specialty outlets. Bags are available in a side-gusseted version with an end seal, and a bottom-gusseted, side-sealed bag that stands upright.
Cook says the all-plastic structure is "meant as a multiwall paper [bag] replacement." The approximately 6-mil structure is reportedly about 1/3 the thickness of traditional paper bags, and the plastic version aims to provide greater resistance to infestation than paper bags, and extend product shelf life.
The polyolefin material is designed to provide "memory" that permits the structure to resist dimpling and bumps caused by the pieces of dry, hard pet food. It's also said to provide good tensile strength, while its ethylene vinyl alcohol-based oxygen barrier works to contain food aroma inside the bag. It's available with an adjustable zipper in the bottom-gusseted style and die-cut handles in bags up to 20 lb.
Companies in this article