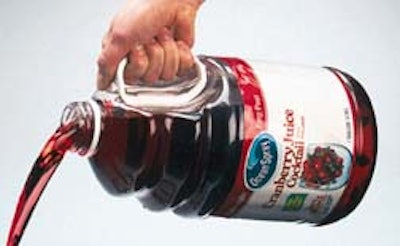 A side-handled heat-set polyethylene terephthalate gallon bottle for Ocean Spray Cranberry Juice (1) earned the prestigious Diamond Award in this year's DuPont Awards for innovation in food processing and packaging. This is the 13th annual edition of the DuPont (Wilmington, DE) competition.
The side-handled PET bottle was introduced last April (see Packaging World, June '99, p. 30, or packworld.com/go/os). It replaced another 1-gal heat-set PET bottle equipped with a bail handle.
"The handle adds a bit to the cost," admits Ray Bourque, director of product and packaging R&D for the Lakeville-Middleboro, MA, company. "But it's worth [investing] a little more in the product to keep the consumer buying it."
Bourque says that Ocean Spray and Yoshino America (University Park, IL) developed and designed the handled bottle. "Yoshino injection/stretch blow-molds the bottle and injection-molds the polypropylene handles," he says. Bottle molding is done on a specialized machine from Sidel (Norcross, GA).
"The challenge with the handle is to design equipment that can insert it into the blow mold while the bottle is in the mold so that the handle adheres to the bottle," Bourque explains. "We worked with Yoshino to modify its equipment and perfect the structural design of the bottle to securely hold the handle to the bottle."
Yoshino molds the bottle at one plant. Before reaching the Sidel machine, however, the handles go through in-line unscrambling and orienting steps before a specialized machine (from an unidentified supplier) inserts the handle into the molding machine.
Bourque tells PW that "Ocean Spray and Yoshino have the rights to use this technology in North America. And we have the right to let other suppliers use the technology to manufacture these bottles, just for us. Yoshino has one plant, in the Midwest, and so to get bottles in other parts of the country, we work with another bottle supplier." That supplier is Owens-Illinois' Continental PET Technologies (Florence, KY).
Empty bottles are shipped to Ocean Spray plants in New Jersey, Wisconsin, Nevada and Texas for filling. Bourque admits the new handle posed challenges to the product's filling lines.
"We had to put procedures in place to properly handle the bottle," he notes. "There have been changes in conveyor equipment, in bottle transfer, decasing, filling and labeling steps. There are certain points where there could be jamming, but the bottle was designed so that the handle fits inside the diameter of the bottle's base," Bourque says.
The combination of bottle design and equipment modifications also enabled Ocean Spray to maintain fill speeds. "This handle has had no negative effect on line speeds," Bourque states. Labeling, however, underwent some serious adjustments.
"We purchased new labelers for the cut-and-stack wraparound labels for the bottle," he says. Like its bail-handled 1-gal predecessor, the side-handled bottles take paper/PP labels. They're applied on new labeling machines from Krones (Franklin, WI).
"We have to give credit to Krones for working with us in learning how to orient this bottle on our filling lines," Bourque says. "With the previous bottle it didn't matter what position we applied the label to the bottle. But with this handle, we have to orient the label so that when consumers pick up the bottle, they'll see the front of the label," he explains.
The solution, Bourque relates, was not as simple as molding a spotting lug into the base of the bottle. Instead, "We pick up the bottle in a different way, using the handle. There's a trick to how we orient it, and it was part of our learning experience. We added another device [to do that], but we can't discuss it."
The side-handled bottle was introduced last April. The bottle is used for four flavors that sell for around $6 at grocery, club and mass merchandise stores.
"It's done very well," says Bourque, who adds that it's too early to determine if the handle has helped build sales. "I can say that consumers are appreciative and delighted by the new handle. We have to credit Yoshino for developing this handled bottle and Continental PET Technologies for using that technology to make bottles exclusively for Ocean Spray."
Modified PEN
Ocean Spray wasn't the only beverage marketer to win a DuPont Award this time around. Atlanta-based Coca-Cola also won a silver award for a 350-mL (11.8-oz) bottle (2) made of a special blend of modified polyethylene naphthalate and PET (see PW, July '97, p. 2 or packworld.com/go/coke).
Developed by Coke and Shell (Houston, TX), this bottle is all about shelf life. The large surface-to-volume ratio in such a small container means carbonation is lost too easily if PET is used, unless of course the bottle is unusually heavy. The use of PEN, a material with five times the barrier properties of PET, provides all the barrier required without sacrificing light weight.
Coca-Cola's South Pacific Div. tested the bottle in Australia from January to June of '97. The bottle was deemed a success from both a marketplace and a technology standpoint, says Chris Kjorlaug, principal engineer at Coke. It was made by Coca-Cola Amatil, one of Coke's anchor bottlers, on a reheat-and-blow system. But the PEN component made this award-winning bottle expensive, so Coca-Cola South Pacific withdrew it and instead added weight to an ordinary PET container to achieve the needed shelf life.
Kjorlaug elects not to identify the weight of the PET bottle that replaced this DuPont Award winner, but he says the PEN/PET bottle weighed 20.8 oz. According to Robert Howell of Shell, the innovative bottle emerged thusly.
"We modified homopolymer PEN so that it had some of the characteristics of PET in it. When we blend pellets of this modified PEN with pellets of PET, the melt points of the two are pretty close. If you just blend ordinary homopolymer PEN and PET, the melt points are so far apart that you begin to degrade the PET before you get the two to blend."
Shell's Cleartuff 8406 is the PET used in the pellet-to-pellet blend, says Howell, while Hipertuff 86017 is the modified PEN. A conventional threaded plastic beverage closure and plastic sleeve label complete the package.
So what happens next to this now-shelved technology? "It's hard to predict," says Kjorlaug. "But it's our duty to evaluate all available technologies that might satisfy our needs. There's no one technology that is perfect for everyone. This is just one more addition to the arsenal. We proved the technology is commercially viable, and it remains available to anyone in our system whose needs it can satisfy."
Tray for MAP meat
Another silver award winner whose barrier properties are important is Escofoam™ sheet (3) from Wihuri Oy Wipak (Helsinki, Finland). Used commercially in modified-atmosphere packaging applications for sliced luncheon meats, fresh red meat and cooked meats since 1997, the material looks and feels like expanded polystyrene. But it's a foamed polyester laminated in-line to a seven-layer blown coextrusion that includes PE, ethylene vinyl alcohol, tie layers and a heat-seal layer. Available in rollstock form in thicknesses from 350 to 900 microns (14 to 35 mils), the material is said to be easy to thermoform. According to Wihuri Oy Wipak's research and development director Esko Saaristo, the 900-micron sheet can be thermoformed to a depth of 9 cm (3.55").
The German meat marketer Hein of Osnabrück, Germany, became one of the first to use the Escofoam material about two years ago when a clear polyester tray was replaced with a blue tray of Escofoam. According to company owner George Hein, the blue color of the tray has given his company's products a signature look. More important is the tray's source-reduction advantage. The old tray had a density of 1.3 g/sq m while the foam tray is 0.82. It amounts to a 35% reduction in overall package weight. That's a significant benefit in a country like Germany, where environmental fees for plastic packaging are high.
Hein's package of cooked meatballs shown here is backflushed with 70% carbon dioxide and 30% nitrogen. It has a four-week shelf life under refrigeration. Regional distribution centers as well as a store-door delivery system take the packages to supermarkets throughout Germany. Lidding material, also supplied by Wihuri Oy Wipak, is a 12-micron (1/2-mil) polyester reverse-printed in six colors that is adhesive-laminated to a 50-micron (2-mil), five-layer blown coextrusion of PE/tie/EVOH/tie/PE. An antifog coating prevents condensation from forming.
Skinless sausage
A multilayer film structure including nylon, EVOH and DuPont Surlyn® is used for an unusual cook-in thermoformed package for sausage (4). Fresh sausage meat is filled directly into a thermoform and then sealed. The entire pack is cooked, eliminating the need for an outer skin or casing. The thermoform won a gold award in the food category.
The hygienic package can include peelable seals and/or perforations to make it easy for consumers to separate individual links and to open the pack.
Test marketing of the package has been conducted in Germany. Two of the first companies to use the "skinless sausage system" were Hans Kupfer & Sohn, Heilsbronn, Germany, and Disselhoff of Langenfeld, Germany. Both companies use equipment and materials supplied by Dixie Union (Kempten, Germany).
Dixie Union's business development manager, Eckhard Käferlein, tells PW that Disselhoff markets a "thuringer bratwurst" with the system. Raw product is contained within top and bottom webs. The 90-micron (3.54-mil) top web includes nylon/printing (optional)/adhesive/peelable sealant layer. The 180-micron (7.08-mil) bottom web is made of a sealant layer/adhesive/ EVOH/adhesive/
PE/PE/nylon. DuPont Surlyn® is used for sealant layers of the coextruded film structures, while DuPont Bynel® serves as an adhesive resin.
On the Dixie Union skinless sausage machine (shown above), product is continuously filled into the deep-drawn thermoformed cavities, with each portion sealed individually. Dixie Union says one person can manage the entire process.
Packaged for kids
Minneapolis-based General Mills' Go-Gurt™ package (5) won a silver award on the strength of its portability, convenience and powerful kid appeal. Introduced in Western states in September '98 (see PW, October '98, p. 200 or packworld.com/go/yoplait-gogurt), the product is now available nationwide.
"It's been phenomenally successful," says General Mills public relations manager Pam Becker. "Kids love it, and it's won several awards from various food and dairy publications for best new product."
Each tube contains 2.25 oz of yogurt that is consumed by tearing off the end of the tube and squeezing the product out. No spoon is required.
Supplied by Curwood (Oshkosh, WI), tube material is a 48-ga polyester, reverse-printed on a flexo press in eight colors, extrusion-laminated to a proprietary blend of polyolefin sealant film. DuPont Award judges noted the film's toughness, sealability, flavor/aroma barrier, machineability, and cross-directional tear characteristics.
Winpak Lane (San Bernadino, CA) developed what it calls its Winpackage™ system specifically for this package. Go-Gurt's unique three-side-sealed tube construction is accomplished with an innovative collar/seal design, but specific information on how it works is not available. Packaging speeds are not identified, either.
Sold in the refrigerated dairy section of the supermarket, a carton of eight Go-Gurt tubes costs consumers $2.49.
First user for dual bag
California Dairies Inc. (CDI), a newly formed dairy cooperative based in Artesia, CA, reportedly will be the first commercial user of an innovative dual bag known as Stratapac™(6).
Stratapac is a block-bottom plastic bag within a plastic bag that's marketed as an alternative to a traditional multiwall paper bag, especially suitable for hygienic food and pharmaceutical applications. Stratapac can be opened without releasing fiber particles common to multiwall paper bags. The outer plastic bag exterior resists moisture and also permits printing of attractive graphics.
The bag concept was developed by converter Holmes Packaging (Rotorua, New Zealand). The Stratapac "system" includes the bag, plus an Avapac™ packer/filler and a Stratapac sealer. Both machines are made by Avalon Eng. (Hamilton, New Zealand).
Insulated container
Finally, a silver award winner that is a reusable package. From Thermo Solutions (Minneapolis, MN), it's an insulated container (7) that protects temperature-sensitive products, from fresh or frozen foods to cryogenically frozen lab samples. The secret: vacuum-insulation panels.
"Vacuum insulation offers seven to 10 times the R value of anything that's out there today," says Mark Krivoruchka, president of Thermo Solutions. "So we designed a vacuum-insulation panel for use in place of conventional materials like foam."
The manufacture of the insulating container is fairly complex. It begins with the vacuum insulation panels, and that begins with Instill®, a microcellular polystyrene foam material from Dow (Midland, MI). A piece of this material is placed in a proprietary multilayer barrier bag that includes Mylar® polyester from DuPont. Inside a vacuum chamber, the bag is evacuated of its atmosphere and then heat-sealed closed.
These insulation panels are then encased in the reusable container's lid and in the bottom and sidewalls of the body. Stainless-steel hinges attach lid to body.
Companies in this article