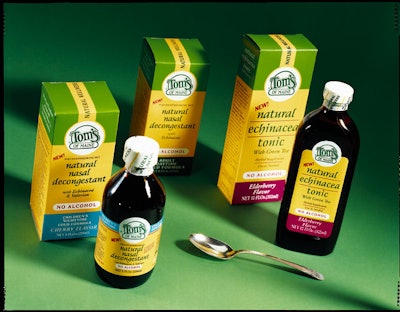 When well-known natural toothpaste maker Tom's of Maine decided to launch a line of cough, cold and wellness products last September, its main packaging design objectives were to use a "natural" look to strengthen brand identity. The Kennebunk, ME-based company adopted old-fashioned glass bottles and informative paperboard cartons to achieve its brand identity goal.
The product line includes several formulas packaged in sizes from 1.7 oz to 10 oz. Products are filled primarily into glass bottles, but also into tins and polyethylene terephthalate containers. In this story, we focus on the most popular sizes, the 10-oz and 8-oz bottles.
"We were out to provide a strong brand identification," says Rod Williams, manager of packaging design at Tom's of Maine. "A lot of competitive wellness products on the market describe what the product is supposed to do for you, yet you can't even find out who makes it." During research, consumers identified the Tom's of Maine products already on the market as highly recognizable and rated the company high in credibility and trust. Because of this, the company wanted to continue to emphasize the name as much as possible on their new products.
The Tom's of Maine's green and white logo dominates the front carton's panel and the primary bottle label. Also important was to provide information such as usage instructions and the Tom's of Maine philosophy. To do that, the company uses not only labels, but also a printed insert packaged in the carton. "In order to make sure all the legal copy and consumer information was readable, we put the bottles in cartons where that extra space gave us room to add informative inserts."
The glass bottles, supplied by Chelsea Bottle (Chelsea, MA), are a stock amber round (for the 8-oz size) and a stock amber bottle with sloping, rounded shoulders (for the 10-oz size). Both resemble old-fashioned apothecary bottles. The amber color was chosen to convey the feeling of conventional tonics. But it also protects the product. "Traditional medicinal products are usually packaged in glass," says Williams. "The amber color was selected mainly because UV light could negatively affect the product formula." Williams believes there are fewer barrier concerns with glass than there would be with a PET container.
Healthy filling
In addition to toothpaste, Tom's of Maine makes liquid products like mouthwash. The bottling and labeling line the company uses for these products is also used for the new "wellness" products. They're filled on a bottling line that uses equipment that's been running for several years. It starts as the liquid product is pumped into a hopper mounted above a liquid filler. Empty bottles are hand-placed on an unscrambling/accumulation table, after they are visually inspected. The bottles are conveyed into the filling machine 10 at a time by a starwheel. Bottles are filled simultaneously at 70 to 100/min before they're fed out onto a conveyor. An in-line digital scale weighs the bottles before they're conveyed to a capping machine. The capper places a 28/400 screw cap on 10-oz bottles; 8-oz bottles have a 28/400 child-resistant cap, both from Chelsea.
An operator then applies a polyvinyl chloride shrink band to each bottle. Supplied by Ultrapak (Dunkirk, NY), the bands are reverse-printed by gravure in three colors. Banded bottles are conveyed into a shrink tunnel. The conveyor feeds the bottles to the labeling machine. The labeling machine can be changed to apply the front/back labels on the 10-oz bottles or the wrap labels on the round 8-oz bottles. Tom's of Maine has incorporated a hot-stamp machine with the labeler. That unit stamps a lot number and expiration date on the pressure-sensitive labels. The labels are a ?-mil proprietary coextruded polyolefin from CCL Label (Rosemont, IL). They're surface-printed flexographically in four or five colors.
After labeling, bottles are conveyed to a packing table. Here, four employees inspect the bottles and pack them into corrugated shippers. From there the bottles are taken by truck to another facility in Kennebunk to be placed in 18-pt clay-coated newsback cartons on a vertical cartoner. Cartons are supplied by Bicknell Fuller (Peabody, MA). The cartoner erects the cartons and inserts the leaflets, and then the bottles are hand-placed into the cartons. The cartons are offset-printed in seven colors. Tom's moved the product to a second facility because of lack of space. The company is currently looking for a larger building to hold its entire filling and packaging line. Cartons are shrink-wrapped in bundles of six on an L-bar sealer and heat tunnel.
Williams says sales since September have been good, though he couldn't provide specific numbers. "I think the products are doing well in part because of the Tom's name and because consumers now know the products are natural." He believes the packaging certainly helped convey the "natural" essence of the products, and helped sales grow. The line includes decongestants, herbal supplements with Echinacea, Echinacea tonics, cough and cold rubs and a muscle balm. They are sold nationally at grocery and health food stores and retail for $3.99 to $21.99.
In a hurry? Request more info via Web-based reader service by clicking on company name.
Or you can jump right to their Web site if it's listed.
Companies in this article