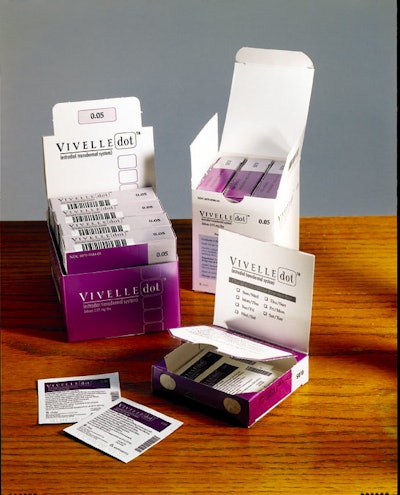 It's not unusual to see people use transdermal patches to stop smoking or to relieve angina. However, this "through-the-skin" dosing option is not as well-known for helping women cope with menopausal symptoms, though such estrogen replacement therapy (ERT) patches have been available since the 1970s. With last May's launch of Vivelle-Dot™, Noven Pharmaceuticals hopes to change that.
Noven uses a makeup "compact"-shaped folding carton, printed with usage instructions and feminine color schemes to not only make the package more appealing to women, but also to ensure that product application and usage is understandable.
A cartoner from R.A. Jones (Cincinnati, OH) is equipped with a Videojet 270i ink-jet printer from newly renamed Marconi Data Systems (Wood Dale, IL), that prints lot and expiration date codes onto carton end flaps.
These inner cartons are then manually loaded into one of two different outer folding cartons. One carton is used for sales to pharmacies where the product is sold by prescription only. Another carton is used to ship samples to physicians who can offer Vivelle-Dot to appropriate patients. Both the outer and inner folding cartons come from Vista Color (Miami, FL).
Vivelle-Dot is manufactured and packaged at Noven Pharmaceuticals' Miami, FL, facility, an FDA-approved facility that follows cGMP guidelines. Noven and Novartis Pharmaceuticals Corp. of East Hanover, NJ, formed a joint venture, Novogyne Pharmaceuticals, to market Vivelle-Dot and other women's health products.
Producing pouches
The product is made by Noven's Dot-Matrix™ technology, a process that blends adhesives with estradiol, the synthetic form of the estrogen hormone that's used to counter symptoms such as hot flashes and night sweats. That solution is blended, then coated onto a film release liner. Solvents from the adhesive are removed during the process, leaving behind a plasma-like substance rather than a liquid. The adhesive side of the product is then laminated to a coextruded plastic backing.
That material is rewound and slit into 6"- or 8"-W rolls to accommodate downstream packaging equipment. Rolls are wrapped in film and foil to prevent debris from contacting the product as pallet loads of it are moved by forklift to the warehouse. The rolls are threaded through one of three horizontal die-cutting and pouching machines that have been running since the late '80s.
The machines package a postage-stamp-sized patch between an upper and lower film web supplied by RJR Packaging (Winston-Salem, NC). The adhesive-lamination for both rolls consists of 26# paper/4# low-density polyethylene/0.0035 aluminum foil/11# LDPE. The material is heat-sealed on four sides, with cuts made between seal areas to create individual pouches. A lot and expiration date (two years from the blending date) are debossed into the seal area of the pouch.
Pouches are then conveyed past a checkweigher. Before they're loaded into corrugated cases, quality assurance personnel inspect representative samples to confirm compliance to pouched product integrity. Once approved, pallet loads of case-packed pouches are brought to what's called a "cartoning suite," where individual pouches are automatically cartoned on the R.A. Jones machine.
Bought in '98
"We acquired the machine in 1998," says Huda Midani, Noven's project manager of operations. "It did not replace another machine. Instead, it was purchased to handle another hormone therapy patch. We also use it for the Vivelle-Dot product line. We run about 60ꯠ cartons a day on it," she notes, "at speeds of 100 to 120 per minute. The machine has done very well for us."
Midani says, "When we were looking for a cartoner, we had choices, but we looked for a company with an excellent track record and the best available product."
The ink-jet coder on the cartoner prints lot and expiration date onto an end flap of the individual folding carton (IFC). From Vista Color, the C1S, 18-pt SBS carton is offset-printed in three colors plus varnish.
After the machine erects the carton and tucks in the end flaps of one carton side, it loads the pouches into the carton. A friction feeder from Longford Equipment (Scarborough, Ontario, Canada) dispenses two printed, folded and glued paper inserts into the IFC. Then the R.A. Jones machine closes the end flaps. One insert is a physician's insert that carries information such as the product's chemical name; the other provides product information such as application instructions for the end user. Both inserts are required by FDA.
Different configurations
For physician samples, the cartoner loads two patches/carton. "That's one week's supply," says Natalie Rajcoomar, product manager, marketing and sales. For pharmacies, eight patches (one month's worth) are packed into the IFC.
"We use the same carton for either two patches or eight for different reasons," Midani explains. "When the physician or nurse gives the carton with two patches to the patient, we want to familiarize the consumer with the package that she would receive from the pharmacy.
"We also want her to know that when she opens the main carton flap she'll see the compliance 'calendar' that's printed on the inside flap," she continues. "This calendar has check boxes that list two days of the week, such as Sun/Wed, so that the woman checks the date she first applied the patch, say on a Sunday, and can see that she'll need to remove that patch and replace it with a new one on Wednesday."
Using the same IFC for both markets has advantages for Noven that go beyond familiarizing users with the package and assisting them with compliance issues. "From a packaging perspective, we wanted to keep our changeovers on the Jones machine to a minimum," Midani says. "If we maintain a package size that's consistent, it requires fewer machine adjustments. That results in greater operating efficiencies and less downtime."
Carton challenges
Opening the carton's top flap reveals a perforated paper section that is part of the IFC. This panel includes patient instructions and is pulled open to provide access to the pouched packets in the carton.
"This part of the carton was challenging from a design standpoint," says Midani. "We wanted the perforations to be strong enough to avoid collapse under minimal stress, but the perforations couldn't be so rigid that pulling them open as instructed would rip the carton's side panels. There was a considerable amount of stress analysis done until we got it just right. It's a unique package that we refer to as a straight-tuck, compact-style carton."
Outer carton differences
While the pouch and IFC are the same for both Vivelle-Dot target markets, they use different outer folding cartons. For the physician sampler, the "display packer" carries the colorful purple graphics and holds five IFCs. A simpler white-and-blue graphics scheme is used for the pharmacy "trade packer," which holds three IFCs.
"There's more of a marketing strategy in appealing to the physicians because we have to convince them that our product is the best," says Midani. Besides using more colorful graphics, the display packer includes a "pop-up" flap that folds up and tucks into the carton behind the three IFCs. Set up, the carton takes on a retail-like appearance that makes it an appealing addition to the physician's office. That eye appeal is unnecessary in pharmacies.
Both of these outer cartons are again supplied by Vista Color. Like the IFCs, the trade packer consists of C1S, 18-pt SBS, offset-printed in three colors plus varnish. (The display packer is 20-pt SBS.) The purple color on the IFC and physician display box "looks feminine and differentiates it from our previous Vivelle® patch, which came in a larger teal-colored carton," says Rajcoomar. She points out that the new Vivelle-Dot is 66% smaller than the size of the Vivelle patch.
Uses less material
The patch size has many positive implications for Novogyne, its customers and product users. For example, on the Vivelle-Dot with 0.05 milligram/day dosage (there are four strength varieties), the patch measures 5 cm2 as compared to 14.5 cm2 on the Vivelle version. Delivering the same dosage in a smaller patch was possible because of the Dot-Matrix manufacturing technology. The smaller patch is more comfortable to wear, less obtrusive and is exceptionally adherent.
A smaller patch also means the pouch can be smaller. For the 0.05-mg dose, the Vivelle-Dot pouch measures 2 ½"x2 ½" as compared to 2 7/8"x2 7/8" for the Vivelle patch. With larger dosages, the package size difference increases. Similar package size reductions come from the IFC, outer folding cartons and corrugated shippers used for Vivelle-Dot. Midani estimates packaging material savings of 38% with Vivelle-Dot compared with materials necessary to package Vivelle.
"Transdermals are dispensed at pharmacies in their original packaging, therefore, our packaging is designed with product integrity and protection number one, and number two to appeal to our female target market," says Midani.
She says that "since its launch, Vivelle-Dot has gained five percent in new market share. Although it's difficult to assess how much of this success is due to packaging, the packaging design is serving us well. Our field reps are delighted at presenting these packages to their physician customers. The reps have received great feedback and pharmacies are pleased to display the product because it takes up less shelf space than does Vivelle."
In a hurry? Request more info via Web-based reader service by clicking on company name.
Or you can jump right to their Web site if it's listed.
Companies in this article
Videos from Videojet Technologies Inc.