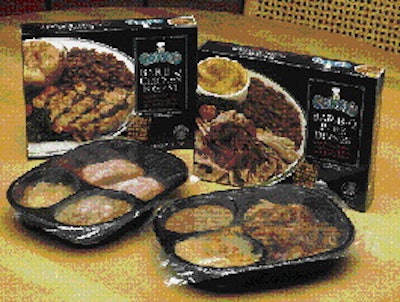 When Memphis-based Corky's Bar-B-Q introduced frozen dinners of its tasty barbecue last May, it targeted not only retailers but also a local health care provider. Surprisingly, the same packaging materials are used for both markets:
* A three-compartment, dual-ovenable tray thermoformed from 30-mil crystallized polyethylene terephthalate (CPET) by Green-Tek (Edgerton, WI)
* A 1-mil PE-based see-through lidding film manufactured by Rockwell Solutions in Scotland, represented in the U.S. by Green-Tek, and
* A 22-pt SBS outer folding carton that's offset-printed in five colors by The Milton Sternberger Co. (Memphis, TN)
"We call these our home meal replacement dinners," says Andrew Woodman, chief financial officer for family-owned Corky's. "We didn't want to have two separate stockkeeping units for our hospital cafeteria customers and for the grocery stores, so we decided to use the same packaging for both."
Initially, Corky's introduced two dinners: Bar-B-Q Chicken Breast (14 oz) and Bar-B-Q Pork Dinner (13 oz). The main entree is filled into the tray's largest compartment, which takes up about half of the tray. The trays also have two smaller compartments, one for baked beans, the other holding cinnamon apples. More recently, Corky's introduced a third HMR variety: Hot Tamales with Chili.
As this issue was going to press, Woodman said that Memphis-based Methodist Health Care was the exclusive institutional customer. The health care system operates 13 hospitals. Five of them sell the two original Corky's dinners from small cafeteria freezers.
"The Corky's products give us other selections we can offer to hospital visitors or staff members," points out Steve Scranton, MHC's director of food and nutrition services. "We started offering them last May. It's sold in an attractive printed package."
Beyond its graphic appeal, Scranton says the ability to quickly heat and eat the product wherever the buyer wants is an important advantage provided by the package.
"We often have microwaves available in the cafeterias," he says. "But we're finding that a lot of our nursing staff and office personnel who feel they can't take much time away from their office or floor come in and buy these. They take them back to their break areas or stations, microwave them and can enjoy them in a more private setting."
Plenty of potential
Scranton says that as the weather starts to get cooler, more people are going to want to stay in and eat a heartier meal like this. I think it's a product with potential," he adds.
Potential is precisely what Corky's believes the new product/package combination offers. "We sell our other products in different packaging configurations to Aramark, the airline service company, and for meals consumed on westbound Northwest airline flights," says Corky's Woodman. "We also sell packaged meals to companies such as Federal Express and Schering-Plough, where employees can grab them and go."
When Corky's introduced the new HMR products, it didn't know how sales would break down between institutional and retail customers, though the exclusivity arrangement with MHC limits institutional sales.
"The home meal replacements have really taken off in grocery stores," he says. "We're amazed with the reorders. We originally thought it would affect our other [vacuum-packed] frozen product lines [of ribs or other individual food items]. But what's happened is we've found a new customer base in home meal replacements in grocery stores. Our sales are up around 10 percent on an annualized basis," Woodman notes.
Gooding's Supermarkets, Apopka, FL, stocks the two original pork and chicken HMR items at all 12 of its grocery stores in the Orlando, FL, area. "We brought them in as soon as they were available," says Roger Kurr, buyer for Gooding's foodservice, hospitality and centralized warehouse. "In fact, I was asking them if they could create something like that."
Kurr's enthusiasm stems from the success Gooding's has had with other Corky's products. "We sell their frozen pork, beef, ribs, chicken and beans, as well as their sauces and powdered seasoning 'rubs'," he notes. "The home meal replacement line is a concept I've talked with them about because their product is so well known here. There's nothing else like it in our area, so it's an easy sell. We have consumers sending us e-mails at our Web site thanking us for bringing in Corky's."
The HMR package is also a winner, he says, because of its convenience. "People's minds are changing when it comes to frozen foods," says Kurr. "If you have a quality product, they'll buy it because of its convenience."
Gooding's stocks these products in a special 15-foot-wide home meal replacement section, along with other restaurant lines. "They've become our high-end lines," says Kurr," pushing more traditional frozen food dinners that used to be our high-end lines to our lower end. The Corky's HMRs get two facings for both meals, and they're selling extremely well.
"We also have special sales and displays for them about every other month. "We like these products because [they can price them to provide] a nice 25- to 30-percent gross profit, which is more than the usual 20 percent," Kurr concludes.
On-site filling
Using the same packaging materials for both institutional and retail customers simplifies Corky's ordering and storing tasks. The company packs product at what it calls its "USDA facility," adjacent to its original restaurant location in Memphis. The plant is managed by Joel Storck, Corky's director of USDA operations.
The 3ꯠ sq' plant typically runs one shift, five days/week, though it can run three shifts, seven days/week if necessary, to meet orders. "That's the beauty of being a small, family-owned business," says Woodman.
In production, product is filled by hand into the black CPET trays. Four filled trays are placed on a stainless-steel "baker's tray." Twenty of those trays are placed onto a baker's rack that's wheeled into a blast freezer. "This cools the product down and helps prevent [growth of] food-borne pathogens," says Storck.
When the product reaches about 30°F, an associate wheels the rack back to the packaging line where a worker places each filled tray into a custom-fitted pocket on a new AL300X sealer from Anchor Packaging (Fenton, MO). The sealer uses an orbiting chain conveyor system that continually revolves. The Green-Tek lidding film unwinds from a roll and is heat-sealed to the tray in-line. The process is done "one-up" at speeds of more than 30/min, according to Stork. He notes that after sealing, the film is cut, with little scrap generated during the process.
Sealed trays are manually loaded back onto baker's trays, into the racks and wheeled into the blast freezer where they remain overnight. The next business day, the trays are brought to an Econocorp (Randolph, MA) machine that erects the cartons. Operators load one tray into each carton before the machine seals the carton with hot melt glue. Twelve cartons are placed into a corrugated shipper. Palletizing and stretch wrapping functions are completed manually. Corky's distributes via its own trucks to what Woodman refers to as the "Delta marketing area," which primarily includes Tennessee, Mississippi and Arkansas.
Material benefits
The CPET trays used for the three new HMR offerings represent quite a change for Corky's. "The package differs from those we had used, and still use for many of our other retail and institutional products," Woodman notes. "We usually sell frozen products in vacuum-packed plastic bags inside an outer paperboard carton. Compared to those, this is definitely a more expensive tray." But with good reason.
The tray has to withstand temperatures as low as
Instructions on the back of the printed carton tell users to remove the tray from the carton, cut the film lid to permit venting, then microwave per instructions. The lidding material provides a strong sealant for the dual-ovenable, PE-based film.
"We justify the package because it's allowed us to enter a new market," Woodman states. "Before we introduced this line, we conducted studies that showed we have a customer base that would be willing to buy into this kind of product line." He estimates the company's first-year goal for the product would be to reach about $500ꯠ in sales.
Corky's is best known for the ribs and barbecue it serves at its nearly 20 restaurants located mainly in the southeast. But the firm also markets everything from seasonings packed in high-density PE bottles to $230 gift and party packs that serve 20 people and are shipped via Federal Express or UPS in expanded polystyrene containers.
The idea for the new HMR trays, Woodman says, came about after reading a story in Packaging World on dual-ovenable paperboard trays used for a line of frozen baby foods (see PW, April '99, p. 112, or packworld.com/ go/wellfedbaby). Woodman says the trays could be expanded for use with other products, but there are no immediate plans for that.
"There is one significant new development," he reports. "In October, we signed a lease to move our USDA facility into a new 15ꯠ-square-foot location owned by one of our retail grocery store customers here in the Memphis area. It's close to the Memphis airport and has a huge amount of freezer space so that we will no longer have to contract out freezer storage space as we do now. That will eliminate our space rental costs and reduce labor costs and drivers. and instead of using two or three people to oversee multiple sites, we're going to have one person in charge of all the operations, from a single facility," he explains.
Corky's CFO says he believes both the institutional and retail sides of the business will expand once the new facility is up and running. "When we're settled in, the new space will give us more creative opportunities," says Woodman. "We'll look into adding equipment and new materials."
Companies in this article