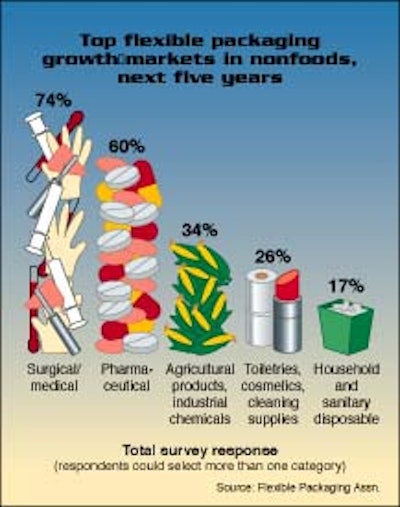 A strong U.S. economy helped 1998 flexible packaging material sales rise an estimated 3.7% compared to the previous year, despite increased foreign competition. And those conditions will contribute to what's expected to be an identical growth percentage this year, to $18.098 billion.
These figures come from the State of the Industry Report 1999, prepared by the Business & Economic Research Division of the Flexible Packaging Assn. (Washington, DC).
This is the ninth year that FPA has published its State of the Industry Report. Much of the 1999 version relies on a December 1998 FPA Outlook Survey that includes the responses of 35 member converters and 26 member suppliers. The 1999 report also uses information collected from census data and other sources, including the U.S. Departments of Labor and Commerce.
In the Outlook Survey, FPA asked respondents to identify growth among end-use markets for 1999 and extend their visions over the next five years. With regard to 1999 markets, "for the first time in five years," the report notes, "the number-one growth market is surgical/medical." So said 62% of the survey's respondents. That end-use market was followed by fresh produce at 57% and pharmaceuticals at 51%. Until this year, fresh produce packaging had a three-year run as the market expected to show the most growth.
End-use forecasts
Looking five years down the road, 74% of the survey's respondents expect surgical/medical to continue as the top growth market (see Chart A). these five-year projections are separated into food (see Chart B) and nonfood categories (see Chart C).
"New technologies and rapidly evolving procedures," says the report, will drive this category's growth. "Demographics will spur medical growth."
Pharmaceuticals is forecast as the second-strongest growth market during the next five years. Factors behind this category's strong showing, the report said, include "replacement of bulk/bottled pills with controlled unit-dose [thermoformed push-through blisters], an aging population and diversity of new drugs."
While 60% of respondents selected pharmaceuticals as a high-growth end-use market in five years for flexibles, 53% selected fresh produce. "This market will grow due to consumer demand for convenience," the report notes. "Prepackaged fresh products from central processing operations will replace in-store packaging and allow for the use of high-speed wrapping equipment and more sophisticated graphics and structures."
Fourth among markets predicted to grow was cereals, at 38%. Cereal packaging "will trend towards pouches and away from cartons," the report anticipates. "Boxes will change to stand-up pouches." Thirty-four percent of respondents believe agricultural products/industrial chemicals will also show solid growth. Says the report: "As more of these products are used in homes rather than farms, the potential for growth is substantial." Also, "these products will capitalize on new barrier structures."
Presently, the report notes, "Food packaging represents 50 percent of the market for flexible packaging, followed by the medical and pharmaceutical markets, which combine to make 25 percent." The last one-quarter of the market is divided among household goods, garden supplies, pet foods, cosmetics, retail merchandise, and agricultural, industrial and institutional applications.
Strong business climate
The 3.7% growth in flexible packaging is attributable to several economic factors, including low interest rates that helped capital purchasing plans, as well as strong orders, low commodity costs and low inventories. The report says that converters typically carry 45 days of inventory.
Beyond these favorable macroeconomic factors, several industry-related situations helped fuel flexible packaging growth. Among them, the report says, are a continued switch from rigid packaging forms, the end-user's drive for reducing costs, new product introductions, and stand-up pouches.
Stand-up pouches helped plastic film sales show the strongest growth among flexible materials. Single- and multi-web film structures combined to account for 65% of flexible material sales in 1997 (see Chart D). That growth is "at the expense of (paper, film and foil combinations)," says the report.
Future concerns
The back-to-back 3.7% growth rate for the past two years corresponds with converter expectations for this year compared to 1998. Nearly six in 10 (57%) believe 1999 will be better than last year. Another 23% expect business to be the same, while only 20% forecast that 1999 business will be worse, attributing that to greater margin pressures.
Looking to the future, FPA Outlook Survey respondents believe that mergers and acquisitions will continue. This will "result in a polarization of small and large firms, further consolidation, and fewer converter companies," notes the report.
Seventy-four percent of respondents (see Chart E) named merger and acquisition growth as their primary five-year "vision." Respondents, who could mention multiple issues for this survey question, next predicted "technological advances," at 42%. They cited better quality printing, new substrates and new applications to support this vision.
Third on the "five-year vision" list was the anticipation that industry growth will continue, cited by 16% of respondents. That same percentage identified tightened margins as increasingly likely due to mergers and acquisitions, foreign competition, and end-users trying to reduce their costs. Concerns about cost reductions were next in the list of predictions. On this topic, respondents felt that in order to stay in business and be competitive, converters would need to keep their own costs under control.
Contracting margins and cost reductions were newcomers to the top five predictions in 1999, replacing globalization and rigid-to-flexible conversion.
While FPA members receive a complimentary copy of the report, they may purchase additional copies of State of the Industry Report 1999 for $25. The cost for nonmembers is $1꿃.
Companies in this article