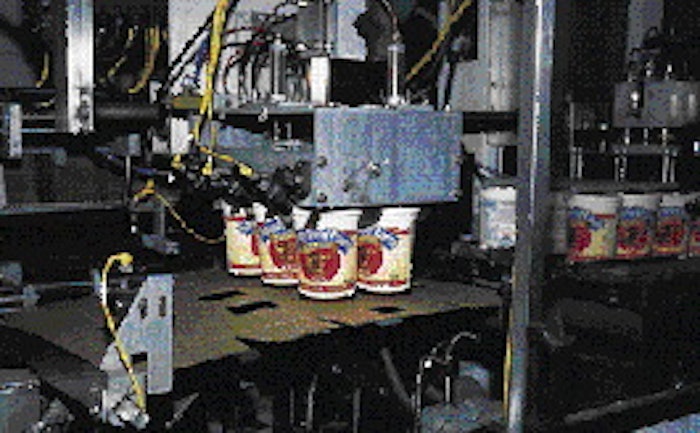 Running parallel to Line 1 at Stonyfield Farm's Londonderry, NH, headquarters facility is a new multipack line that fills Planet Protectors(TM) yogurt.
The colorful six-packs were introduced in January (see Packaging World, Oct. '99, p. 88, or www.packworld/com/go/stonyfield). Filled on Line 2, each pack includes three 4-oz cups of one yogurt flavor and three cups of a different flavor. There are two versions.
Line 2 started up last December. It runs 11/2 shifts/day, five days/week, with annual production of one million cases (with four 6-packs/case). Line speeds are 240 cups/min.
This line includes a filler, designated Model MP 355: SL 1x8, that fills 4 oz of yogurt into a cup in a 1x8 configuration. Four cups are filled with one flavor, four with a second flavor. After filling, the machine applies a colorful peelable lidding to the cup. No overcap is added to these cups.
Cartoning is key
As sealed cups are discharged, lane dividers keep the two flavors separate as the cups are conveyed to a two-lane infeed conveyor of a new cartoner supplied by Dacam (Madison Heights, VA).
Dacam's Ultrapacker erects a paperboard carton blank, pairs three cups of one yogurt flavor from one lane with three of another from the second infeed lane. It then wraps and seals the blank around the cups. It uses a Nordson (Duluth, GA) hot melt system to glue the cartons shut. The 100% recycled clay-coated newsback cartons use 35% post-consumer material and are offset-printed in five colors by converter Old Dominion (Madison Heights, VA).
Move to 'E'-flute
Four cartoned six-packs are positioned onto a flat, vented outer corrugated "overwrap" on a rebuilt case packer. "This container uses about 28 percent less corrugated than an RSC case," contends John Daigle, vice president of operations. "So there are material savings for us."
Recently, Stonyfield Farm switched to E-flute from B-flute for these outer overwraps. The reason for the decision, Daigle notes, "is that E-flute takes up less space, which allows us to put more blanks on a pallet and use less warehouse space. In a trailer, we can fit 75ꯠ E-flute blanks, as compared to 40ꯠ of B-flute." He says the E-flute is economically competitive with B-flute and provides sufficient product protection.
Companies in this article