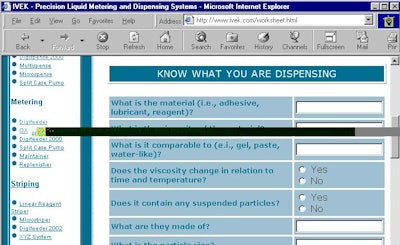 Gebo Industries' Web site www.gebo-indust.com provides plenty of product photos, illustrations and descriptions for a variety of the firm's conveyor systems, including air conveyors and combiners. But the site also describes the supplier's unique packaging line efficiency software, which it refers to as Efficiency Improvement Tool (EIT). A number of screen captures show the software in action, and you can even download a demo version of the software.
At the Web site of Ivek (www.ivek.com), a maker of low-volume liquid dispensing and metering systems, the site contains the typical product photos, descriptions and specs. But what makes the site interesting is it contains a "fluidic applications worksheet" that helps match its equipment to your needs.
To make it easier to select the appropriate packaging machine, Fusion Concepts, Inc./Pfankuch has created on its Web site (www.pfankuch. com) an application/product map. (At the home page, click on "products," then "product map" near the bottom of the page.) Essentially, the site visitor can click on one of 15 different applications (leaflet inserting, coupon placing, label sheet feeding) or one of 10 different markets (food, pharmaceutical, label converting). The site then highlights which of Pfankuch's packaging machinery is appropriate to that application or market. The visitor can then click on one of the recommended machines to obtain product information and photography.
Contract packager Unette Corp.'s new site (www.unette.com) is an information-rich site on the firm's specialty: contract-packaging in single-use tear-top tubes, as well as bottles and jars, for liquid, paste and cream products. The site showcases, among other things, its unique twin-pack tubes. Colorized dimensional drawings are also included.
H.B. Fuller recently added a packaging/converting section to its site, available at www.hbfuller.com/asc/packagingconverting. Visitors can search by packaging application or adhesive technology. Also included within the new site are descriptions of the company's most popular products for packaging and converting applications. Visitors can also submit questions about specific adhesive needs.
Companies in this article