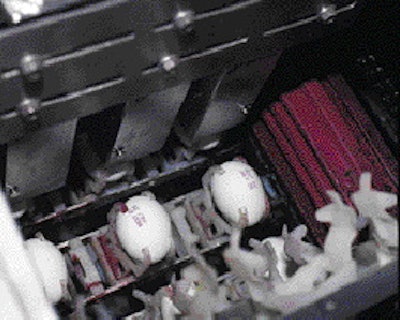 For egg producer Rose Acre Farms, packaging serves as a tool that provides a competitive edge.
In the past year, for example, the Seymour, IN-based family business began ink-jet coding directly onto its eggs in addition to its egg cartons. "We view coding the eggs as a marketing tool for us as well as for our wholesaler and retailer customers," notes Victor Rigterink, executive vice president and a director of the privately held company.
"Coding on the eggs allows them to tell their customers how old the eggs are from the time they're laid, something that few retailers can do," he says.
To code the eggs, Rose Acre uses three Solo 5 units from Domino Amjet (Gurnee, IL). The printers use Domino's RD4503 red food-grade ink to apply whatever code the customer requests. This can include a "laid-on" date, a "use-by" date, date of packaging or a graphic symbol.
Polystyrene hinged cartons are coded by eight Domino Amjet A200 ink-jet coders that use black ink to apply a Julian date or other customer-determined code on the end of the carton's exterior. Rose Acre also uses six contact coders for carton coding, machines Rigterink anticipates will be replaced by additional Domino units in the future.
The cartons used for the 12- and 18-count varieties come from Dolco Packaging (Decatur, IN). Dolco extrudes polystyrene into roll form and then thermoforms the material to create the hinged cartons. They offset-print the material in four colors.
High-volume operation
At Rose Acre's White County egg farm in northeast Indiana, eggs are never touched by human hands. Two million egg-laying birds are raised in 14 separate houses. The hens produce a total of approximately 1.44 million eggs/day, or more than 525 million annually. The hen houses are equipped with a sloped wire cage system so that freshly laid eggs gently roll away from the hen and onto a small belt.
Belts deliver eggs to a larger collection belt that carries them to a central processing and packaging area. After eggs are washed, blown dry and visually inspected for defects, they are conveyed to a Staalkat (Aalten, Holland) Electra egg-grading system where the eggs are weighed and separated by size. Eggs are carefully carried by mechanical gripping fingers in three side-by-side lanes on a conveyor where they're coded by the three Solo 5 machines positioned above the conveyor. Each lane is 2" apart.
"We've had the coders operating for about a year now," says Rigterink. "Before they were installed, we didn't code the eggs. We feel the codes give the consumer one more tool to make sure the eggs they're buying are fresh. Consumers have had the dating on the outside of the egg carton, but many times when the consumer takes them home, they remove the eggs from the carton for refrigerator storage and throw out the carton. So when the consumer goes to use them, they may have no idea how old they are." By date coding individual eggs, consumers now have that information.
Indicating freshness
The actual code varies. A "laid-on" date indicates what day the bird actually laid the egg. A "packaged-on" date tells what day the egg was placed in the carton. A "best-if-used-by" date also helps the consumer understand shelf life.
Rigterink explains that the egg business in general has been scrutinized in recent years due to concerns about freshness. "According to USDA rules, to use the word 'fresh,' eggs must be packaged in no more than 30 days from the date of lay. That becomes very difficult to determine when eggs are sold from one processor to another to another. In that off-line process, where an egg is produced in a chicken house, gathered and sent to a separate plant for processing, there's just no good way for the consumer to know how fresh the egg is."
He describes the Rose Acre Farms process as "an in-line grading facility, where we package the eggs at the same plant they're laid, usually within an eight-hour period, and always within 24 hours."
Carton coding
After the individual eggs are coded, the eggs are gently delivered to 14 separate packing heads/lanes, all of which are part of the Staalkat machine. Each lane handles a specific egg size or grade. All eggs produced and packaged at White County are white in color. The computerized packing units use weight information from the upstream scales to determine which lane to deliver each egg to. Large Grade A eggs are the most common size, Rigterink says. Four of the 14 lanes are dedicated to this egg size.
Eggs are mechanically packed into cartons opened by the Staalkat egg grading and packing machine. Carton tops are closed onto the filled egg cartons, which hold either 12 or 18 eggs. Closed cartons are discharged from the machine onto a conveyor where either a Domino A200 or older contact coder applies a Julian date code as well as a federal number that identifies the packing plant. Eggs are then manually placed in shipping cases, taped shut, palletized, stretch-wrapped and delivered by refrigerated truck to grocery wholesalers nationwide.
About 70% of the eggs produced at White County egg farm are sold under Rose Acre Farms brands, with the balance packed as private-label offerings. All eggs are sold refrigerated, with a sell-by or use-by date of up to 30 days.
Coding individual eggs is not inexpensive, Rigterink admits. He also believes "that the codes have not been utilized as fully as we would like by retailers and wholesalers. We're working on training those customers, though, and we're making progress. We feel this has a future because a few years from now we'll see eggs being retailed and marketed with more of an emphasis on the freshness code rather than sheer number of egg sizes. We have a way to go, but to this point, the process has been successful."
Companies in this article