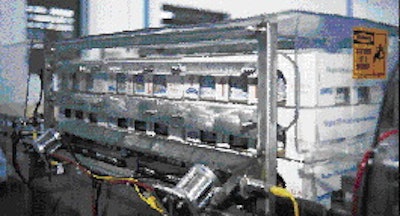 Stonyfield Farm maintenance mechanic Michael Carlson says he comes from "a family of inventors who are mechanically inclined." A 25-year packaging veteran, Carlson has worked for the past 11/2 years at Stonyfield Farm.
Carlson was instrumental in building a stacking machine that automatically stacks three wraparound corrugated cases, each of which contains a dozen 8-oz cups of yogurt. The unit went into operation in February at the yogurt maker's Londonderry, NH, headquarters facility.
John Daigle, the company's vice president of operations, credits the building and design of the stacker to Carlson. "The stacker allows our people to pick up stacks of three cases and place them on a pallet as opposed to lifting every single case," he notes.
In the past, workers had to handle each case individually. They would then lift three cases and place them onto a nearby pallet. "But as we increased the line's speed, one person couldn't handle the output all day long," Daigle recalls. "So a case packer operator [located just upstream of the stacker] often came over to help stack cases. But that led to occasional problems on the case packer because at those times there'd be no one operating that machine."
The labor-intensive stacking process also led to high turnover in the position. "In today's labor environment, our turnover of labor on the task was huge," relates Daigle. "People would work the job for a few days and say, 'I'm just not going to do that.' With the automatic stacker, we've found that people are more willing to stay with the job."
The most impressive bottom-line benefit the stacker provides Stonyfield Farm is that it saves $50ꯠ/yr in labor costs, according to Daigle. That's the result of eliminating one full-time "temp" worker on each of two daily eight-hour shifts. Now only one person is necessary to load cases onto the pallet.
Beyond labor savings, plant engineer Herb Berwald says the addition of the stacker "will allow us to convert from manual to automated palletizing more readily. That's because it's more efficient to palletize a stack of three cases than it is individual cases. And if we were to palletize single cases, we'd need three times the length of conveyor space for accumulation. We don't have that much room in our building." A palletizer is on order.
'Wonders of electronics'
The first stacker was built with pneumatic controls. It's currently used for cases on Line 3, which produces 6- and 8-oz cups of yogurt. "That was a prototype machine that we put in for proof that the concept would work," explains Carlson. A second machine, capable of higher speeds, was subsequently added to Line 1, the high-volume line at Stonyfield Farm that runs 8-oz cups. It uses more sophisticated electronic controls.
Right now, says Berwald, the stackers run virtually flawlessly. The process on Line 1 begins after a dozen 8-oz cups are automatically packed into a corrugated case. A conveyor delivers cases single-file to the stacker. Three cases accumulate end-to-end and are held in place by pneumatic cylinders. A photoeye senses when the third case enters. At that point, the three cases are conveyed to the next station where lift cylinders raise them. Side arms hold them suspended, allowing three more cases to enter the machine beneath the raised three. After the second set of three is lifted, a third set of three enters the machine. The cases are discharged from the machine in three stacks of three.
"The machine is PLC-controlled," says Carlson. "It incorporates the wonders of electronics and is about as efficient and fail-safe as it can be. Credit has to be given to Jeff Clark, the project coordinator, for writing the program for the PLC."
Carlson says the stacker relies on Rockwell Automation (Milwaukee, WI) controls, including the supplier's Allen-Bradley SLC 5/02, photoeyes and proximity switches. The stacker also uses 12 air cylinders from Bimba Mfg. (Monee, IL).
'Creative license'
The stacker's success is no accident. Daigle explains that he had seen similar machinery in operation at other plants. He believed that as new equipment was added to the line to increase its output, stacking would have to be automated.
"I had photos and sketches of stacking machinery that I gave to Mike," says Daigle. "He's a creative guy with skills, and he had a lot of curiosity and interest in developing this. We freed him up from his other duties so he could work specifically on this project."
Certainly, that decision has paid off for Stonyfield Farm. So much so that the company plans to add a stacking machine at the end of each of its four filling lines. The current plan is for conveyors to send cases from each line to a single palletizer.
"The stackers would be different, but the good thing about them is that they'd use the same components," Carlson relates. "If an air cylinder were to go bad, we wouldn't even have to shut the line down. We could adjust the stacker so that cases would proceed through it as if it were part of the conveyor," with individual cases stacked on the pallet. "In a few minutes the cylinder could be replaced with a new one. For that short time period, we could stack cases manually.
"The next time we make equipment like this," Carlson says, "even though it may be a different configuration and have to accommodate different container sizes, it'll be with the same components." That fits well with Stonyfield Farm's strategy of standardizing machinery and material vendors (see sidebar, p.91).
Carlson especially appreciates the opportunity he's been given to develop the stacker. That creative license "is just the kind of thing that makes this all very interesting to me," he concludes.
"Personal Contribution" will be occasional reports that focus on how an individual or group went beyond normal responsibilities to advance a manufacturer's packaging operation.
Companies in this article