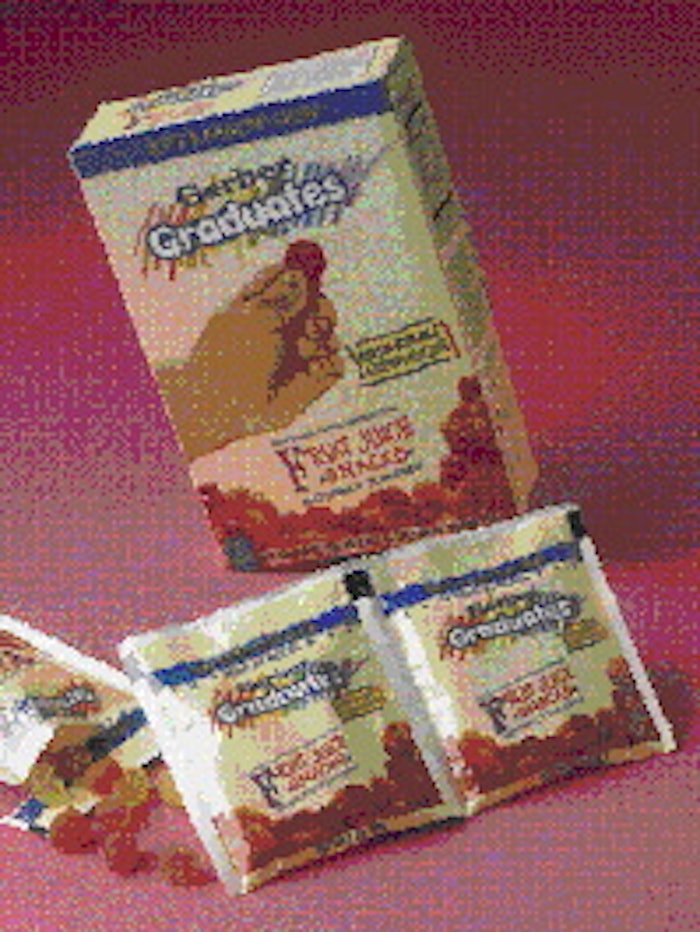 Many Packaging World readers may already know that Cloud Corp. isn't the typical contract packager. For 35 years the privately held Des Plaines IL business has also sold high-speed continuous-motion rotary pouch packaging machinery. Yet despite the equipment's design emphasis on speed and efficiency several major lines Cloud uses in contract packaging were not able to maintain their output without improvement in their film roll changeovers. That is until about 18 months ago.
That's when the CP/machine maker began equipping its own Cloud Original(TM) horizontal form/fill/seal machinery with automated splicing machinery from KTI-Keene Technology (South Beloit IL). One of the contract packager's high-volume pouch lines operates at speeds exceeding 500 packs/min so it requires a film roll replacement about every 40 minutes according to Jeff Graham account manager and Mark Zimmer business manager packaging group.
Tom Cloud vice president of marketing estimates that each manual roll change on the line used to take up to 2 minutes. The KTI splicer accomplishes the task in a few seconds he says. "That's a big difference" Cloud notes. It wasn't just a matter of losing a minute and a half each 40 minutes. Anticipating the frequent changeovers also distracted the operators. "This way it's a continuous process" says Cloud with almost no slowdown.
Cloud acknowledges that "if you're only going to run five rolls you only have to stop five times" in which case automatic splicing wouldn't be a major time-saver. "But when it's 100 stops it's significant. Especially on an annual basis."
Zimmer says that automated splicing cuts downtime labor costs and yield loss or scrap. "In the past we would prep the next roll using double-stick tape or an impulse sealer to adhere it to the end of the first roll" explains Cloud.
"During the process we would stop the machine splice the tape and not run product for the duration of the roll change" notes Zimmer. Cloud adds "we'd typically lose 50 to 60 pouches for a roll change. Now we still prep the next roll but we only lose three to six pouches in this continuous process."
Gerber 'Graduates'
One of Cloud's first customers to benefit from the KTI splicing equipment is Gerber Products Co. the venerable Fremont MI company that is now part of the Consumer Health Div. of Summit NJ-based Novartis.
Cloud has packed Gerber's Graduates(TM) Fruit Juice Snacks since the product's launch in 1996. During that time the product has "graduated" from manual to automated web splicing.
"They produce packages for us approximately every other month" explains George Zuwerink Gerber's manager of contract manufacturing/food. "I'm familiar with the KTI splicing equipment and am aware that it's functioning on the Cloud equipment but I don't know the details of how it helps us" he admits. "But it's a downtime issue for Cloud in changing film so anything that speeds up their packaging process is a benefit for us."
Speed and sanitation are the two most critical equipment concerns for Gerber. "The packaging machinery matters to us from a sanitation standpoint though we aren't as concerned with a particular brand or style of equipment" says Zuwerink.
"We selected Cloud to run this project for us because their high-speed equipment allowed us to introduce the Fruit Juice Snacks to the market. We could not launch the product at a competitive price point without their high-speed equipment" he insists. "They run this in excess of 500 pouches per minute. Not just any contract packager could operate at these speeds. The product is soft and must be handled gently as it's a one-ounce fill. We could get [others] to do this at less than 100 packs a minute but no one else could tackle it in excess of 500 a minute."
High-speed hf/f/s
The Gerber Graduates product represents "the single-largest use of the capacity on this line" explains Cloud's Zimmer. The "U"-shaped line runs two or three shifts/day five days/week. The line occupies one of 15 packaging rooms in a 150 sq' portion of Cloud's 400 sq' Des Plaines contract packaging/machine manufacturing facility. One of three Cloud plants Des Plaines packages powders granulars and piece products like Graduates. Zimmer says about 90% of the plant's volume is sold at retail including grocery and club stores; 10% goes to foodservice customers.
On the Cloud "Original" hf/f/s line there are two unwind stands. Film converters for Graduates have varied but at the time of PW's visit to Cloud Gerber's Zuwerink says it came from Milprint (Oshkosh WI). The 2.5-mil film is a multilayer adhesive lamination. Gerber preferred not to divulge the film's specific materials.
Zuwerink says the product includes real fruit juice. "And so the product needs moisture barrier. We don't want to lose moisture and we had to change the film from its original structure to make sure it provided that key barrier element."
Gerber tests the structures and Cloud purchases materials to its specifications but only from approved suppliers. "Cloud may make recommendations as to a supplier but it must be Gerber-approved" says Zuwerink.
Payback no 'hurdle'
The Cloud line that fills Gerber Graduates uses a standard dual-mandrel KTI splicer. Film unwinds from the running roll while the second roll is prepped. The running roll proceeds through a series of idler and tension rollers inside a chamber of the KTI machine. An operator dials in the appropriate roll diameter for the run. The KTI actively calculates the roll diameter as the job runs to determine when the splice to the next roll must be made.
That's done with the assistance of two electric eyes. One beam pulses a light on a revolving brake disc drum at the side of the film roll. A second eye pulses on an idler roller about 2' away. As the roll of film is depleted the film roll and idler rollers revolve more quickly to deliver the film downstream. The eyes operate under a microprocessor-based controller that notes the revolutions of the rollers. The difference in the revolutions between the two eyes is used to compare and calculate the roll diameter on the fly. When the roll reaches a predetermined "splice-out" diameter the sensors signal a stop at the next registration mark on the unwinding roll. The idler rollers continuously feed material towards a forming plow downstream so that the line doesn't need to slow down for the automatic splice.
The roll on the second unwind is manually prepped long before the first roll is depleted by applying double-sided tape to its leading edge. A cam-activated nip roll connects the two rolls. It also cuts off the used roll with a knife assembly. Once the new roll is running an operator removes the empty roll core from the previous roll and discards it then inserts another roll of film onto that unwind. That roll is then prepped so it's ready for the next roll change. Typically an operator uses a black marker to mark the leading impression on the new roll where the actual splice will take place.
Since installing its first KTI unit Cloud has expanded its use to six of the machines it uses internally as well as on about 25 of the machines it's manufactured for sale.
"We have people who work for us that came from backgrounds where they used high-speed splicing equipment" says Zimmer. "And as we focused on the big picture of bringing together machine efficiency within our own contract packaging and for customers who buy our machinery we wanted to increase that efficiency and minimize yield loss. The splicer has improved our capacity reduced our scrap and downtime. On any high-volume equipment where speed and efficiency are concerns the splicing equipment becomes a real asset."
As for return on investment Zimmer concludes: "Material and labor savings for payback on the equipment varies from line to line depending on crew size line speed and product. This equipment has the same type of 'hurdle' rates that most large manufacturers have for machinery within two years and we're meeting that time period."
Companies in this article