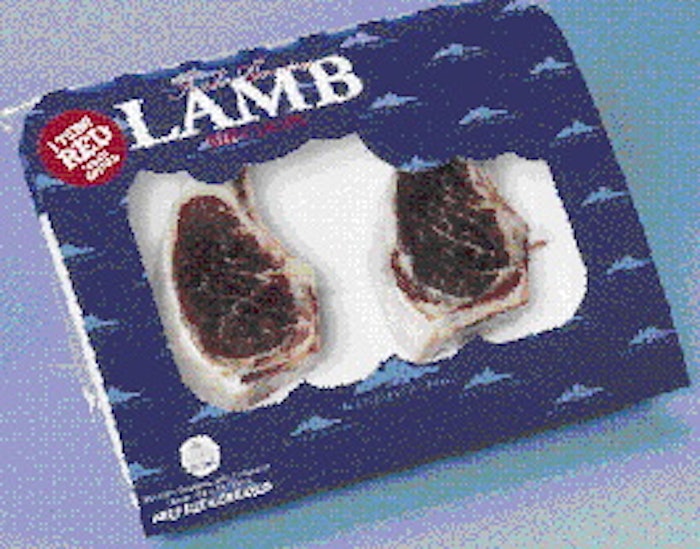 Case-ready fresh red meat isn't the only business at Mountain Meadows Lamb. In fact, the bulk of this Denver-based firm's business is selling primal and sub-primal cuts of lamb and veal to retailers and foodservice accounts across the country.
But for the past 20 months, MML has invested considerable time and energy--not to mention capital--in two distinctly different case-ready packaging programs: vacuum skin-packaging in barrier materials and unit packs in nonbarrier materials that are placed in modified-atmosphere master packs made of barrier materials.
"What we've learned is that there is a need for both," says sales manager Dick Wildeman. "We were going to stores selling the vacuum skin-pack, and we'd have some customers buy it, but others wanted to know about modified atmosphere. Finally, the light went on: Why not do both?"
VSP lamb and veal are now available from MML in approximately 2ꯠ stores in select regions around the country. The MAP program is just getting underway in a few stores, though the company has high hopes for it in the near future.
The company uses its own refrigerated trucks or common carriers to ship products to regional distribution centers used by supermarket chains such as Kroger and Tom Thumb. Shelf life for both packaging styles of case-ready products is 21 days from date of packaging, 14 days for ground meats.
"We put a 21-day use-by date on the package and a 14-day use-by date on the ground product, which is considerably more perishable," says Wildeman. "So even if it takes as much as four days to reach a supermarket case, there's still 10 days to merchandise the ground product and 17 days for the others. That's a far cry from the three or four days you get to merchandise meat that's packaged fresh in the store."
Single-chamber machine
The company's first vacuum skin-packaging machine was a single-chamber unit from New Zealand's Trigon Engineering, represented in the U.S. by Koch Equipment Group (Kansas City, MO). A little less than a year ago, MML added a dual-chamber Intact(TM) system from the same supplier.
The finished vacuum skin-pack has evolved from its original form: a foam tray with vacuum skin-pack film over the meat and a pressure-sensitive label applied to the clear film. About a year ago, the firm did away with the label and began using a paperboard sleeve with a die cut from Green Bay Packaging (Green Bay, WI). Wildeman says the sleeve adds another 8 or 9¢ to an already expensive package. But he says it's worth every penny.
"Could we do without it?" he says. "Sure. But since we added it, it's made a huge difference. When you walk into a store, you see these packages right away. The blue for the lamb and the pink for the veal hit you right in the face. What the sleeves add to the cost of the package is not nearly as important as how effectively they attract attention."
Applied manually, the sleeve is made of 16-pt solid bleached sulfate printed offset in four colors. The meat shows nicely through the die-cut opening, but it tends to be more purple than red because the barrier materials keep oxygen away from it, and meat deprived of oxygen loses its bright red color. Because U.S. consumers have typically been reluctant to buy fresh meat that isn't red, MML has the sleeve printed with a round "violator" that says: "I turn red when opened."
Both the tray and the clear film on top of the meat incorporate oxygen barrier components. Supplied by Pactiv (Lake Forest, IL), the Sealfresh® barrier tray is expanded polystyrene topped by a multilayer lamination with ethylene vinyl alcohol among its layers. The top layer of the lamination is "polyethylene-based," says Pactiv, so the skin-pack film can be heat-sealed to it.
Poly-Ply (Miami, FL) manufactures the vacuum skin-pack film, supplied through Packaging Film Sales (Denver, CO). It's a five-layer coextrusion of DuPont Surlyn®/tie layer/EVOH/tie/ethylene vinyl acetate.
The dual-chamber, semi-automatic VSP Intact machine is operated by one person. The operator places several trays of meat into a molded tray carrier and puts the carrier on one side of the machine. The operator pulls film over the entire carrier and closes the vacuum chamber on it, which activates the vacuum-sealing cycle. The operator then loads a second tray into the other chamber of the machine and repeats the cycle. While one chamber is in the vacuum seal mode, the operator sleeves the packs that just came out of the other chamber.
MAP is brand new
While MML has been been producing vacuum-skin packs for about a year and a half, its MAP program was launched just this summer and is still in its infancy.
"Gas flushing is a totally different approach," says Wildeman. "Product goes into a conventional tray and film wrap, and the tray goes into a master barrier bag that's evacuated and then gas-flushed with carbon dioxide to inhibit spoilage. The meat blooms when it's removed from the master bag, and the store then has two or three days to sell it."
According to Wildeman, retailers perceive two chief advantages in the MAP approach compared to VSP. First, the meat looks like it was cut and packaged in the back room, so it's more familiar to consumers. And second, because the packaging materials used for VSP cost more per pound of meat than MAP (Wildeman doesn't quantify how much more), the retailer must pay a higher wholesale price for VSP. That cost must be passed along to the consumer. So for some retailers, the lower-cost MAP program might permit a selling price low enough so that lamb and veal are attractive to budget-minded shoppers who might otherwise pass them up.
Wildeman is quick to point out, however, that other retailers believe the VSP program has advantages over MAP. "They like the fact that with VSP, they can take packs out of the box and put them right in the display counter," says Wildeman. "They don't have to weigh, price or label because we do that for them according to their instructions. We can't do that with MAP product because the label must include a date. And we don't know what day they'll take the individual packs out of the master bag."
The other key attraction retailers find in the VSP program is that throughout the meat's extended shelf life, the package is on display in the meat case, not in the back room. That allows meat merchandisers to put a wider selection of cuts on display without worrying about only two or three days of shelf life.
"More cuts on the counter mean greater visibility for the program, especially with these brightly colored sleeves," says Wildeman.
Tray overwrapper
For the primary packaging in its MAP program, MML uses a Super Chik 42 tray overwrapper made in Spain by Ulma, a company represented in the U.S. by Ulma Packaging Systems (Woodstock, GA). The meat is trayed by hand, and then the Ulma machine overwraps it in a polyvinyl chloride lidding material supplied by Huntsman (Salt Lake City, UT); various gauges are being explored. Several tray types are also being evaluated, though the leading candidate right now is a tray thermoformed of polyethylene terephthalate by Genpak (Glens Falls, NY). Conventional foam trays are not an option, because the foam material would likely trap oxygen despite the best efforts of the machine used to evacuate the master barrier bags.
According to Wildeman, the Ulma machine is uniquely suited for tray size changes because it feeds film from two rolls, one narrow and one wide, instead of a single film unwind. A series of solenoids and photocells wired into a PLC detect the size of a tray as it enters the wrapping area. If the tray is narrow, the narrow roll of film is activated rather than the wide one, thus preventing film waste.
Wrapped trays are placed into a master barrier bag supplied by Securefresh North America (Springdale, AR). Securefresh also supplied the semi-automatic chamber system that's used to evacuate and back-flush the MAP master packs. It handles four bags with each cycle and completes a cycle in 47 sec. Built into the chamber system is a gas analyzer that will detect if the flow of carbon dioxide is contaminated with ambient air. Should the oxygen content exceed a predetermined level, the machine shuts down. The company also relies on an off-line head-space analyzer that's used to measure residual oxygen inside finished packs on a random basis.
The barrier bag used by MML is a seven-layer coextrusion of LLDPE/ tie/nylon/EVOH/tie/ultra LDPE/sealant layer. Total thickness of the bag is 5 mils, and according to Securefresh, it has an OTR of less than 0.3 cc of oxygen/sq m/24 hr.
The number of trays shipped in a master bag varies according to the type of cut and the customer. Like other components in the still-new program, the corrugated shipper is still being finalized. The number of bags per shipper could vary, too. Wildeman believes that a relatively robust shipper will be required and figures that layer dividers will probably be needed to keep each bag in good shape throughout distribution.
Details, details
Wildeman and colleagues at MML are confident such details can be worked out, just as they had to be worked out when the firm's VSP program was being finalized. Once these issues are resolved, Wildeman thinks the two-pronged VSP/MAP case-ready strategy will meet with great success.
He's the first to admit that the packaging materials are anything but cheap, but he says the cost issue must be put in perspective. Specifically, the pressure to wring a profit out of lamb and veal sales is not as intense as it is in other categories, he notes. But the need to at least offer these items is very real. MML's goal is to help retailers do that and to make a greater variety of lamb and veal cuts available.
As Wildeman watches both the company's case-ready meat programs grow, he can't help but notice how many rolls of film and boxes of barrier bags the company goes through. It wasn't always that way, he adds. "When we started, we were almost afraid to order a single roll of film."
Wildeman predicts solid growth for both VSP and MAP formats. "They're both good systems," he says. "They're just different."
Companies in this article