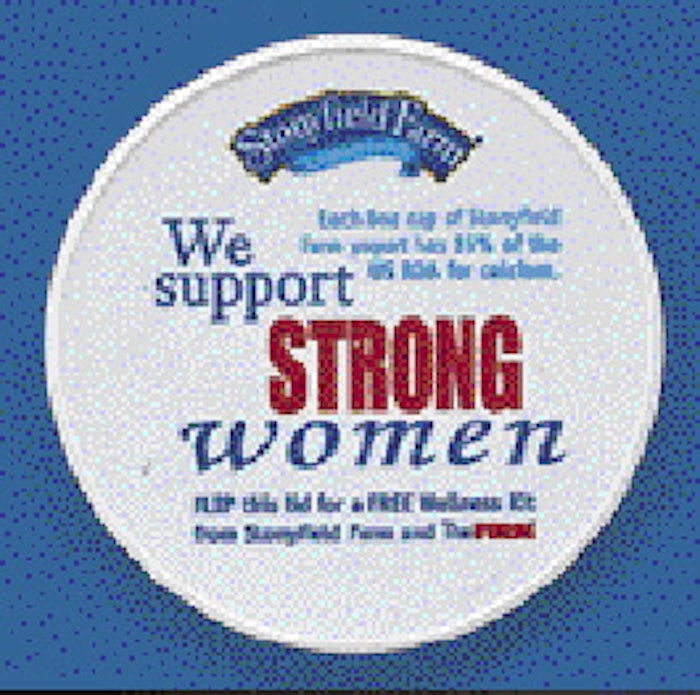 Planet Protectors(TM) is the name of a new yogurt multipack for kids that was introduced by Stonyfield Farm in January. The name, however, would be equally apropos for the company.
In its brochure, "Stonyfield Farm and Environmental Packaging," the company reports that it is "keenly aware that through our packaging we have an enormous impact on the environment. Our packaging choices are extremely important." The company emphasizes source reduction in its material specifications.
The Planet Protectors six-pack exemplifies the company's packaging focus. Not only are the pack's six polypropylene cups lightweight, they also use no overcap. And an outer paperboard carrier incorporates 35% post-consumer recycled material. From a financial perspective, "We've never had a product rollout be so successful," asserts Mary Jo Viederman, the company's director of "Cow-munications" (see chart, below).
Stonyfield Farm's emphasis on profitability and environmental stewardship is central to the company's overall mission. "From the outset of our company in 1983, our mission has always been to demonstrate that you can run a business that's committed to the planet yet gives up nothing from the bottom line," emphasizes Gary Hirshberg, president and CEO of the Londonderry, NH-based maker of organic yogurt, frozen yogurt and yogurt ice cream.
Planet Protectors is the only multipack produced by Stonyfield Farm. "We resisted going to a multipack for years," points out Viederman, "because we didn't want to use so much packaging." Sold in two varieties, each multipack contains six 4-oz cups. The pack includes three cups of one flavor of yogurt, three of another. Multipacks are filled and packaged on a new line at the company's Londonderry facility.
The injection-molded PP cups are supplied by Polytainers (Toronto, Ontario, Canada). Polytainers dry-offset-prints the cups in up to eight colors. The average wall thickness is 16 mils. According to Polytainers, state-of-the-art Husky (Bolton, Ontario, Canada) molders were used to produce the cups.
A 2-mil lidding is heat-sealed to the filled cups. The lidding is sourced through Anderson Packaging (Oak Ridge, NJ), the Northeast representative of converter Clear Lam Packaging (Elk Grove Village, IL). Clear Lam flexographically reverse-prints a layer of polyester in four colors. The printed polyester is adhesive-laminated to a coextruded polyethylene layer that provides peelability. Unlike some 4-oz yogurt containers, Stonyfield Farm does not use foil in its lidstock. This allows them to use metal detectors on the multipack line.
The multipack's paperboard carrier, or "wrap," as the company refers to it, is offset-printed in five colors by converter Old Dominion (Madison Heights, VA). Until this summer, Stonyfield Farm used 18-pt solid unbleached sulphate for the wrap. Now being tested commercially are 17ꯠ cartons made of 100% recycled clay-coated newsback that includes 35% post-consumer material. "To my knowledge, we're the first yogurt multipack in North America testing a wrap using 35-percent post-consumer recycled paper," Hirshberg says.
The yogurt maker's multipack material decisions were not easy to make. The company is keeping tabs on the recycled structure to assess its ability to withstand the moisture common to refrigerated environments. According to Old Dominion, the slightly heavier 20-pt recycled board helps in this regard. So does a starch "sizing" that's added to the material during its manufacture to help it resist moisture. Stonyfield Farm also realizes the pack is more susceptible to damage due to the cup's thin sidewalls and lack of an overcap. So far, however, damage and moisture have not been a problem. And sales have been "phenomenal," according to Viederman.
Graphics promote enviro themes
Strong sales must be especially pleasing to Stonyfield Farm, considering its reluctance to introduce the multipack. Hirshberg says that multipacks of yogurt have been sold by other companies for about 10 years, but "sales have been flat for the last two years. People asked why we wanted to introduce another, but we thought we had a new approach to the packaging and the message on the carton wrap," he says.
With input from elementary school students, Stonyfield Farm created "Eartha" the cow. She's prominently featured in Planet Protectors wrap and cup graphics. Both the outside and inside of the paperboard wrap are printed with copy and graphics that educate kids about various Earth habitats. Sold virtually nationwide in natural food stores and grocery stores for $2.79 to $2.99, Planet Protectors are available in one version that includes three cups of strawberry vanilla and three of raspberry, while the second version offers three cups of strawberry and three "banilla," a vanilla/banana combination.
Packaging advertises product
The multipack's strong sales come despite the fact that the company has elected not to advertise. "We haven't advertised because we put our money into what we believe is a superior product, for countless reasons," explains Hirshberg. "That doesn't leave any room for advertising [investments]." However, he tells Packaging World that the company will test regional advertising this year, a first for Stonyfield Farm.
Because Stonyfield Farm hasn't advertised, Hirshberg says, "there's no question about the importance of packaging" to the company's strategic planning. "Packaging is the surface that reaches the largest number of customers, and it's most important. We have an integrated vision of health, nutrition, taste and environmental superiority that we have to communicate, which is a big challenge," he relates. "Packaging says who we are."
Besides the graphics on the multipack, Stonyfield Farm also uses the overcaps on its individual 8-oz yogurt cups to help raise awareness and call consumers to action on various environmental and social campaigns.
The injection-molded linear low-density PE lids are dry-offset-printed by Polytainers in up to eight colors. Often these lids are printed both on the top and on the underside. Stonyfield Farm refers to these lids (below) as mini-educational billboards. Recent lid messages included: "Let's Put a Lid on Global Warming," "Play the Great Green Web Game," and "Earthkeeping Made Easy."
Source reduction
Stonyfield Farm's philosophy towards packaging materials emphasizes source reduction. "We're believers in the three 'R's," says Hirshberg. "But we really feel that source reduction is where it's at. If you can eliminate tens of thousands of tons of plastics from being used then you don't have to worry about them being reused or recycled. We feel that's the wisest way to approach the waste-in-packaging issue."
In its literature, Stonyfield Farm points out that "the concept of source reduction has been overshadowed by the tremendous enthusiasm to recycle. The solid waste hierarchy teaches us to first reduce, then reuse and finally recycle."
In the past, Stonyfield Farm used high-density PE for its yogurt containers. In 1989, it switched its 8-oz size to a 9.08-g PP cup from a 9.3-g HDPE version. Five years later, the company changed to a 7.5-g PP cup from a 7.95-g HDPE version on its 6-oz cup. Shortly thereafter, its 32-oz HDPE cup, which weighed 34 g, was replaced by a 28.75-g PP version.
"By multiplying the weight difference by how many cups we sell, it translates into a savings of 90 tons this year," claims Nancy Hirshberg, the company's director of natural resources. What these weight-loss numbers translate to economically is unknown, she says, because "we haven't spec'd the cost of HDPE in years," to compare what the company's costs would be for HDPE vs PP.
Source reduction and economics also led to the company's decision not to use a plastic overcap on cups in the multipack. That decision eliminates the cost to buy caps, add lidding equipment and pay for the labor that would be necessary to maintain the machinery.
Recycling its cups
When it comes to recycling, Hirshberg describes himself as a "maniacal recycler," though he considers recycling something of a failure. "If you're recycling, it means you've failed at reducing or reusing material. Years ago, we, like many others, felt recycling was everything," he says. "We used an HDPE cup because of its recyclability. But now we know that injection-molded HDPE is not recycled anywhere near as much as blow-molded HDPE."
The company still supports recycling, albeit reluctantly. Nancy Hirshberg explains: "We have a program where customers can mail cleaned containers back to us. It's really something customers demanded because they see recycling as being good for the environment. We have had people call from California, and we tell them that the energy used to get it back to us is going to be more than what will be recovered from it."
She says individuals, schools, co-ops and institutions that return the cups pay for postage. "Sometimes they ask for reimbursement and we send them coupons."
She estimates that the company receives about three tons of post-consumer cups annually. These are collected in bulk containers and sent to companies that make compost bins, bird feeders and other products, but not for use in other packages, according to Gary Hirshberg.
Nancy Hirshberg believes that by this fall, Polytainers will supply Stonyfield Farm with even lighter-weight cups. The company believes its multipack cups are thin, but she admits that competitive multipacks use lighter-weight versions.
Besides lightweighing, might a change be in the offing for the cup's shape, which looks similar to that of the competition? When asked, Gary Hirshberg responds: "I don't think being different from the competition is necessarily the driver in what we do. I'm not troubled by the fact that our eight-ounce cup shape looks like Dannon's eight-ounce cup because that's a [configuration] that works. Our strategy has always been to develop highly refined niches, like our multipack for kids."
Hirshberg acknowledges the success of the Yoplait Go-Gurt single-serve flexible tube introduced by General Mills (see PW, Oct. '98, p. 200, or packworld.com/go/yoplaitgogurt). He also believes Dannon "will come out with one 'momentarily.'"
He says, "We have not been working on a tube, but we have been working on something that's quite different from what we've ever done before," he says. "I don't want to tip our hand, but the package would not be filled on the same equipment we use now because it's not the same product." He says he hopes to introduce the product by early next year.
Separately, the company has looked at the possibility of using alternative materials such as chlorine-free paper. But Hirshberg says that life-cycle analysis testing he's seen showed PP to be a 'greener' choice.
In its "Stonyfield Farm and Environmental Packaging" brochure, the company suggests that the ideal package of the future might be consumable, or at least be suitable for adding to a compost pile. When asked, Hirshberg insists, "this is by no means pie-in-the-sky. I've seen the [material], and you would not know it is not plastic, though it's not yet economical."
He suggests that could change. "We have a supply-and-demand issue with changes like chlorine-free paper and edible packaging. Implementation of these is going to take folks who are willing to go out there and do it because they believe it's right, not because it's economical."
Hirshberg describes himself as a person of the 1960s. While it would be easy to dismiss Stonyfield Farm's environmental and social goals as merely byproducts of that decade's culture, the company has held true to a key mission statement: "To serve as a model that environmentally and socially responsible businesses can also be profitable."
According to company figures, Stonyfield Farm's average annual sales growth was 36% in the eight-year period ending in 1997, when sales reached $43 million. Hirshberg forecasts this year's sales for the privately held company will be around $50 million. That's up from $90ꯠ during its first year of operation.
Sales numbers from Information Resources Inc. (Chicago, IL), an agency that compiles scan data from supermarkets, are also favorable (see chart, above). For the 52-week period that ended July 18, 1999, Stonyfield Farm yogurt cup sales in U.S. grocery stores totalled $47 million, up 19.1% from the same time during the previous year.
"Market Strategies" is an occasional feature that describes how packaging contributes to achieving a manufacturer's marketing goal.
Companies in this article