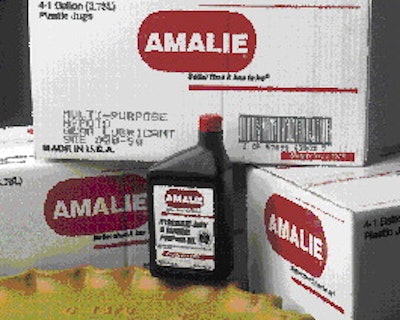 Shopping at Pack Expo
Clarke and his team spent three or four years watching the marketplace for high-resolution ink-jet equipment, he says, and his team began to consider the directions of the technology.
"We were leaning towards equipment from either of two major vendors," Clarke recalls. "That was the situation when we went to Pack Expo in '96. But we'd also heard about FoxJet, and our team ended up in that booth at the show. When we saw what they had to offer in high-resolution, large-character printers and their network capabilities, we were impressed. Nearly as important as their products, we liked the way the company conducted business.
"After a lot of discussions, trials and visits, we worked up a full contract for all units in the plant, recognizing that the size of the order would provide some negotiating leverage in both price and in support," Clarke says. "So we were committing to FoxJet in a big way, provided the test equipment met our performance specifications."
The company extensively tested the Series 6 WaxJet(TM) small-character printers from FoxJet (Arlington, TX) on a variety of the containers it fills, mostly 1-qt bottles made of high-density polyethylene. Then the oil packer brought in a Series 7 large-character printer that was installed on one of the plant's slower speed lines, "to see what kinds of results we'd get," a company spokesman says.
Big step up
The first units were installed about 18 months ago and new orders are still pending. That's because Petroleum Packers has changed quite a bit during that time. Then, the new Series 6 ink-jet systems for bottles were replacing continuous ink-jet (CIJ) systems that employed solvent-based inks. The large-character Series 7 printers for shipping cases are used in place of roller coders or stamping systems.
Clarke recalls that the company experienced a few bugs with the existing print-head designs on the Series 6. Petroleum Packers had been told that a new style of print head was under development and would be retrofitted to its equipment.
What changed for the company was its acquisition of Amalie Oil last year, changing the company name to Amalie and the assumption of most of its business. "In buying that well-known Northeast brand, we increased our volume here in Tampa by about 45 percent," Clarke explains. "This is why we're adding 130ꯠ square feet to our plant, plus we're adding another 45ꯠ-square-foot chemical packaging plant to our complex here. We're just busting at the seams right now."
Five lines to seven
These two expansions are also why the project with FoxJet just keeps growing. Some new ink-jet equipment was ordered just late last year. The original order covered five separate packaging lines, and Amalie is now in the process of spending $1.5 million for two new packaging lines in its main plant. When the chemical packaging plant is completed, two new packaging lines will be added there.
Even before the Amalie acquisition, the company had acquired the rights to Engine Armor automotive products. These gas treatments and additives are more hazardous than filling motor oil, so Petroleum Packers/Amalie decided to move their production and packaging out of the main packaging plant and into a totally separate building.
"Motor oil has a high flash point, so it's not very dangerous to handle," Clarke says. "But the Engine Armor products are a different breed, and they're very flammable. That's why we want to get those products out of our primary plant and into their own building."
Standardizing on equipment
Amalie has a well-earned reputation as a lean, low-cost packager. Contributing to that, Clarke says, is its established practice of standardizing on suppliers.
"For us, single-sourcing is very important," Clarke states. "We try to standardize on our suppliers and their equipment as much as possible. For example, we use only one type of PLC on our equipment, one type of pneumatic valve, and now one supplier for ink-jet printers. This minimizes and simplifies training for the people here who will operate and work on the equipment.
"It also provides other benefits like eliminating the chance of finger-pointing to rectify a problem, and it gives us the chance to work with the same set of technicians on all installations and service. That's really helped us to learn more about this equipment. And the ability to inventory fewer spare parts is a definite plus."
Amalie's relationship with FoxJet is definitely a partnership, Clarke says. Because most of the equipment the company buys is customized to some extent, Amalie needs to have a good, close relationship with the company it buys from. That can be especially true in integrating software or in fully developing network capabilities. This was a significant factor in the original selection of FoxJet. In the face of the expansion after the Amalie acquisition, it's become even more critical (see sidebar, p. 51).
Other benefits
One of the major improvements expected with the shift to piezoelectric-operated ink-jet printers was a reduction in maintenance compared to the former CIJ printers. Unfortunately, it hasn't been simple to compute, Amalie says.
Chip Clarke is very clear about maintenance reductions. "Yes, without a doubt, this installation has definitely cut down on our maintenance needs. Some of this has to do with the improved technology. But because of the expansion, we're still in the implementation stages of this project. Even now, the new printers have cut down on our set-up times, and they're pretty user-friendly."
But, he says, rapid company expansion has made it difficult to do comparisons either for maintenance or for economics. "We planned to track it carefully, but along came the acquisition of Amalie. Our business and volumes grew so much, we were lucky to fill orders, much less study our costs. And our production volumes are so much higher now, there's no way we can compare costs."
Preliminary tests showed considerable efficiency in ink consumption. But because production comparisons are no longer valid, Amalie can't quantify reductions in consumption of ink. "At the very beginning, we ran tests that showed considerable reduction in ink usage," Clarke says. "But keep in mind we're doing printing with these new systems that we couldn't even envision doing before. That's particularly true in our case printing with graphics and bar codes. Before, all we could do was a one- or two-line message using alphanumerics."
Eliminating solvents
Another major benefit of the new ink-jet systems was their use of wax-based inks instead of solvent-based inks. "The switch to a system that doesn't use hazardous waste was a big issue for us," Clarke confirms. "We had been using a system that employed MEK-based inks, and this was becoming a concern to us." MEK is methyl-ethyl-ketone, a highly regulated solvent.
Because it recognized that it would need high-resolution printers for shipping cases, the company sought other options for bottle marking. Clarke confirms his team evaluated laser printing and other scenarios that would eliminate solvent-based inks.
"We looked at other options, and we even went so far as having samples produced to show to our customers. But we just couldn't compute a good return on our investment," says Clarke. "Plus, they didn't offer all the functionality that we now have with these ink-jet systems. And, at the same time, we avoid the problems of handling solvents. This was huge for us."
Wax-based inks are also quicker to dry on bottles. In the past, the company had to position the print area on bottles to minimize the chance of smudging or smearing the ink before it dried. In fact, the plant had to provide sufficient accumulation space ahead of the case packer to ensure the codes would dry before collating and packing into shippers. The wax-based ink pretty much eliminates that worry, says Clarke.
Improved print is the prize
After several months of experience with the new ink-jet printers, Amalie has had excellent customer response from customers about the improved print quality.
"Some customers have commented on the readability of the tracking codes on bottles," Clarke says with satisfaction. "In the past, they were sometimes hard to read. And occasionally we couldn't accommodate a customer's request for a production code. We were filling some bottles that didn't permit us to print a code with our former equipment.
"Just as important, the new printing has generated new enthusiasm from our sales force. They use it as a competitive advantage, compared to other private-label packagers."
Companies in this article