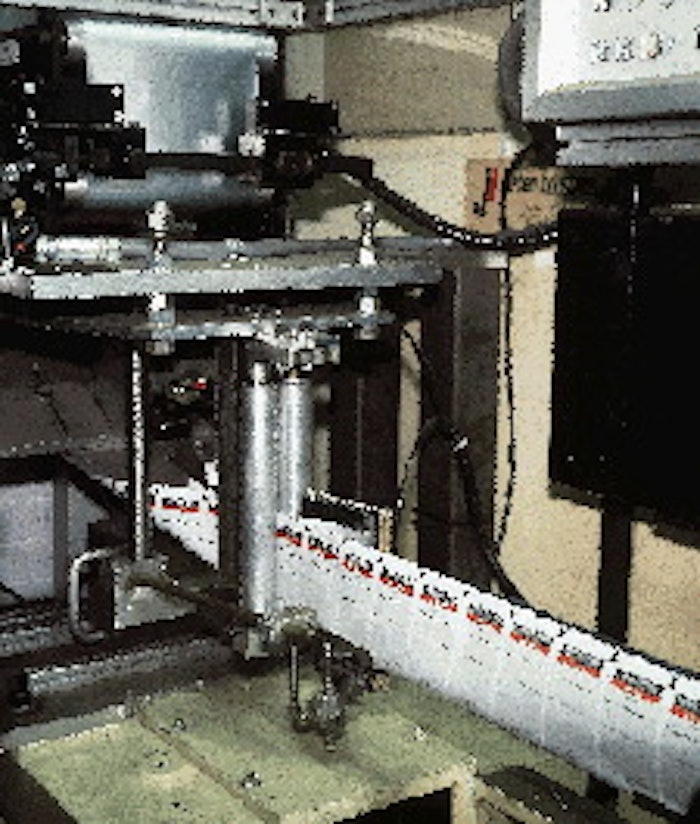 Tanks, jet fighters, steam engine locomotives, sailing ships and a wide variety of other miniature models have long captivated amateur model builders of all ages. Now the Testor Corp. of Rockford, IL, which dominates the U.S. market for paints used by modelers, has patented a flexible paint pouch called FlexPouch that should put a smile on many a modeler's mug.
Complete with a self-cleaning valve fitment, the 20-mL (2/3-oz) pouch easily can be snapped onto sprayers or airbrushes. Users also can squeeze paint through the valve and onto a palette for application by paint brush.
Testor views the pouch as an alternative to glass jars with metal threaded closures. The company now markets paint in 1/4-, 1/2-, 2/3- and 1-oz glass jars, though it sees a number of shortcomings in glass, including these:
* It's too heavy.
* Spillage is always a possibility.
* Contamination is inevitable every time a jar is opened and stirred.
* Dried paint can build up around the threads of the jar finish and the cap.
* As paint is used up, air occupies available space in the jar, and this allows the paint's drying agents to evaporate.
* Empty jars occupy considerable space in inventory and filled jars consume valuable retail display space.
Testor president David Miller was keenly aware of these shortcomings as he began to envision pouches for paint. He also felt that a flexible package--formed, filled and sealed from rollstock--would cost a lot less than a jar, cap and label. So together with executive vice president of sales and marketing Gary Cadish and new product development manager Adam Morrison, Miller made pouch development a top priority. Little did they know how challenging a project it would be.
"Complicating our efforts was that we had to find automated machinery capable of attaching an injection-molded, self-cleaning valve," says Morrison. The valve was critical, he says, adding, "If the paint is allowed to dry in the valve, it's quickly rock hard."
Inquiries at machinery builders that make horizontal form/fill/seal equipment all yielded a similar outcome: 'Yes, we can design a system for you, but you'll have to pay for development costs.' The development costs simply were too high, says Miller. Plus, the equipment maker would retain the rights to the technology. So Testor developed a machine in-house.
"We bought a fairly standard horizontal form, fill, seal system and had a local company in Rockford design a bowl-feed mechanism for taking the fitment and heat sealing it to the pouch just prior to filling," says Morrison.
A suitable film spec
The search for flexible packaging materials was less challenging than machine development, but it still involved considerable effort.
"There are plenty of ingredients in the acrylic paint that can react with a flexible film if it's the wrong film," says Morrison. The film selected in the end, supplied by Smurfit-Stone Container, Flexible Packaging Div. (Schaumburg, IL), is a four-layer adhesive lamination of polypropylene/polyethylene/foil/low-densityPE. The outside layer of LDPE is reverse-printed in three colors. PP was selected as the heat-seal layer because it bonds reliably with the PP flange of the dispensing fitment.
The first commercial pouches produced by Testor reached store shelves in October 1997. But those shelves were not in the U.S., where Testor controls at least 95% of the market for modeler's paints. As Miller puts it, "Right now there is simply no need" for a package switch in the U.S. The marketing and communications effort behind such a switch would be enormous and costly, says Miller. So the strategy for the U.S. is not to sweep out one package format with another, but rather to create consumer demand for the pouch by slowly introducing it in model decorating kits sold under the Testor brand. The idea, say Cadish and Miller, is to have the pouch format pulled into the U.S. marketplace, not pushed.
Modelers in England were the first to see Testor's paint pouches. Shortly after came Germany, France, Poland, Spain and Italy.
"Testor had no presence in Europe, so it made sense to enter European markets with a packaging format having significant advantages over what was already available," says Cadish.
Adds Miller, "In European countries where there is no local paint maker, some other European or Japanese paint maker has to ship paint to that country. Shipping compact, lightweight pouches instead of bottles or tins gives us a significant advantage" over those competitors, says Miller.
Even more impressive are the material cost savings gained by using a flexible film laminate. Morrison chooses not to identify the precise numbers paid by Testor for either package format, but he indicates that the glass/cap/label is more expensive than the film/fitment by a ratio of 3-to-1.
"In Europe, the most common package for these paints is a metal 'tinlet' with fourteen milliliters of paint," says Morrison. "What we're doing is marketing a twenty-milliliter pouch for the same selling price as fourteen milliliters of paint from our competitors. It's the cost effectiveness of the pouch material that makes this possible."
Meanwhile, back in Rockford, Testor enjoys an added advantage that comes with roll-fed pouch packages. According to Miller, where 6ꯠ cu' are required to store packaging materials when glass jars are used, only 11 cu' are needed when pouches are substituted.
Speed is sacrificed for now
One area in need of further work at Testor is packaging speed. Like others making a switch from a rigid container to flexibles, Testor has had to accept a sizeable reduction in filling speeds. It fills the 20-mL pouch at 40/min, the 20-mL glass jars at nearly 300. The dropoff in speed is an added reason why there has been no move to produce the pouch for U.S. modelers. Capacity just isn't where it needs to be.
Soon that will change. Well underway is the design of a new hf/f/s machine capable of filling three-up at 120 pouches/min. Cad/Scan Technologies (Rockford, IL), the same firm that helped Testor modify its current machine, is designing and building the new equipment. Says Cadish, "We've learned a lot from our first machine."
Despite its modest speed, Testor's existing production machine has proven perfectly adequate to launch the pouched-paint concept. It's impressive for the number of motions it carries out.
It all begins with film unwinding over a plow that folds the film in half. Early on, says Morrison, the bottom of the pouch was always gussetted because downstream it seemed to give the fill nozzle a sturdier, more stable target. Constant improvements in the filler, however, have made the gusset unnecessary, so now the pouch is made without one.
Two print stations allow Testor to print variable information in-line on the front of the pouch. No in-line printing is done on the back.
The first print station is a Norwood (Downers Grove, IL) thermal-transfer printer that imprints in black a numerical identification code, the color of the paint in six languages and a bar code. Next is a Markem (Keene, NH) pad printer that imprints a simple oval that matches the paint color.
Next a custom-added tool punches a small section out of the top of one side of the pouch material. Into this punched-out area, a small fitment is heat-sealed in place. Both parts of the two-part PP fitment are injection-molded on-site by Testor, and the two parts are assembled automatically by Testor before the fitment is brought to the packaging machine.
Custom feeder bowl
Fitments are fed to the pouch material by a custom-built feeder bowl whose track has guides that allow only properly oriented fitments to advance. A mechanical pick-and-place arm places the fitment in its notch, and the fitment is heat-sealed in place.
Heat-sealing side-seal jaws are next, followed by a cutting station that separates the open-top pouch from the continuous web. The individual pouch is picked by a gripper that takes it to the next station, where a burst of air opens the pouch fully.
Volumetric filling and top-sealing follow. The tool used to create the top seal had to be specially modified to account for the presence of the dispensing fitment.
In the station following top-sealing, another customized piece of tooling closes on the top portion of the pouch and mechanically closes the dispensing valve. "It's probably not necessary to close the valve because the top is injection-molded shut," says Morrison. "In case the sealed top of the valve should break off, we still don't have to worry about paint leaking from the valve if the valve is closed."
Finished pouches drop onto a discharge chute and are conveyed into a bagging machine that encloses three pouches in a clear film bag.
"All we're trying to do with the secondary packaging is to stop contamination of the twenty-five pouches that go in a box should one pouch leak," says Morrison. A new bagger on the way from Automated Packaging Systems (Streetsboro, Ohio), says Morrison, soon will arrive.
Also ongoing is development of the second-generation filling equipment. As it nears completion, management grows increasingly excited about the pouch's potential. That much is clear from an internal memo sent to top management of Testor's parent company, RPM, Inc., a short time ago.
"Unlike flexible packaging now on the market," the memo reads, "the Testor FlexPouch is much more than a mere container. With its attachable accessories it can be used to spray, brush, squeeze, draw or pour its contents directly onto a surface. Furthermore, the system's rock-bottom production and shipping costs lead to lower retails and higher margins."
Thus the memo's headline: "The future belongs to FlexPouch."
Companies in this article