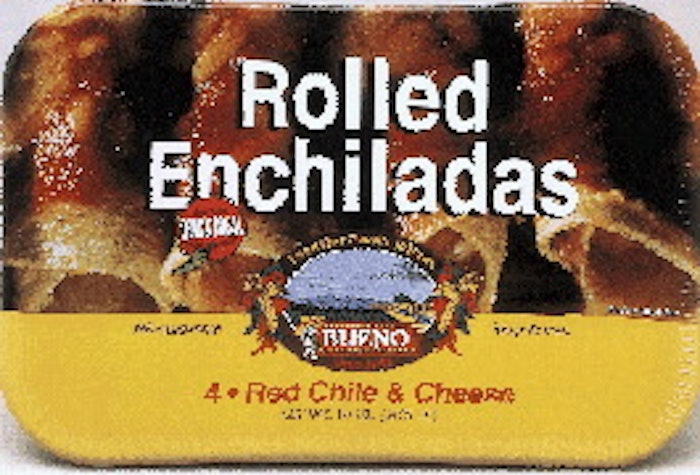 Bueno Foods of Albuquerque, NM, wanted the graphics and packaging for its line of 14-oz frozen red and green rolled enchiladas to be as spicy as the product inside. It wanted a new package to replace a paperboard sleeve it thought was sorely lacking in graphic appeal. The package it decided to use is called the PromoBag from Robbie Mfg., Inc. (Lenexa, KS).
The PromoBag, which won a 1998 DuPont award, is formed from Clysar®, a single-layer 75-ga polyolefin shrink film made by DuPont (Wilminton, DE). It delivers many of the benefits Bueno was looking for. "Several elements were important factors in making the decision to go with the Robbie bag," says Ana Baca, public relations officer at Bueno. Included on that list were microwavability, low cost, ease of use of bag together with tray, equipment availability and graphic clarity. Wicketed, printed bags meet all of these needs for Bueno.
The graphic reproduction is what Robbie and Bueno are most excited about. It yields the graphic quality Bueno wants and allows a mouth-watering serving suggestion to be process-printed flexographically in eight colors on the package. Baca says customers like the package. "They [customers] have commented that the packaging is attractive," Baca says. "The 'package look' translates and infers quality and influences new consumers to make their first purchase." What makes this technology interesting is its high-quality process printing on thin shrink film. "There are stretch and shrink films that we're just now getting to the point where we're able to do process work," Jim Gunther of Robbie says. "Everybody has been able to print on fifty-gauge polyester, which is pretty thin, but it's real stable. It's a whole different thing when you're printing on stretch and shrink film."
Shrink film is difficult to print because of a lack of stability. On the press, film is pulled with significant tension. If tension remains constant, consistent registration can be achieved. But when shrink film is stretched, the length between printing decks can change, forcing the print out of register.
Benefits of the process
After printing, the material is sealed on three sides to make the bag. Because it doesn't have a back seam, nutrition and product information printed on the back is not interrupted.
Another driving force in Bueno's decision is the cost and durability of the package. Previously, Bueno packed trayed enchiladas into paperboard sleeves. The sleeves were then overwrapped in film. Baca confirms that the new pack is not only better, it's also less expensive. "We have seen a reduction in cost by using these bags," she says. "The cost factor, together with all the other benefits, convinced us to use the Robbie bag."
Not only does the packaging have appeal, Baca likes it because it reflects the spirit of the company. "The company strives to put innovative techniques and technology to work," Baca says. "Bueno maintains quality control at levels usually only found at the very largest of companies."
Wickets of 500 bags are sent to Bueno, where enchiladas are hand-loaded into a thermoformed tray of crystallized polyethylene terephthalate supplied by Inline Plastics (Shelton, CT). The trays are then pushed into the bag, placed on a conveyor belt and sealed with an L-bar sealer from Beseler (Linden, NJ). Excess film is trimmed from the seal area and removed by vacuum. Finally, the bagged trays go through a heat tunnel that shrinks the film down tight around the tray.
Bueno currently prepares and distributes its enchiladas to restaurants and retailers in 39 states, Washington, DC, and to the Caribbean.
Companies in this article