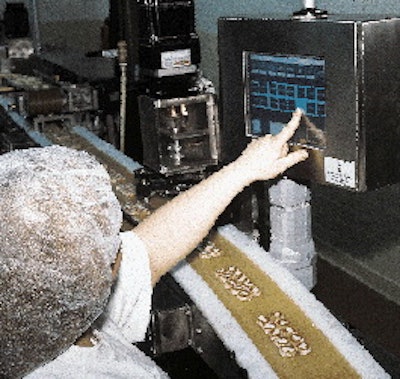 After 20 years of trying, Goetze's Candy Co.'s Caramel Cream packaging line has finally moved into the fast lane. A first-of-its-kind packaging feeding/collating system gathers, collates and positions 10 individual caramel candies onto a paperboard U-board, which in turn is flow-wrapped at speeds to 300 packages/min, triple the speed of previous feeding equipment.
While 300 packs/min isn't especially fast for wrapping a single piece, it is fast for 10-piece packs. That means feeding, collating and positioning 3ꯠ pieces/min. Indeed, the bottleneck in Goetze's packaging lines was always feeding. "To get these packed at high speeds," says Tom Hart, chief electrician, "it was always quite a problem to figure out how to maintain control of the candies."
Goetze's new feeding/collating system, consisting of a 22'-long line of conveyors and special collating belts, now precisely controls the candies at high speeds using a high-speed motion controller and digital servo drives and motors. Running for nearly a year, the feeding/collating system was designed and built by Automated Motion, Inc. (Baltimore, MD). It is controlled by Ormec's (Rochester, NY) Orion model PC-based motion controller, which uses a Pentium® II 133MHz microprocessor. Ormec also supplies the drives and motors.
The feeding/collating system has resulted in four main benefits:
* Increased productivity. The high-speed line replaced four slower lines. This also provides extensive labor savings, though specific figures were unavailable.
* Reduced downtime. The previous packaging lines required "two mechanics to babysit those machines [for all four lines] all day long," says Hart. Now, "there isn't any real maintenance out there [on the feeding/collating system]," he continues. This frees up mechanics' time for other needs.
* New capabilities. Operators or mechanics can adjust candy positioning on the fly right from the touchscreen operator interface, thanks to the digital motion control system.
* Room for future growth. The feeding/collating system was actually built to run at 400 packs or 4ꯠ pieces/min, and Goetze's successfully tested the feeding/collating system at the higher speed. However, the current flow wrapper, which is several years old, can reliably wrap at speeds up to about 300 packs/min.
Motion controller as system controller
The heart of the feeding/collating system is the Orion, which acts as the system's main controller. It coordinates the system's 12 independent servo motors on the various conveyors, collating belts and reject station that make up the feeding/collating system. With an assist from a small PLC, the Orion also controls the flow wrapper. There's nothing especially unique about the PLC, according to Hart.
Previously, the feeding and collating functions were accomplished by combining pieces of two older wrapping machines--the infeed section of one coupled to the film wrapping section of the other. Although it worked, the awkward arrangement topped out at about 115 packages/min.
Now, candies are fed and collated via a series of conveyors and collating belts, all servo-driven and coordinated electronically, instead of using mechanical linkages, gears and cams off of a main drive shaft. All of the belts are urethane-based, Kevlar-reinforced timing belts from Mectrol (Saleh, NH).
The first station converts two lanes of 1"-dia candies spaced 3/8" apart into 5x2 groupings. That's done with three conveyor belts: one underneath, a lugged belt overhead that traps candies from above and a second belt underneath that meets the first one half way through the collating section. Each of the three belts is timed slightly faster than the previous one. The differences in speeds isolate groups of candies from the incoming stream, while at the same time "bunching" the candy pieces together. With just 3/8" of space between incoming candies, there's little room for error, especially at high speeds. The motion controller keeps the servo motors at precise speeds in relation to one another, with no drift.
Vision to come
The next step is an inspection station. Sensors positioned over the belt just prior to the reject station check for missing pieces in a group and will trigger a servo-driven mechanism that sweeps off the entire group of 10 from the belt. Although each grouping of candies was visually inspected for quality at the time of Packaging World's visit, a machine vision system from DVT (Norcross, GA) was expected to be installed by press time to inspect all 10 pieces of each candy grouping based on certain quality criteria.
The servo-driven reject mechanism is worthy of note, says Hart. At peak speed of 400 packs per min, equivalent to 3겨"/min, "we need to accelerate a stationary arm, match it to the speed of candy, and move it across the conveyor belt and back again to be in position for the next one. That's a rather incredible motion, and it needs the performance of a servo motor to do it."
Next, the 5x2 groups are deposited onto a paperboard U-board. The U-boards are formed, folded and cut in-line from rollstock. The conveyor carrying the candies slants downward and ends just as a lugged conveyor underneath presents the U-boards, causing candies to feed directly onto the U-board.
To prevent the wrapper from jamming due to any overhang of the candies off the U-board, each unit passes under a short, overhead, lugged collating belt, called a load arranger. Like the collator belt upstream, this belt in effect traps the candies from above. Because it's traveling slightly slower than the lugged conveyor underneath, it holds the candies back, precisely aligning them with the leading edge of the card.
The position of the candies on the U-board can be minutely adjusted on the fly from the touchscreen operator interface in increments of 1/20". Even operators can make this adjustment, says Todd A. Goetze, vice president of operations. "It's that user-friendly," he says. "However, once it's set, very few changes have to be made," he adds. The firm currently runs just one product size on this line; however, Goetze notes that the feeding/collating system is capable of being changed over quickly.
At this point, the U-boards and candy enter the flow wrapper, where they're wrapped with film that's cold-sealed. Each flow-wrapped pack measures 63/8" L.
Wrapped packs pass over a checkweigher and metal detector to verify that the candies conform to the weight printed on the package. Finally, they're hand-packed into chipboard cartons.
Second system being installed
After PW went to press, a second feeding/collating system was expected to be installed in-line with a new digital servo wrapper supplied by Food Machinery Sales (Athens, GA). That flow wrapper, called the Mach 3, is expected to challenge the feeding/collating system's 400 pack/min capability.
Aside from increased production, Goetze's is looking forward to another important capability with the new Mach 3: the ability to easily change package sizes. That's not easily done on its existing flow wrapper, which is one of the reasons Goetze's only produces 10-packs, which retail for about 45¢.
"With these new machines [flow wrapper and a second feeding/collating system], we can go from a four-pack to a twenty-pack," says Goetze. "We'll have more options for going after different types of business that we couldn't accommodate before."
In all, the company is pleased with the higher output of its caramel cream packaging operation. "We did have a couple of companies who tried this project and failed," concludes Goetze, "but Automated Motion was victorious after all these years."
Companies in this article