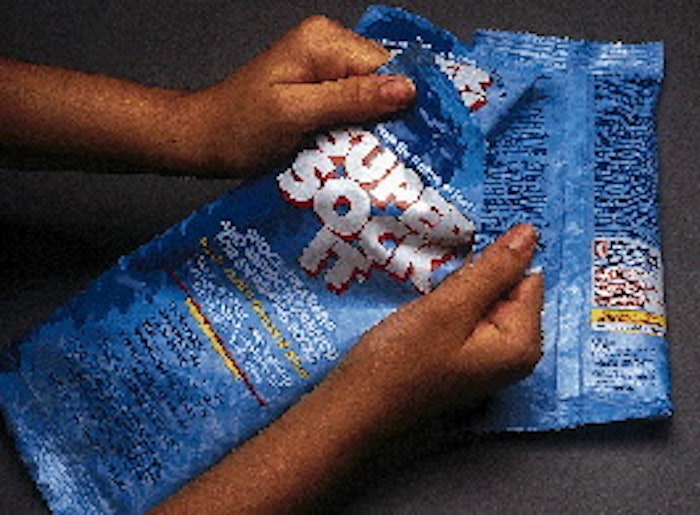 Since introducing a flexible film pack in the mid-'80s for its chlorine shock treatment products used in swimming pools, Olin Pool Products has fielded many toll-free telephone calls from consumers praising the pack. Often, however, the public's comments included this appeal: Please make the pack easier to open.
Because the product is classified as a hazardous material, packages were required to be child-resistant. Thus, the flexible packs required a scissors or knife to open. "We were receiving feedback from people who were saying we had a good package, but they'd sure appreciate it more if they could open it without using a tool. People said they were occasionally getting cuts on their hands."
That's according to Bob Seeley, manager of packaging engineering for Norwalk, CT-based Olin. The company produces the chemicals used to control algae and kill bacteria in swimming pools. The primary active ingredient in the product is calcium hypochlorite, which helps maintain the proper pH level in the pool. The granular product sold in the U.S. is manufactured at Olin's plant in Charleston, TN.
Seeley tells Packaging World that as a result of the comments, Olin management challenged packaging personnel to make the packs easier to open. Trouble was, they couldn't be too easy to open or else they wouldn't meet child-resistant concerns.
"We considered several alternatives," Seeley recalls. "Our competition uses a string, but we didn't like that because over time the chlorine in the product attacks the string and it deteriorates. We wanted to do something different. We decided to add a tear notch, which we've used for about a year now."
The tear notch is cut into the top seal of the 41/2"Wx11"H pack. The pack is used for three
1-lb product varieties: Super Sock It®, Sock It®, and hth® Shock.
'Tough' break
The primary film used in the flexible structure is a white, 3-mil Valeron®, supplied by Valéron Strength Films (Houston, TX). According to a Valéron spokesperson, a 1.25-mil blown high-density polyethylene film is stretched 400% in the machine direction after it cools. The film is then "bias-cut" on a 45° angle with a spiral cutter. This film is then "cross-laminated" to another 1.25-mil blown HDPE film with a 0.5-mil extrudate so that the film is criss-crossed together, providing considerable strength, particularly in the cross direction.
The Valeron is laminated to a 1.5-mil sealant layer of Surlyn® film from DuPont (Wilmington, DE), using a 0.5-mil low-density PE extrudate. The Valeron is surface-printed flexographically, in three to five colors, depending on the specific product, by converter Georgia Packaging (Columbus, GA). GP then laminates the films before shipping rollstock to a contract packager for vertical form/fill/sealing.
The film's strength also makes the package extremely difficult to tear, at least until the easy-opening feature was added. According to Seeley, the easy-opening feature is patented by Olin and its contract packager, Contrapac (Atlanta, GA).
Unlike many tear notches that begin at the film's edge, this notch starts about 1/8" from the top edge of the pack. This is done so that a child can't easily open the pack. Opening requires first tearing away the "bridge" of material between the tear notch and top edge. Once that's done, the user tears the material diagonally along a top corner of the pack. A printed dotted line, and copy stating "tear or cut here," helps guide users, who can open it by hand or cut it.
Contrapac uses a modified dual-head vf/f/s machine, which it's used for many years, to produce the packs. As the 20"-wide film web unwinds over dancer bars, a knife slits it into two separate 10"-wide webs. A six-digit date/lot code is hot-stamped onto the film. After sealing the material into a tube, a bottom seal is made, the granular product is filled and the top is sealed. A knife cuts an approximately 3/8"-long notch into the top seal area.
The vf/f/s equipment produces Olin's packs at rates between 40 and 50/min from each of the two fill tubes. Sealed packs are cut from the web and discharged onto a conveyor. Next, they're checkweighed to verify that they contain the correct product weight. Contrapac case-packs, palletizes and stretch-wraps loads, then ships them to Olin's retail customers nationwide.
Flexible replaces rigid
When the flexible film pack was introduced, it replaced a HDPE bottle. The change provided economic and perceived environmental advantages for Olin. "It reduced our material costs by about thirty percent," says Seeley. It also lessened the amount of packaging material by more than 40%. (Seeley says that in the last year or so, one retailer has requested bottles, which better fit into that company's merchandising plans.)
Looking back, the change to the flexible pack was hardly a no-brainer. "In developing the flexible structure, we had to make sure it met certain United Nations and Department of Transportation regulations," Seeley recalls.
Seeley confirms that the Valeron falls under Valéron's "Protocol Proven Performance Guarantee" program. Announced at Pack Expo in Chicago last November, the PPP Guarantee states that packaging end-users (such as Olin) will be reimbursed for the cost of child-resistant protocol testing if their Valeron film-based package fails to meet federal child-resistant protocol standards.
The structure has satisfied all the requirements that Olin had to meet. So far, it's been well-received by customers, and consumer telephone calls have been positive, Seeley says. Sales are up, too, though Seeley didn't provide specific figures.
Besides the three U.S. packs, flexible film also is used for 500- and 600-g sizes sold in South Africa, where Olin operates a plant in Johannesburg. At this time, those packs do not feature a tear notch, Seeley says, due to the semi-automatic sealing equipment. That, too, may change.
Olin's move from the bottle to the flexible pack was a major change for the company, as was the recent addition of the tear notch. Certainly, Olin isn't a company that's willing to rest on its laurels when it comes to packaging, as it demonstrated with last year's introduction of a new line of interlocking modular square containers to meet retailers' needs (see PW, March '98, p. 46, or packworld.com/go/olin).
And as this issue goes to press, Seeley mentions that several other changes for the flexible pack are being tested. While he wouldn't mention specifics, he does say that they include making the pack more puncture-resistant, increasing tensile strength, improving esthetics and adding better handling features.
Companies in this article