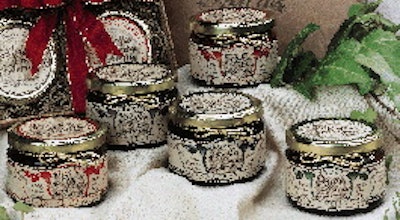 What does an organic jam manufacturer do when sales are up 120% over a year ago? If the firm in question is Bella Vista Farm of Fennville, MI, the answer is automate the packaging operation.
"Until now," says BV president John Renaldi, "we've been geared toward gourmet food stores." There a 10-oz jar of BV's jam sells for $4 to $5. "But we want to be more in the mainstream with our product, especially our ten-ounce jars. We want to be the organic 'Smuckers' of the U.S.: great organic jam at an affordable price. With this new packaging line, we can do that."
The new line packs, in addition to the 10-oz retail size, a 0.5-oz size that is popular with hotels, airlines and other foodservice customers. Just installed late last year and supplied primarily by ELF Machinery, L.L.C. (LaPorte, IN), the U-shaped line occupies a 10ꯠ-sq' room that is as spotless as it is new. Sanitation is critical, says Renaldi, partly because the agency that certifies that BV's jam is truly organic inspects the plant periodically. They want to see a clean manufacturing setting, he says.
Assisting in keeping contamination out is what Renaldi calls an "air makeup system."
"Exhaust fans remove air from the cooker," he explains. "If you didn't replace that air you'd have negative air pressure, so that every time the door opened you'd have outside air, and contamination, rushing in. The air makeup system, which brings in air that has gone through a series of filters, helps keep negative pressure from developing in the room."
BV'S new line replaces a manual filling and packaging operation that couldn't produce much more than 400 10-oz jars per eight-hour shift. The new line is capable of filling 30 jars/min, or up to 14ꯠ jars per shift. But throughput like that will have to wait until more 15-gal copper kettles are added. Currently, just one kettle is in place, but the facility is designed to hold eight in a straight row right beside the packaging line.
"It only takes fifteen minutes to empty a kettle into the filler and run that batch through the line," says Renaldi. "But it takes fifty minutes to cook another batch. Our small batch size won't change as new kettles are added. The idea is to have a new batch ready on a more constant basis. Same flavor, new batch." That way the packaging line won't be starved for product as it often is now.
Location, location, location
In selecting ELF as the key equipment supplier and total line integrator, Renaldi says he was persuaded not only by quality and price but by location, as well. "ELF is about an hour away from our farm," says Renaldi. "We spent nearly ten months designing this line with them. It's highly customized to meet our needs, and considering how much it does, it occupies very little space. It's a beautiful setup."
Though ELF has supplied similar equipment to makers of candles and other products that are filled in a molten state, food represents a new category for this kind of system. In adapting the equipment to suit a food product, one key adjustment was the use of hot-water jackets around the hoses that carry product from the reservoir of the volumetric pump filler to the filling nozzles. The water circulating between the black rubber jacketing--custom-made and fitted at ELF--and the product-filled hosing inside is kept at 210°F. This ensures that when product exits the fill nozzle, it, too, is at 210° F or very nearly so.
Hot-filling kills airborne mold spores that could be present in the jars. Just as important, as the hot product cools inside the jar, air trapped in the headspace evaporates. This forms an internal vacuum that sucks the cap down snug, thus ensuring a hermetic seal. It's the release of this internal vacuum pressure that makes the familiar popping sound recognized by consumers as a sign that the container has not been tampered with.
If the product hoses were not jacketed as they are, the jam reaching the glass jar would be too cool to kill potential mold spores. Also, the temperature gradient during cooling would not be as steep, so it's unlikely that the internal vacuum would be sufficient to draw the closure down tight enough to produce any kind of tamper-evident "pop" upon opening.
Renaldi values the jacketed lines for the 10-oz retail size, but he finds them even more indispensible for the 0.5-oz miniatures. "When such a small amount is being dispensed each time, the product sits a long time in the transfer hose," Renaldi points out. "During that time its temperature might drop from two hundred-ten to one hundred twenty-five without the jacketed hoses, and that's just not hot enough to accomplish what we need."
Small but multi-faceted
The U-shaped line measures 35' down one leg, 15' across and 25' up the other leg. Despite its small footprint, it's impressive for the number and variety of things it does. Glass jars, supplied by Tricor- Braun (St. Louis, MO), feed from a rotary turntable through a deionizing zone that reduces static buildup and loosens particles and dust from the inside of the jar. A short distance later, two jars pause beneath a diving dual-head air cleaning system. Each of the two heads comes down to fit snugly in the finish of a jar and deliver a brief blast of air to dislodge particles. A split-second later, the air and particles inside the jars are vacuumed out.
Jars are heated by infrared radiant heat lamps before they reach the filling station. As Renaldi puts it, "Filling a two hundred-ten-degree jam into a sixty-degree jar won't kill as many mold spores as when the jar is heated."
Filling is done two-up by a positive-displacement volumetric filler. The intermittent-motion machine's reservoir is equipped with a paddle-style mixer that constantly agitates the product to keep the fruit pieces evenly dispersed.
Metal lug closures from White Cap (Downers Grove, IL) are heated by an infrared radiant-heat blower as they slide down a track toward the capper. "Everything has to be warm," insists Renaldi. "It doesn't make sense to put a cold cap on a two hundred-ten-degree jar if internal vacuum is what you're after."
An instant before the cap is applied, nitrogen gas is blown onto the surface of the liquid.The nitrogen flushes out air, and along with it any airborne mold spores.
What Renaldi finds especially attractive about the filling system ELF designed is that it saved him the expense and complexity of steam injection.
"Jam manufacturers commonly use steam injection to create internal vacuum in the jar as the hot air cools," says Renaldi. "The hot steam also kills airborne contamination in the headspace." What BV does instead is rely on the heat of the product itself to create a cooling gradient, and thus an internal vacuum, while airborne contamination is flushed away by the nitrogen gas instead of by hot steam.
Companies in this article