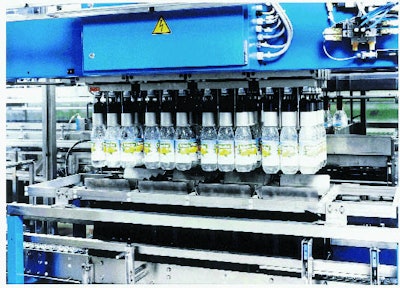 German law stipulates that 72% of all beverage containers must be refillable, so one-way plastic beverage containers are rare. That's what makes Rosbacher--a beverage company officially known as VMH Mineral-und Heilquellen GmbH & Co. KG, Rosbach--so intriguing. Based in the German city of Rosbach near Frankfurt, this company has begun marketing four flavors of Frischa- brand carbonated soft drinks
in one-way 1-L plastic bottles made of polyethylene terephthalate. But don't let marketing manager Silvia Erbrich catch you calling Rosbacher's bottles "one-way PET" just because they're not refillable.
"We don't view these as 'one-way' bottles," states Erbrich. "We produce the bottles from preforms and fill them for shipment to wholesalers, retailers and finally consumers. But the bottles have a deposit, so the empties come back to us. We compress the empty bottles and ship the baled material to a reprocessor so the material can be used again."
Currently most of this reprocessed resin finds its way into non-bottle applications, typically fiber or strapping. But Rosbacher is part of an ambitious test to see if bottle-to-bottle recycling can be perfected. More on that later.
As if considering bottle-to-bottle recycling in Germany wasn't ambitious enough, Rosbacher is also the first to make bottles via the recently developed Contiform blow molding system from Krones (Franklin, WI). The Contiform heads the sophisticated in-line blow/fill system used for the 1-L Frischa bottles.
The 16-station Contiform is unusually compact. Unlike conventional reheat-and-blow systems, which have heating and blowing units positioned side by side, the heating unit and the blowing unit are arranged one above the other and are connected by a vertically operating transfer starwheel. Thus configured, the Contiform occupies a footprint of just 12 sq m (129 sq') and has a total height of 2.55 m (81/2').
According to Krones, the rated speed of the 16-station Contiform is 320 bpm. But Rosbacher's line is designed for speeds in the 240/min range, so blow molding is carried out at that speed, too.
According to Stefan Lamprecht, general technical manager at Rosbacher, the Contiform's small footprint was certainly an appealing feature. So was the nameplate on the machine, he says.
"We have had good experiences with Krones," says Lamprecht. "Besides, the machine is practically a prototype, which made the price attractive. Also, we wanted a single supplier on this line, and that was something Krones could offer."
What prototype?
Despite its near-prototype status, the Contiform has performed admirably, says Lamprecht. "In a short time it reached efficiencies that were very impressive," he says.
Preforms enter the Contiform via a steeply angled feed rail. All parameters--preblowing, blowing time, temperature, venting, etc.--can be set from a touchscreen display.
An infeed starwheel grasps preforms from the feed rail with a clamp in the space between the thread and the support ring. It transfers each preform to a transport pin in the heating unit. To ensure optimum temperature distribution, the preforms are rotated as they travel through the heating section. The reflector-type heating modules, each with 10 horizontally installed infrared heating elements, guarantee that the desired temperature profile is precisely maintained. Air blown at the preforms during the heating stage prevents overheating of the preform's surface at the same time that it
drives heat past the skin layer to the material in the inner wall of the preform. The sensitive neck area is also cooled to prevent deformations; in this case the cooling is accomplished by piping that circulates cold water through the transport pin where it contacts the neck finish.
After traveling through the heating module, the preforms enter specially designed starwheels that pass the preforms down a short distance to the level at which blowing occurs. Once the preform has been fed into the blowing station, the mold closes and locks. While the mold is still being closed, the blow nozzle descends, and the stretching rod initiates the stretching operation as soon as the mold is locked.
Pre-blow pressure of 5 to 9 bar is applied, ensuring optimum
distribution of the material. Blow molding is completed with a higher pressure of 40 bar. The stretching rod is withdrawn, and after cooling and venting, the mold opens. The finished bottle is transferred to a discharge star and passed on to the air conveyor supplied by Ling Systems (Cambridgeshire, England).
Next, another compact system accomplishes a lot in a small amount of space. Supplied again by Krones, it's the PET-Superbloc: a 40-head Variojet rinser, a 60-valve Mecafiller, a 10-head screw capper and a rotary labeler with 15 bottle platforms. All four machines are mechanically synchronized to operate as one.
Cut paper labels are applied by the Canmatic labeler. The labeler has two independently operating hot melt stations. The first applies a strip of hot melt glue to the bottles. While the bottle rolls past the label magazine, it uses its glue strip to pick off the frontmost label from the magazine. The second station, meanwhile, applies glue to the end of the label so an overlap seal can be made.
A mechanically driven date coder integrated into the labeling machine prints a best-if-used-by date on each label. Also part of the system is a Krones Checkmat unit that inspects for and rejects incorrectly labeled bottles. The other inspection device in the system is an infrared fill-height detector that kicks out bottles with incorrect fill heights.
Neck-handling feature
Throughout the rinser, filler and capper in the Superbloc system, bottles are handled by the neck. They don't rest on platforms. Because bottle sidewalls don't contact guide rails, feedscrews or starwheels as they move from unit to unit, there are fewer surfaces to clean. Also, there's no opportunity for scuffing of the smooth, clear PET bottles. Lamprecht also likes the neck-handling feature because it simplifies bottle size changeover.
"As long as the neck is the same size, the machine handles the bottle the same regardless of bottle size," says Lamprecht. The company fills only a 1-L bottle currently, but it's considering other sizes for the future. The same 28-mm PP closure can be used for several sizes.
Exiting the Superbloc, bottles are packed automatically into 12-count plastic returnable crates by a Krones Linapac machine. It employs pneumatic air bladders to gently yet firmly grasp bottle necks, one in each gripper. The 48 grippers on the traversing head of the machine means Rosbacher can pack four plastic crates per cycle.
Each bottle gripper is fitted with an orientation unit. While bottles are in the grippers, photocells detect precise position of a notch on each label, and a clutch/brake mechanism then aligns the bottles so that when they're in the crates, labels face outwards towards the consumer.
Filled crates move through a Krones Kastina labeler that decorates each crate with two glue-applied labels on opposite sides. Lamprecht believes that among soft drink and mineral water marketers, Rosbacher is the first to apply such labels. "It's good because we can include the bar code on the crate for scanners in stores," says Lamprecht.
As filled crates exit the Kastina labeler, another Krones Checkmat confirms that each crate has 12 bottles or the crate is rejected. Next the crates are automatically collated into a three-by-four layer. The entire layer is clamped from all four sides and lifted onto a waiting pallet by a Krones Robogrip robot. The sheer size and working range of the machine means that every pickup and dumping point can be reached with ease. The clamping gripper grasps crates firmly and deposits them safely on a pallet.
Crate bottoms are sized a bit smaller than crate tops, so each crate in a layer locks into the one directly below it for column stacking. Precision gear boxes and servo drives permit the Robogrip to center the layer accurately so that the crates engage properly. Filled pallets then pass through a pallet strapper from Cyklop (Koln, Germany), which uses PP bands to secure pallets for transport.
Lamprecht especially likes the Robogrip's flexibility. Not only does it palletize filled bottles, it also depalletizes incoming crates of empty bottles. "It's a nice machine," says Lamprecht. "Over in our glass lines we need separate machines to perform the two tasks. Not with this robot. It does one task on the right, then one on the left, one on the right, then back to the left, and so on."
According to Lamprecht, the entire blowing/filling line is PC-controlled and uses Krones-supplied software. Also, "An ISDN line to Krones will allow us to show to them, live in their office in Bavaria, any problems we might have on the line," says Lamprecht. Though the ISDN phone line is in place, the camera needed to complete this link with Krones is not yet installed. When it is, Rosbacher can begin taking advantage of this novel method of communicating with its supplier.
Recycling goals
As for Rosbacher's goal of bottle-to-bottle recycling, it's not alone in this ambitious effort. The firm is a founding member in a recently organized German association called PETcycle. Comprising some 25 companies--breweries, mineral water marketers, juice marketers, and machinery manufacturers--PETcycle's aim is to make single-use bottles incorporating post-consumer recycled PET as acceptable in Germany as the refillable glass and PET bottles that legislation currently requires.
Pivotal to PETcycle's mission
is the development of a central "clearing agency" responsible for managing the flow of material and deposit money. An even more important first step is a pilot project to demonstrate that, in lifecycle analysis terms, bottle-to-bottle PET recycling is environmentally and economically sound. Rosbacher, using Supercycle RPET from Schmalbach-Lubeca (Manchester, MI), is that pilot project.
Rosbacher's ambitious scheme to close the loop on PET recycling starts with a handled reusable 12-count case called the "Space-Gebinde," or "Space Crate." It's supplied by Schoeller Plast Werke (Pullach, Germany). Fresh bottles of Frischa beverages reach retailers in the crates, and empties are returned to Rosbacher in it as well. An ergonomically designed green handle in the center of the crate makes handling easy.
"'Space crate' is our expression for something new, open-minded, into the future," says market-
ing manager Erbrich. Colorful brochures sent to wholesalers promote the Space Crate with outer space imagery and copy that, loosely translated, reads like this: "Competition and sales are changing. The future begins anew with each day. And now comes a revolution: 'Rosbacher Space-Gebinde' with a new PET bottle and a PET recycling system. New bottles from empty bottles, done with modern technology at low cost and with the environment in mind."
Such copy is a bit ahead of its time. Rosbacher hasn't closed the bottle-to-bottle loop to the point where post-consumer RPET is going back into new bottles. It's not the food-contact issue that's
in the way. According to Schmalbach-Lubeca, that's no more a hurdle in Europe than it is in the U.S., where the use of Supercycle material in food-
contact applications has an
okay from the Food & Drug Administration. What's need-
ed in Germany is proof that Rosbacher's concept has no more adverse effect on the environment than refillable glass
or refillable PET. Once Rosbacher, with PETcycle's support, can complete a lifecycle analysis providing the necessary proof, Germany's Federal Ministry for Environment, Nature Protection and Reactor Safety in Bonn and the Federal Environmental Agency in Berlin may well allow Rosbacher to operate outside of the Duales System Deutschland (DSD).
The blueprint
How would it work ideally? Filled bottles would flow from Rosbacher's plant to retailers. Deposits of 0.03 to 0.05 DM (US1.7¢ to 2.9¢) on bottles and
3 to 5 DM (US$1.76 to $2.94) on crates would ensure that consumers would return both bottles and crates to the retailers, who would store them until a truckload of freshly filled bottles from Rosbacher arrived. That truck would take the crates full of empty bottles back to Rosbacher for compression and baling. Then Rosbacher would send the bales to a nearby reprocessor who would transform them into clean PET flake suitable for combination with virgin PET in the making of new preforms that Rosbacher would blow and fill.
How does it work as Packaging World goes to press? Well, the amount of post-consumer PET available near Frankfurt is almost nonexistent, since Germany is so busy refilling bottles instead of recycling them. Without a steady supply of PET recyclate, there are no PET reprocessors anywhere near Frankfurt. So Rosbacher trucks its bales of post-consumer PET to the Netherlands, to a reprocessor formerly known as REKO and now known as Arena Recycling (Ad Beek, the Netherlands). Labels are removed and bottles are ground. Then the material is washed in what Arena describes as "hot water and friction." Next the material goes into a hydrocyclone, then into a centrifuge, then into a dryer and finally
into a quality control machine that picks out any flakes that aren't clean.
This material is suitable for use as the non-food-contact core layer in a three-layer bottle whose inner and outer layers are virgin PET. Such bottles have become common in Switzerland, where a PET recycling system known as Schweizer Modell has been in place for about three years now.
Rosbacher and PETcycle, however, prefer to use a monolayer bottle approved for food contact. So in the PETcycle scheme, the clean flake would be shipped
from Arena Recycling to a Schmalbach-Lubeca plant in Beaune, France. There the flake would be further cleaned in S-L's patented Supercycle process. S-L would then mix the post-consumer RPET with virgin resin and injection mold new preforms for Rosbacher to blow and fill. If the environmental ministries approve the process, Rosbacher will begin shipping product in RPET bottles, perhaps as soon as the first quarter of this year. Still to be determined, however, is the percentage of recyclate that will be used in a bottle.
First shipments in
As PW goes to press, Rosbacher was just receiving its first shipment of S-L preforms made from recycled Frischa bottles that have gone through the REKO and Supercycle processes. Rosbacher was planning to blow new bottles from the preforms, fill them and thoroughly analyze them.
Meanwhile, back at the bottling plant, all the equipment needed to prepare bottles for recycling is already in action. Incoming crates of empty bottles are automatically depalletized and sent to the Krones Robogrip robot. It removes a layer of crates and feeds it to equipment that separates the crates from their layer pattern. Crates are inverted so the empty bottles drop into a press that flattens them in preparation for automatic baling. The emptied crates move through a Krones crate delabeler/washer that cleans them up for their next run through the Rosbacher system.
Should the Rosbacher pilot project in bottle-to-bottle recycling prove successful, it would appeal immediately to small and mid-sized beverage marketers in Germany. Many want to replace heavy glass with light-weight plastic but can't afford the investment in sniffers and other expensive equipment required for a returnable PET system. Single-use PET might also appeal, says Lamprecht, to beverage marketers who feel refillable PET bottles carry the risk of microbiological problems, since plastic can't be washed at temperatures much higher than 59°C compared to 80°C for glass.
And what does it cost to go to market in recyclable PET compared to refillable glass? Erbrich says it's difficult to calculate at this early stage. She also stresses that cost may not be the most important consideration.
"It's a question of what pleases the consumer," says Erbrich. "It's a matter of asking yourself, 'What do I have to do to be a competitor tomorrow?'"
Because it poses such compelling questions, Rosbacher's bottle-to-bottle project is one to watch. Should it succeed and make closed-loop recycling of PET bottles popular in Germany, it may pacify other members of the European Union who complain that Germany's heavy-handed insistence on refillables is a restraint on free trade.
Companies in this article