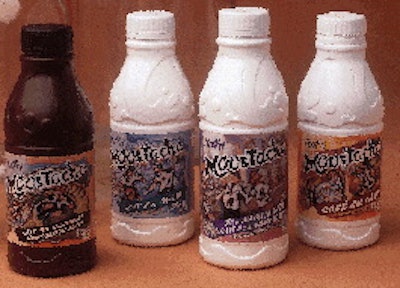 Refrigerated milks and shakes with a 90-day shelf life are making a splash in Canada for Natrel. The Longueuil, Quebec-based dairy is the first North American user of an integrated ultra-high-temperature processing/aseptic filling system that produces the beverages.
Natrel invested C$17.4 million (US$12 million at the time) to renovate and re-equip its St. Laurent, Quebec, plant. Equipment from Serac (Carol Stream, IL) processes these Natrel products at ultra-high temperatures and fills them into single-serve, resealable, high-density polyethylene bottles.
Natrel's Moostache-brand milks first reached stores last May. The line included 2% milkfat white and 1% chocolate and Caf/ au lait flavors. Near the end of last year, Natrel launched a 1% milk with vanilla flavor. All four products are sold in a 375-mL (12.67-oz) bottle. Additionally, Moostache white and chocolate milks are sold in a 200-mL (6.76-oz) size.
Besides the Moostache milks, Natrel also uses the Serac system for three milk shake drinks based on Hershey® candy bar flavors. Natrel is licensed by Hershey Canada to use the Hershey brand names. The shakes are sold in the same 375-mL bottle, but the fill is only 350 mL. The extra bottle space allows consumers to shake the bottle and create a foamy shake.
Moostache bottles are molded with a "wavy design that represents a splash of milk," says Diane Jubinville, Natrel's director of public relations. Bottle molds are custom to Natrel.
Duopac (Vaudreuil, Quebec) supplies the extrusion blow-molded bottles. They weigh 28 g, stand 7" high and have a 33-mm finish. Bottles are tinted white for Moostache 2% white milk, Caf/ au lait and vanilla flavors. A brown-colored bottle is used for Moostache chocolate milk and the Hershey milk shakes.
Sterile environment
Serving as systems integrator for the Natrel single-serve aseptic line was Newmapak Ltd. (Longueuil, Quebec). For this application, Newmapak served as the distributor for the Serac system, as well as the bottle unscrambler, rinsers and capper on the line.
Essentially the line is divided into two rooms: a Class 10ꯠ "gray room" for unscrambling and bottle rinsing, and a Class 100 "white room" that houses another rinser as well as the monobloc filler/capper and an induction-sealer. Fill speeds are 300 bpm. The line operates one shift, five days/week and is cleaned every night and sterilized each morning before the equipment is started up.
"All filling equipment and piping is sanitized," explains Jacques Richard, director of assurance and quality control for Natrel. To further prevent bacteria, only one person works in the air-conditioned white room, and that employee must shower and be covered from head to toe with cap, gown and facial mask before entering the sterile environment.
Coming clean
At the St. Laurent plant, bulk bottles are received in gaylord corrugated containers. Bottles are automatically dumped onto a conveyor that delivers them to the hopper of a Posimat (Miami, FL) Series 30 bottle unscrambler that uprights bottles and sets them single-file onto a discharge conveyor.
Bottles are conveyed through a wall into the gray room where they are sterilized. A Perrier (Le Cheylard, France) MFL 30/6 rotary rinser inverts them and washes the exterior and interior with a solution that contains 97% water and 3% oxonia active. The chemicals include hydrogen peroxide, peracetic acid and a "stabilizer."
"The Serac system effectively destroys bacteria," notes Jacques Poulet, quality control supervisor at the plant. The rinser discharges bottles upright onto a conveyor that carries them into a Serac sterilization tunnel. In the tunnel, bottles are overfilled with the oxonia solution. Bottles stay in the tunnel for two minutes at 140°F. The tunnel holds 600 bottles, enabling it to keep the downstream filler operating at its 300 bpm speed.
Bottles are then turned upside down and drained of the solution on a Perrier MFG 24/6 drainer. Bottles are then uprighted, and their exteriors are rinsed with sterile water before they're conveyed into the white room.
No 'off' taste
The first machine in the white room is another rinser, this time a Perrier MFL 36/12 that inverts bottles and rinses the inside with sterile water and drains them. "We do this to make sure there is no residue left in the bottle after sanitizing," explains Richard.
This rinser is synchronized with the downstream filler so that after bottles are uprighted and discharged from the rinser, they are conveyed into the infeed starwheel of the Serac aseptic filler. The 36-valve net-weigh filler electronically cold-fills the liquid at accuracies that Richard describes as "having a standard deviation of 0.1 grams per bottle. It's a computerized process that delivers virtually the exact amount of product."
White milk is processed and heated to 140°C and held at that temperature for 4 sec. Richard describes this process as "infusion" sterilization whereby the milk is treated with direct steam. "We inject the white milk into a tank full of this steam or vapor," he explains. "This increases the temperature very rapidly and does not modify the flavor or result in a carmelized flavor," he claims.
For flavored milks and shakes, which post the highest sales volumes, a more economical tube exchanger is used to heat the liquid to the same ultra-high temperature for 6.8 sec.
The filling process includes several attributes that appealed to Natrel. First, the filler/capper bloc is enclosed in a free-standing, stainless-steel cabinet that circulates HEPA-filtered sterile air. Also, there is no contact between the fill nozzles and bottle necks. That reduces the possibility of bacteria collecting at the contact points. Clean-in-place features were designed into all equipment on the line.
The electronic control for filling also helps deliver milk at the necessary 300 bpm speeds, with consistent accuracy. A central filling bowl is located on the machine's carousel. According to Newmapak, the fill nozzles are fitted with independently controlled flow reducers for variable flow fills that work with the weigh system. This Serac design involves a torpedo-shaped reducer inside each nozzle that rises to speed the flow of milk or lowers to reduce the flow. This variable-speed flow control is important because milk tends to foam. A Newmapak representative tells Packaging World that the flow begins slowly, then speeds up until near the top of the fill, where it again is slowed to prevent foaming, or possible spillage.
Filled bottles proceed through a discharge star that transfers them on the monobloc to the infeed star of the 12-head Zalkin capper. Zalkin is represented in the U.S. by Fowler/Zalkin (Athens, GA). Just like the bottles, caps are cleaned with an oxonia active solution, rinsed with sterile water and blown with sterile air before they're conveyed to the capping carousel. On the turret of the machine, screw-capping heads torque caps to bottles.
The tamper-evident, injection-molded polypropylene closures are supplied by Kerr/SunCoast (Lancaster, PA). They include an inner foil and plastic liner. Once caps are applied, bottles discharge through a starwheel and are conveyed downstream to an Enercon (Menomonee Falls, WI) Integral II unit for induction sealing of the foil liner.
The next step in the process is coding the top of the cap. The ink-jet code is applied by an Imaje (Kennesaw, GA) coder. The two-line code's top line provides the month and expiration date. The second line gives the time the bottle was filled.
Coded bottles proceed along a conveyor to a Krones (Franklin, WI) Contiroll labeler. It uses hot melt to apply labels supplied in rollstock form from converter Graphic Packaging (Terrebonne, Quebec, Canada). GP flexo-prints the wraparound, single-ply polypropylene labels in six colors, using film from Mobil Chemical (Pittsford, NY).
Bottles are subsequently shrink-wrapped in bundles of six. A 12-pack is under consideration. The 200-mL bundles are also shrink-wrapped in quantities of six but with a carry handle on a Polypack (Pinellas Park, FL) machine. Richard says no corrugated cases are used. Instead, shrink-packs are manually loaded onto pallets that are stretch-wrapped, then distributed via refrigerated trucks. "There's no problem with damage to shipments," he says.
According to Diane Jubinville, Natrel's selection of all packaging materials for the dairy beverages "had to complete compatibility and microbiological tests, [and] qualifications [to verify] the strength of the body of the bottle relative to stocking and transportation." Both material and machinery vendors, she continues, "were selected after an open-bid process of three different [suppliers] per item." Those selected, she says, were evaluated on experience and expertise, engineering support and overall competitiveness.
Extending shelf life
Currently, the beverages are sold in the Canadian provinces of Quebec, Ontario, British Columbia and the Maritimes in the far eastern reaches of the country. Natrel hopes to eventually distribute product throughout Canada. There are no plans to sell the dairy drinks in the U.S. at this time. Besides supermarkets and convenience stores, Natrel also sells the beverages to foodservice accounts such as cafeterias and vending machines. Schools may also be targeted.
The 90-day shelf life is quite an extension from when the line was first up and running early last year. At that time, Natrel marketed the products with a 60-day shelf life. "We were conservative in our estimate," admits Richard. Since this container is new in Canada, he says Natrel wanted to be cautious with the date. While no changes have been made to the process, Natrel has carefully monitored its processing and filling procedures, and after several months of experience, says Richard, Natrel has determined that the 90-day refrigerated shelf life was appropriate.
Single-serve sells
When the beverages were first introduced, Pierre Claprood, Natrel president and chief executive officer, said, "For Natrel it was a truly major project. It has given us a competitive edge in technology and created thirty new jobs in the process, a rare achievement in an industry that has seen some stagnation."
That stagnation may be attributable, at least in part, to the marketing of milk as a commodity item. Many Canadians are used to purchasing milk in 4-L flexible pouches and more recently in the rigid plastic jugs that are common in the U.S.
But with these single-serve containers, Natrel is promoting Moostache as "The little milk bottle that moves with you," touting its single-portion size, carrying ease, reclosable cap and recyclable bottle and label. Label graphics sport "active" people wearing apparel displaying black-and-white cow spots. The combination of portability and graphics has also been used to market similar alternative single-serve milks in the U.S. (see PW, Nov. '97, p. 54 or packworld.com/go/altmilks).
How have Canadian consumers responded? So far, the combined sales of the single-serve products is on pace with the company's target of selling more than 30 million units in the first 12 months. This added sales revenue helps justify Natrel's financial investment. When pressed for a payback timetable, "as soon as possible," was all Richard would say.
As for the future, he expects the company will continue to develop new flavors to help market the milks. Both Richard and Poulet believe the next logical step is to sell the milks in a shelf-stable bottle.
By expanding its distribution into new geographic areas, both in retail and foodservice markets, Natrel will likely boost sales to even more impressive numbers. And that adds up to a whole lot of milk "moostaches."
Companies in this article
Videos from All Packaging Machinery Corp.
Videos from Graphic Packaging Intl.