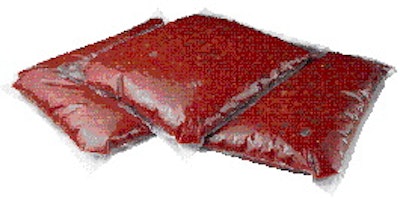 Restaurant group Chuy's Comida Deluxe has warmed to plastic pouches that can withstand ice water baths as well as boiling at its 10 dine-in restaurants in Texas.
The Austin, TX-based group's restaurants use the pouches for food preparation only. Pouches of food are not sold to or used by customers. The pouches are used to contain a variety of freshly cooked foods, such as sauces, refried beans, taco meat and vegetable mixtures. Chuy's also uses the pouches to marinate chicken or beef. The polyethylene/nylon pouches are replacing expensive, space-eating stainless-steel pans, or inserts.
Chuy's was looking to improve its handling and prep process in order to reduce cooling time and free up space, while maintaining food safety. One of Chuy's managers brought up the idea to store the sauces in pouches, a practice he had observed at a restaurant chain he had worked at previously.
"We tested different sealable pouches," recalls Doug Crawford, a Chuy's area director. "We needed something that we could store and handle easily. And we had to be able to put hot sauces into the pouch and then immediately cool the pouches in an ice water bath, or as we call it, 'cook to chill.' And when we use the sauce later that day, or the next day, we need to reheat it in the same pouch."
Individual restaurants cook foods in large kettles, manually filling product into the pouches. Pouches are then heat-sealed semi-automatically and placed in an ice water bath to chill the product before it's put into a cooler for storage. When the restaurant is ready to use the product, a worker plunges the pouch into boiling water.
Most entr/es are prepared on a per-shift basis whereby food is made and used, first for the lunch shift, then for dinner. Items needed for several dishes, like sauces and refried beans, are prepared in larger volumes that last for a day or two. Pouches with uncooked beef or chicken in a marinade are usually placed in the cooler for 24 hours before Chuy's employees remove the marinated meat and grill it. The 12" W x 15" L pouches are designed to hold 1 gal of product.
'Cool' corners
The three-side-sealed pouches are supplied by Flexicon (Cary, IL). Flexicon adhesive-laminates two layers of film to make the 2.75-mil film structure used by Chuy's. The clear films are not printed. Sclairfilm®, a polyethylene, comes from DuPont Canada (Mississauga, Ontario, Canada). Dartek® nylon comes from DuPont (Wilmington, DE). Flexicon produces individual pouches from the film, heat-sealing the two sides and bottom. Chuy's heat-seals the top after manually filling the pouch.
The restaurant group began using the pouches in mid-'97. "We tested several films for quality, price and availability, and Flexicon had the best combination," says Crawford. "The film has delivered just what we wanted."
Arguably the most unusual aspect of the pouch is what Flexicon refers to as "cool corners." Flexicon heat-seals the two bottom corners of the pouch diagonally. Those corners permit Chuy's workers to grip the pouch without touching an area of the material in contact with hot product. That means no burnt fingers.
"We'd love to take credit for specifying the design," Crawford jests. "But we receive the pouches with these [grip] areas. It's a great idea. And once we seal the bag at our restaurants, there's no problem with leakage holding the pouch by its two bottom corners. It's very convenient for our people to handle the pouches throughout their life-cycle at our restaurants."
Chuy's 'pans' for alternative
Sauces are usually cooked to 180°F. Until last year, they were poured into the stainless-steel inserts. These inserts often fit into a steam-table on the serving line to keep the food they hold warm, much like pans used by hotels at banquets.
But mostly, Chuy's employees placed these open-top inserts in a larger pan of ice water to enable the product to cool down before a lid was placed on top and the insert was set in a cooler for storage until the sauce was used.
"The pans took up a tremendous amount of space spread out over tables in the prep areas of our restaurants," says Crawford. "And a cook would have to stir the product in the pans to help cool it off before we could put it in the cooler." Putting hot pans of sauces in the cooler could elevate cooler temperatures. Because food must be kept at certain temperatures to meet health regulations, raising cooler temperatures would be prohibido for the Tex-Mex restaurants.
"The health departments [we work with] require storage at less than forty degrees," Crawford says. "When product is heated, it has to be held above one-hundred-and-sixty degrees. Anything in-between is a danger zone for bacteria. There's nothing more important at our restaurants than proper food handling."
Semi-automatic sealing
At each restaurant, management determines what the day's needs will be before preparing products from scratch. "If we think we'll need fifteen pounds of a sauce mix, for example, we'll heat it in a kettle and usually pour about one gallon of the mix into each pouch." For marinades, he says that Chuy's puts 5 lb of chicken or beef, along with the seasoned liquid, into a 1-gal pouch.
A worker places a pouch on a pouch filler stand where it is held open to accept the bottom-up manual fill. The fill falls several inches short of the top of the pouch to allow a worker to pull the pouch off the stand and place it between the jaws of a foot-activated heat sealer. The BS-18 impulse bag sealer and the stand are supplied by Hantover (Kansas City, MO).
The flat, sealed pouch is then placed in a 55-gal barrel full of ice water. "With these pouches we can quick-chill our product," says Crawford. "We feel by cooking it 'in-house' we get the freshest product, and now the handling is as safe as possible. The ice bath is the best way to do it. We can bring the temperatures down quickly and it helps prevent the possibility of any food-borne problems. It's to the point where the health department in Arlington, Texas uses us as a place to show their trainees how they want [this kind of process] done."
Many advantages
Crawford estimates that "we've reduced our chill time at least in half," since using the pouch on a widespread basis early this year. "It's part of our standard operating procedure now," he notes. other advantages: "We don't need to use up so much space in our prep areas as we did with the pans, and our cooks don't have to stir the product as they had to in the pans."
Crawford says the flat pouches are much easier to handle than were the large stainless-steel pans, which came in a variety of sizes. The pouches also take up less space in the cooler.
Beyond meeting Chuy's primary goals of improved handling and faster chilling, the switch to the pouch also makes economic sense. "The initial expense of buying the sealing equipment, the stands, the barrels and the pouches doesn't even touch the investment to buy the tremendous number of stainless-steel inserts that we used to need at each restaurant."
He estimates that for future restaurant start-ups, the pouches can save Chuy's "ten thousand dollars on a per-restaurant basis." And while many of the inserts are still used, Crawford says "we're selling some of these at restaurant auctions because we don't need them anymore."
Companies in this article