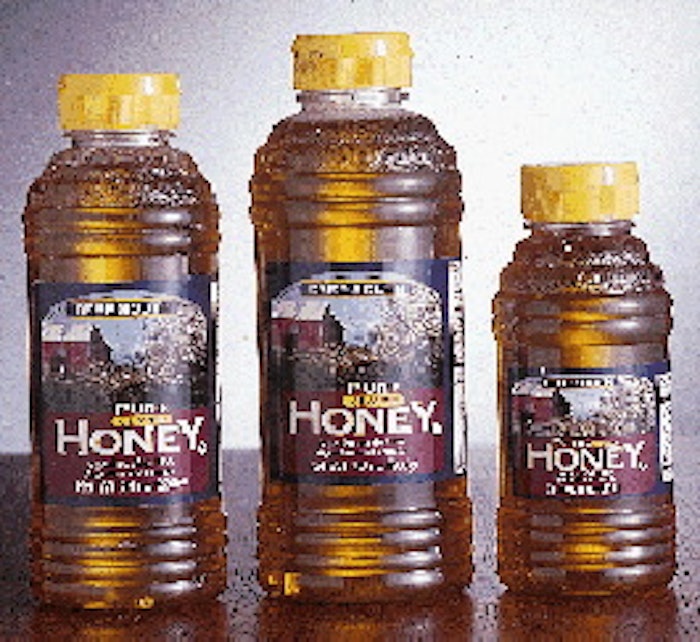 Like so many other food marketers in the last few decades, honey producers have found lightweight, shatterproof, plastic packaging an appealing alternative to glass. Honey jars extrusion blow-molded of polypropylene and both high- and low-density polyethylene have been on store shelves for at least the past decade.
Now polyethylene terephthalate is beginning to make some inroads into the honey market, primarily on the strength of its clarity. Among the first honey producers to use PET is T.W. Burleson & Son of Waxahachie, TX.
"The other plastic materials may be lightweight and shatterproof, but PET is all that plus it's as clear as glass," says ingredient buyer Tim Burleson.
Burleson's first offerings in PET reached store shelves in the summer of '97. Why did it take this long for honey to graduate to PET? Resin cost, mold costs and concerns over thermal resistance have been the primary hurdles. With help from bottle distributor Berlin Packaging (Chicago, IL) and custom blow molder Parker Plastics (Pleasant Prairie, WI), Burleson overcame all three obstacles.
Resin cost, Tim Burleson admits, is still higher for PET than PP or PE. But the company is willing to pay the upcharge if it results in bigger market share. "The payback is in increased customer satisfaction, and, ultimately, increased sales," says Tim Burleson.
As for blow mold costs, Parker Plastics solved that riddle. For starters, it uses a two-cavity machine, the SBO 2 F from Sidel (Norcross, GA). So for any one size, only two blow molds are required.
Perhaps more important is the modular mold system Parker developed. The company uses the same master mold carrier for 16-, 24- and 32-oz sizes. This carrier holds the cooling lines and all the other complex mechanical and electrical components that make a blow mold work. Into the carrier go aluminum mold inserts, one for each bottle size. That spares Burleson the cost of six complete molds for three bottle sizes. Instead it pays for two master mold carriers and six relatively inexpensive inserts.
According to Parker's Jim Parker, mold inserts are not new to the industry. But they're more typically used in high-volume, high-cavitation production, where the container is thin-walled and its shape is simple. Carbonated soft drinks and water bottles are perfect examples.
"But custom molders like us," Jim Parker continues, "tend to shy away from mold inserts because we're afraid the bottles are not going to get the kind of cooling that's needed. What we had to do is design a way to get the proper cooling into our inserts." Jim Parker isn't revealing much more than that about his modular mold design.
Withstanding warm-fill temps
The third hurdle Burleson had to overcome in leaping to PET is the tendency for PET containers to lose their sidewall rigidity under filling temperatures in the 120°F range. The warm-fill temperature isn't aimed at pasteurizing the honey. It's simply so that the otherwise viscous product will become more fluid and flow through the liquid filler more quickly.
Burleson resolved the warm-fill issue by making sure that container design optimized material distribution during blowing. Also, the containers are heavy enough to withstand paneling and other heat-related distortion. The empty-container weights are 26, 40 and 50 g for 16-, 24- and 32-oz containers.
As appealing as PET was to Burleson, the company still had some concerns about PET's performance in the marketplace. For instance, could PET keep out enough oxygen and ultraviolet light to prevent discoloration? If not, shelf life would be a problem.
"The average consumer buys honey about every eighteen months," says Jim Phillips, sales and marketing manager at Burleson. "It's not a high-turn item. So we wanted to see in shelf-life studies what would happen to PET in terms of honey color."
The company took filled containers through an accelerated shelf-life test lasting six months. At the end, management was confident that the PET container would prevent discoloration easily for 18 months.
Burleson was also cautious in choosing which market segment would be the first to receive honey in PET containers. "Our Burleson-branded product represents about forty percent of our business," says Phillips. "Another forty percent is foodservice and twenty percent is private-label business. It made the most sense to test PET in our private-label business, so that if we encountered problems, it wouldn't affect our mainline business."
As it turned out, the bottles have been perfectly reliable and well received by Burleson's private-label customers. "Our private-label business is ninety percent PET," says Phillips. "We aim to be one-hundred percent PET in both branded and private-label product. The molds are now being made for our Burleson's brand."
Also in development at Parker Plastics is a PET container that will hold 5 lb of honey for Burleson's foodservice customers.
"The appeal to those customers is basically the same as for the consumer in the supermarket," says Phillips. "More than anything else, the clarity is very appealing. And since our current five-pound container, made of polypropylene, also goes to warehouse clubs, when we convert the foodservice side to PET, the warehouse clubs will get PET as well."
Same filling line
Burleson uses the same filling line it uses for PP and PE containers. One modification made was in the bottle unscrambler. The inside of each container gripper was originally lined with a material having the texture of fine sandpaper, which results in more positive gripping of PE or PP bottles. What Burleson discovered is that this material was a little too rough for the smooth, glossy surface of a PET container.
"When we run PET," says Tim Burleson, "we change to grippers having a rubberized surface. It's softer and won't scratch the PET. And quick-change parts let us make the switch in about twenty minutes."
The neck finish on all three sizes is 38 mm. The 38/400 closure is injection-molded of PP by Polytop (Slatersville, RI). Inside each flip-top dispensing closure is a foil membrane that is induction sealed to the neck finish after the cap is applied. Pressure-sensitive paper labels are printed flexographically by Labels One (Dallas, TX) in as many colors as a specific job requires.
Now that Burleson has just over a year's experience with PET containers, sales and marketing manager Phillips looks forward to having the Burleson brand in PET as well. He estimates the U.S. retail honey business at $180 million, and figures there are between 200 and 220 manufacturers. Most of them, he adds, can't afford custom molds for a PET container. That, he says, gives Burleson an edge. As he puts it, "We decided to ante up."
Companies in this article