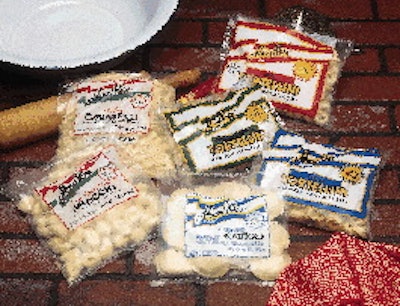 Low ceilings at the headquarters plant of Mount Rose Ravioli in East Farmingdale, NY, make it impossible to install towering vertical form/fill/seal machines topped with combination scales. Yet the co-packer/manufacturer needed to add packaging equipment to keep up with newly expanded production capabilities for its frozen tortellini, ravioli, cavatelli and gnocchi.
The solution? A pair of scale/bagger systems from Triangle Package Machinery (Chicago, IL). Purchased through Eastern Packaging Associates (New Milford, CT), one machine packs tortellini, the other ravioli, cavatelli and gnocchi.
Triangle custom-designed a sloped and partitioned discharge hopper between scales and baggers that reduces the height of equipment compared to standard vf/f/s machines where the same components are usually stacked vertically. Triangle tells Packaging World that Mount Rose is the first in the frozen pasta business to employ the sloped hopper.
Additionally, the bagger comes with legs 51/2" shorter than usual. These changes combine to produce a system that tops out at 10'6" H, meeting the needs of Mount Rose's "vertically challenged" plant.
Besides fitting into the plant's cramped quarters and keeping pace with production capacity, the equipment stands tall for several reasons. Key among them is that the machines:
* Double packaging speeds to 55 to 65 packs/min, depending on bag size,
* Save $100ꯠ/yr in labor costs, and
* Reduce giveaway by as much as 0.7 oz/pack, saving $109ꯠ annually.
Production dictates purchase
Before adding the custom packaging systems, Mount Rose relied on two packaging lines. Semi-automatic equipment was used to bag tortellini, the highest-volume product. It consisted of a 10-head scale that deposited the pasta into pre-made bags picked manually from a wicket. Workers then placed filled bags onto a separate band sealing machine. That equipment will be used until the company's inventory of pre-made bags is depleted, which is expected to occur by November.
For its three other pasta products, Mount Rose had used both an outdated vf/f/s system that's now up for sale, and the wicketed bag/band sealer. For the 1-lb bags, both of those systems functioned at speeds ranging from 25 to 32 packs/min.
"We were running five machines that make tortellini, and our weighing system couldn't keep up," recalls Tom Minuto, one of several co-owners of the third-generation family business. "We were moving more product into the scale than it could handle. We wanted it to do thirty weighments a minute, but its capacity was about twenty-five, so we were getting inaccurate product weights."
The combination of increased product demand and concerns for tortellini packaging speed, giveaway and labor costs helped prod Mount Rose into buying new equipment. The decision to purchase Triangle equipment, he says, was made primarily "at the recommendation of some pasta marketers that we co-pack for." Distributor Eastern Packaging offered key advice, as well.
"We purchased the two Triangle machines at the same time, but installed the first one for tortellini," says Minuto. "Once we had that machine running, it proved that it could more accurately weigh product." Not only did it provide more accurate fills than Mount Rose's previous equipment, it also filled more quickly. So much so that Mount Rose purchased a sixth tortellini machine that increased its capacity to make that product by about 10ꯠ pounds per day. This Triangle machine now packs nine million lb/yr.
Two months later, in January '98, the second Triangle was up and running. It packs some 4.5 million lb of ravioli, ricotta cavatelli and gnocchi annually.
The machines run five days a week, year-round, on two daily 10-hour shifts, with a four-hour clean-up period. Together, says co-owner Anthony Minuto, the two Triangle machines now account for about 85% of Mount Rose's production. (A third packaging line at the plant packs frozen pasta into paperboard folding cartons.) He says that private-label brands, usually sold at retail, account for 75% of the company's business; 25% is Mount Rose-branded product, sold both to retail and foodservice customers in NY, NJ and CT.
Speed thrills
While the Triangle equipment can run at speeds to 80 bags/min, Mount Rose runs them at speeds that vary depending on bag size and product type. Mount Rose uses the two vf/f/s machines for seven product sizes, ranging from 11 to 48 oz, with the 16-oz size among the most prevalent. That size is filled at speeds upwards of 40/min.
"Through the experience of a less-than-top-of-the-line vertical form/fill/seal machine we learned that we had to buy a machine with greater capacity than our needs," admits Tom Minuto. "If we bought a machine designed to run sixty-five packs a minute and we needed to operate at that speed, we'd be maxed out the minute we plugged the machine in. That's where we went wrong with the older vertical form/fill/seal machine. Most days we run at less than sixty-five a minute on the new machines," though it's still twice the speed of the former equipment.
"The increased speed of the Triangle equipment was a major reason why we purchased the equipment," adds Anthony Minuto.
Besides their productivity/speed advantages, the machines provide significant savings by reducing labor costs and product giveaway. In the past, each shift required five people for the tortellini line, four on the line that handles the other three pasta products. Now three people are used for each of the two Triangle lines. The difference is that operators are no longer needed to pull pre-formed bags from a wicket and position them on a sealer.
Just like the previous packaging process, these people also perform manual case packing, palletizing and stretch wrapping tasks.
While annual labor savings are said to be about $100ꯠ/yr, product giveaway isn't as easy to measure. According to the Minutos, giveaway usually ranged from 0.2 to 0.7 oz/pack. Now it's 0.1 oz/pack. Tom Minuto estimates savings of $109ꯠ/yr. Instead of overwhelming the weighing capability of its previous scale system, the Triangle machines use a sophisticated computer weighing system. It typically will drop product from about five of 12 buckets to deliver more accurate fills.
"We've gone from using slower equipment with accuracies that resulted in a giveaway of as much as a half-ounce of product per package to one that's much faster and has accuracies of 0.1-ounce per pack," says Anthony Minuto. "The Triangle machines are much more accurate. That provides us with a remarkable advantage," he adds.
Examining the process
Following processing, the pasta is carried from freezers through the two packaging lines on new plastic belt conveyors from G&F Systems (Roosevelt, NY). Tortellini is individually quick-frozen and conveyed through a mechanical freezer for 30 minutes at
Unlike some vf/f/s machines that use a rotary scale system, the Triangle units are equipped with linear Selectacom Model A612F2RN computer combination net weigh scales, built to USDA standards. Scale buckets or trays are positioned six across and in three rows top to bottom. Pasta is conveyed through an infeed mechanism into the top row of six vibratory buckets. These buckets then drop product into six accumulator buckets directly below. Product is then released downward into weigh-cell buckets. There are 12 of these buckets, positioned six-wide and two-deep (one behind the other, not above and below).
The weigh-cell buckets act as holding chambers. In each of the 12 buckets, the pasta is weighed, and the computer selects a combination of buckets that will most closely match Mount Rose's desired weight for that particular pack. According to Triangle, five buckets usually open at once to achieve a precise weight. Once those five buckets release their product, accumulator buckets above drop in more pasta so it can be weighed.
Soft landing
The weigh buckets release the pasta into the customized sloped discharge hopper that feeds into Triangle's Advantage B1PF vf/f/s bagger. Besides reducing the height of the vf/f/s machine, the sloped design allows the fragile frozen product to gently slide down into the bottom-sealed tube of film.
A custom metal device, called a product arrestor by Triangle, is positioned in the forming tube. This arrestor works in conjunction with the scales so that as the weigh-cell buckets release pasta, the gate-like arrestor opens, restricting some of the pasta. As the pasta descends, the arrestor returns to its original position.
Pasta falls into the fin-sealed material. Specifications vary slightly, but Mount Rose describes the typical structure as a monolayer film that blends a mix of low- and linear-low density polyethylene with a small percentage of ethylene vinyl acetate. The film is supplied by three companies, Poly-Pak Industries (Melville, NY), Craft-Pak (Brooklyn, NY) and Shiprite Packaging (Bergenfield, NJ).
Some materials are reverse-printed, others printed onto the surface of the structure. Graphics are not elaborate. Brand, logo, product identification and size grace the front panel. On the back are cooking directions, nutrition facts and a bar code.
Film unwinds through a series of rollers and is printed with an expiration date by a SmartDate® 1 thermal-transfer coder from Markem (Keene, NH). Once filled and top-sealed, the fin-sealed pillow-style pack discharges at floor level and is conveyed up an incline to a position where operators manually pack the bags into corrugated shippers from various suppliers. Cases are preprinted in one color, which varies by customer.
These cases are automatically closed on an Easy Taper from E-Z Tek (Deer Park, NY), a machine that applies pressure-sensitive tape to the top and bottom. Some cases are ink-jet printed with various information by a Little David® printer from Loveshaw (South Canaan, PA). Other cases are manually p-s labeled. Cases are manually palletized and stretch-wrapped, then placed into a storage freezer. The product is shipped frozen by truck, both directly to customers and to distribution warehouses.
Another important advantage the new vf/f/s machines provide Mount Rose concerns changeovers. "Our production schedule varies based on customer orders," explains Anthony Minuto. "One day we may only run one label for tortellini; the next day it might be fifteen. We make between three and five changes per day on the other pasta packing line. The Triangle equipment allows us to make changeovers quickly, and we end up wasting less time, material and product." No specific savings figures were divulged.
Tom Minuto adds, "Changeovers are easy. We do them in about two minutes by loosening a couple of clamp handles, sliding out the forming tube and collar, replacing them, and changing a little stop device on the forming tube. We do these without tools."
By adding up the labor and product giveaway savings, along with the additional production capacity, and the reduced downtime, Tom Minuto estimates that Mount Rose will pay off the investment in the machines in about 18 months. "It's a pretty fast payoff for the two machines," notes Anthony Minuto. And that's no tall tale.
Companies in this article
Videos from Triangle Package Machinery Company