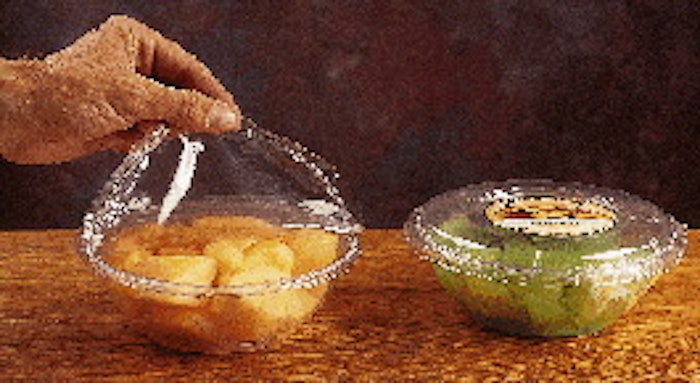 With total sales nearing $8 billion in 1997, the fresh-cut produce business remains appealing to say the least. So appealing that Indianapolis-based Caito Foods, a full-service produce wholesaler with no previous experience in cutting or processing, launched its own line of fresh-cut fruit this summer. To hear general manager Wayne Wolven tell it, management would just as soon have stayed out of the processing business and stuck to its core business: distribution.
"For five years we've wanted to get into the packaged fruit business, but we hoped that someone at point of origin, maybe someone in California or Mexico, would develop a package with enough shelf life for us to handle," says Wolven. "It just never happened."
Rather than waiting for someone else to pave the way, Wolven and colleagues began looking for their own processing and packaging equipment. Their search led them to MAP Systems Intl. (Des Plaines, IL), a machine builder and thermoformer specializing in modified-atmosphere packaging. In January, MAP Systems introduced the MS55, a tabletop version of its larger and more costly continuous-production tray sealers. For Caito, which wanted to start small as it entered an entirely new segment of the produce business, the new machine was perfect.
"One machine does about ten packages per minute," says division manager Armand Angeles. "We have two, so we can sustain about twenty packages per minute. It's a good, affordable machine to get you started."
Should volumes grow and a continuous-production machine be necessary, notes Wolven, Caito will be able to transfer its seal head tooling to the new machine. That would give the firm a leg up on the cost of a new system.
Reached stores in July
With a seven-day use-by date and a suggested retail price of $2.99/lb, Caito's Fresh Line(TM) honeydew melon, cantaloupe and fruit medley in 12-oz portions began reaching store shelves in the Midwest in July. Excluding labels, the package consists of a thermoformed bowl, flexible film lidding, and thermoformed overcap. Clear Lam (Elk Grove Village, IL) supplies the film, while MAP Systems makes the bowl and overcap.
Like any fresh produce, Caito's sliced fruits continue to respire, taking oxygen in and giving off carbon dioxide. Only if the package offers the correct permeability can the appropriate gas exchange take place, thus ensuring quality and shelf life.
The thermoformed bowl, for its part, offers little permeability at all. It's a lamination of polyethylene/polyvinyl chloride/three-layer coextrusion. The proprietary coextrusion is carefully tailored so that when the flexible lidding material is sealed to the bowl, seal integrity is assured without hindering peelability.
The gas exchange gatekeeper is the flexible film lidding. "It's a custom coextrusion that represents a considerable R&D effort," says MAP Systems' Jim Sanfilippo. That's about all he's willing to say about the proprietary material.
Also making an important contribution to gas exchange is the thermoformed polyethylene terephthalate overcap, which is applied manually. MAP Systems has a patent pending on it. In six locations evenly spaced around its circumference are five channels produced by the thermoform tooling.
When the friction-fit overcap is applied to the bowl, these channels remain unobstructed conduits carrying the appropriate amount of ambient air into the package between the overcap and the flexible film lidding. In turn, this guarantees that sufficient oxygen ultimately permeates the film to reach the fruit. A snap-on overcap with no vents, on the other hand, would probably not permit sufficient ambient air to enter the package.
Why use an overcap at all? Wolven likes it for several reasons. "It gives the package more of a 'back-room look," he points out. "Customers told us that some of the packaged produce they've seen looks too manufactured. We wanted ours to look like it was being prepared in the back room of the produce department, and we think the overcap gives that appearance."
It also makes the bowls stackable, says Wolven, because it has a recessed portion in the center that matches the diameter of the bowl's bottom. Finally, adds Wolven, the overcap lets consumers close the container if they don't consume the contents in one sitting.
Separate rooms
In a 5ꯠ-sq' space dedicated to the Fresh Line operation, Caito uses three separate rooms to take its fruit from raw to sliced to packaged. In the first room, the whole melon is washed in chlorinated water. It's then conveyed through a wall to a second room that's under positive pressure to keep airborne bacteria from entering. This is where the peeling, cutting, washing-again in a chlorine solution-and packaging are done. Gentle handling and careful control of dwell time in the chlorinated wash prevents oversaturation of the cut fruit while still achieving the appropriate level of bacteria kill, says Angeles.
Each MS55 machine has two bowl carrier plates that operate in a shuttle fashion. While the bowl in one carrier plate is being gas-flushed and lidded, the other carrier plate is being loaded with another bowl of fruit. An operator places a filled bowl in one carrier plate, pushes it into the seal-head area, then removes a lidded bowl from the other carrier plate.
Like other machines made by MAP Systems, the MS55 doesn't depend on vacuum to remove ambient air before backflushing. Instead it relies on overhead gas rails that flush the bowl thoroughly with, in this case, a mix of nitrogen and oxygen. With flushing complete, clear lidstock is heat-sealed to the bowl perimeter, cutting knives cut the film, and the container is ejected.
Filling is currently done semi-automatically. The sliced fruit drops from a conveyor belt into a waiting bowl. When the bowl appears nearly full, an operator places it on a scale and adds pieces until the desired target is reached. Then the bowl is placed in the carrier plate of the MS55.
Labeling designed to be flexible
Applied to the bottom of each bowl is a white label with black copy showing nutrition facts, UPC bar code, and the Fresh Line web site address. Caito buys these labels blank and prints them in-house on a thermal-transfer printer.
The label applied to the thermoformed overcap is more elaborate. "We have the Fresh Line logo and colorful images of fruit preprinted," says Angeles. "Then in-house we use a thermal-transfer printer to print the use-by date, the product name, and the product weight. The idea was to use a single label for a variety of fruits."
Both thermal-transfer printers used by Caito were supplied by Datamax (Orlando, FL). Pressure-sensitive labels are from Wisconsin Label (Algoma, WI). The 60-lb C1S paper stock is flexo printed in six colors and pattern varnished. The portion of the label with all the graphics gets the varnish, which prevents moisture damage. Left unvarnished is a small section at the bottom so that thermal-transfer printing is unimpeded.
Finished bowls are conveyed through a metal detector from Graseby Goring Kerr (Amherst, NY) and then to a third room for packing into corrugated shippers. Six bowls in a single layer occupy each shipper. The shippers are then stacked five per layer, 10 layers high, and stored in a cooler until shipment, much of which is done on a store-door basis along with the other produce Caito distributes. As long as temperatures remain at 36°F, a seven-day shelf life is assured, says Wolven. That's enough, he adds, to achieve Caito's objectives.
What's next?
Improvements on the horizon center on automation, says Wolven. Labeling is one area being explored. And filling will be upgraded at Caito as soon as an automated scale system from Sandoval and Assoc. (Morgan Hill, CA) is installed. It uses three sets of vibratory pans to gently move the delicate fruit toward a filling cone equipped with a load cell. The last of the vibratory pans is a double pan with both bulk and dribble capabilities. As soon as it drops the target weight into the filling cone below, a signal halts the feed pans until the cone empties its charge into a waiting bowl. Then the vibratory pans are signaled to resume.
The system will be a twin-scale version capable of a combined output of 30 bowls/min. In addition to gaining the capacity for greater speeds once the new scale is installed, Caito expects to see improvements in weighing accuracy and reduced labor costs, as well.
Another bit of tweaking underway relates to sanitation in the cutting/washing/packaging room. Already the room undergoes a daily routine of scrub-down with soap, water rinse, and sanitation with a spray of chlorinated foam or quarternary ammonia solution. "We rotate the sanitizing spray because if you use only one, certain bacteria might build up an immunity to it," says Angeles. Now being added to this regimen is an ultraviolet light source in the duct work. All air in the room will circulate through it so that bacteria released from humans will be killed.
Caito now ships its 12-oz Fresh Line bowls to supermarkets in eight states. Also being explored are 8- and 16-oz bowl sizes. "There's a certain amount of trial and error to the size," says Wolven. "We have to determine what price points work best."
Listening to retailers will no doubt help. Caito has already shown it knows how to do that.
"Our customers wanted fresh-cut packaged fruit," says Wolven. "Some were doing it in the back room, but they didn't like the labor involved. That's why we saw a need for this package. Of course it proved to be a bigger project than we anticipated. Sanitation, for example, was a big challenge. And there wasn't much for us to model ourselves on. Some of the processing and packaging machinery had to be designed or modified specifically for us. A lot of this has been kind of experimental."
Perhaps Angeles puts it best: "There just aren't many products like ours out there right now."
Companies in this article