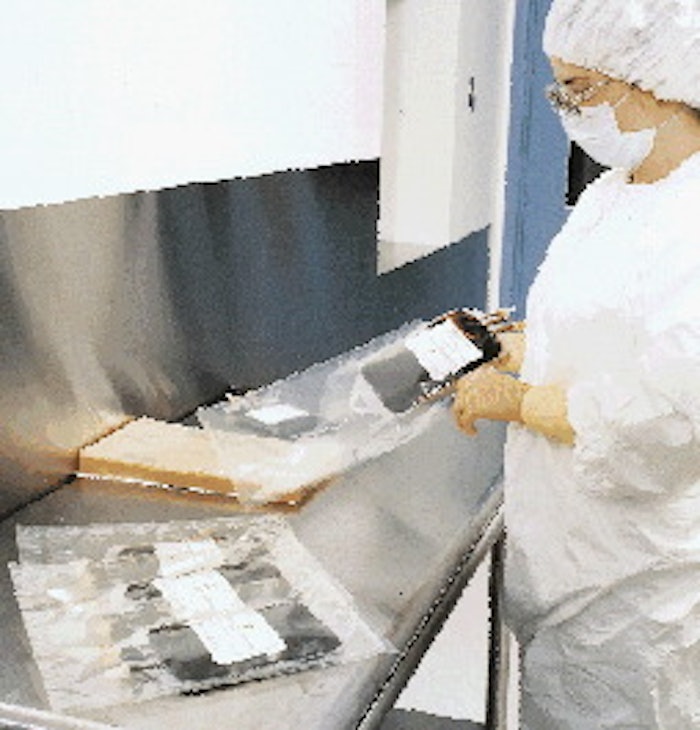 A soon-to-be-commercialized human blood substitute product called Hemolink(TM) is so sensitive to oxygen that its Toronto-based maker, Hemosol, used to keep it frozen once it was packaged in IV infusion bags and nylon overpouches. Neither primary nor secondary packaging materials were able to keep oxygen away from the sensitive product, and only by freezing it could its stability and efficacy be protected.
But costly and inconvenient freezing became a thing of the past once Hemosol began using an overpouch made of a ClearFoil® film from Rollprint (Addison, IL). The high-barrier property of this multilayer lamination gives Hemolink a projected shelf life of at least two years at refrigerated temperatures of 4°C, and at least one year at room temperature.
"We haven't finalized our data yet, but the shelf life looks promising," says Dirk Alkema, vice president of manufacturing at Hemosol. "This film meets our specifications for high oxygen and moisture barrier properties while the clarity of the material maintains our product's visibility."
The clarity issue is important, says Alkema. "Clinicians are used to seeing blood in an IV bag. They visually inspect the blood for quality." The clarity of the ClearFoil pouch allows them to do this, says Alkema.
The pouch is made by Rollprint from a three-layer adhesive lamination of 75-ga oriented polypropylene/ClearFoil SiOx-F/2.5-mil sealant layer. The SiOx-F is an unnamed substrate coated with silicon oxide to Rollprint's specifications. It has the highest barrier of all the films in Rollprint's ClearFoil family. It provides an oxygen transmission rate of 0.003 cc/100 sq"/24 hr at ambient temperature under normal atmospheric pressure.
Moisture barrier properties are important as well, says Sam Teleki, special projects manager at Hemosol. The ClearFoil laminate delivers. MVTR is 0.02 g/100 sq"/24 hr.
"Minimizing water vapor loss protects product concentration," Teleki explains. "For example, if we produce a product with a 10 percent concentration of hemoglobin, fill one hundred milliliters into an IV bag and then we lose three milliliters of moisture during the shelf life of the product, we've just increased the product concentration to 10.3 percent."
Adds Alkema: "As we designed our overpouch, we looked for the highest level of oxygen and water vapor barrier in a clear film so that we could protect the stability of the product. The improved shelf life we get as a result is an added value."
Flex-crack resistance is another characteristic of the overpouch material that is greatly appreciated, especially since these pouches are kept under refrigeration.
"Flex-crack resistance becomes more difficult at cold temperatures because some plastics become very brittle," says Teleki. "The flex-crack characteristics of the ClearFoil laminate are good, even at very low temperatures."
Military needs
The development of blood substitute products began with military research intending to overcome the issues of blood availability and stability in the field. In the mid-1980s, Hemosol, a private-sector company, was formed to commercialize Hemolink. Derived from highly purified human hemoglobin, the blood substitute is now in trials in three countries: the U.S., the U.K. and Canada. The packages that Hemosol makes each day are for use in these trials.
Hemosol is in a race with as many as seven companies all trying to be the first to win FDA approval for a blood substitute. Getting its product out of the freezer and into the fridge should help enormously, not because quality or efficacy improves, but simply on account of convenience.
"Most places where this product will be used, hospitals and blood banks for the most part, don't have frozen storage capabilities," observes Alkema. "Refrigeration, on the other hand, is routine. Ideally it would be nice to be able to store it at room temperature, and I think that with this bag we may be able to do that. We just don't have enough data yet to be sure."
Hemosol produces its Hemolink product by processing outdated blood. Filling is done under aseptic conditions in a class 100 clean room. Like the secondary package provided by Rollprint, the primary package is a premade pouch, too. Supplied by Stedim (Concord, CA), it's a five-layer coextrusion of ethylene vinyl acetate/tie/ethylene vinyl alcohol/ tie/EVA. The bags are sterilized via irradiation and then wrapped in foil 20 per pack for shipment to Hemosol.
At Hemosol, operators use a Plumat (Naperville, IL) filler/heat sealer that's foot-switch activated. After removing from the pouch's spout a friction-fit cap applied by Stedim to ensure pouch sterility, the operator slips the spout over the fill head and hits the foot pedal. As soon as the desired amount-anywhere from 100 to 500 mL-is in a pouch, the machine automatically heat seals the spout closed.
Finished IV infusion bags are placed manually into three-side-sealed pouches from Rollprint. An operator adds two oxygen absorbing desiccants from Mitsubishi (New York, NY) and then depresses a foot pedal to heat seal the top of the pouch on a system supplied by Packaging Aids (San Rafael, CA). This system also evacuates the overpouch of ambient air and backflushes it with nitrogen.
Displacing oxygen
"It's not a lot of nitrogen, but it's enough to help displace some of the residual oxygen," says Alkema. He adds that this manual operation meets Hemosol's current production needs, but the company plans to make whatever changes are necessary as it prepares for full production once Hemolink goes commercial.
"Market demand projections for a blood substitute product are estimated at three million units a year in North America alone," says Alkema. "We're hoping to be licensed and marketing the product by the year 2001. At that point, we'll be handling much larger batch runs.
"We're looking at other pouch designs that could improve the product's ease of use," he continues. "An easy-open seal would be ideal for our application." Since Rollprint can manufacture the ClearFoil laminates with virtually any heat seal characteristics by selecting the appropriate sealant layer, says Alkema, Hemosol can continue to benefit from the material's barrier levels and clarity while improving the package's ease of use.
As for cost comparisons between old and new packaging formats, Alkema says they're difficult to pinpoint. That's because the materials suppliers involved are basically in a "co-development" mode with Hemosol as it carefully and methodically makes its way to the marketplace with an important new product. In such circumstances, pricing typically doesn't reflect true commercial realities. Alkema also points out that in any assessment of packaging costs, it's important to remember the intrinsic value of the product itself, which might as well be liquid gold. That makes the cost of packaging materials a bit less critical. Or, as Alkema puts it, "It's not as huge a factor."
What is huge is how the materials perform, and on that front Alkema is pleased indeed. "We tried a number of overpouch materials, and the one from Rollprint was by far the best."
"We're a small company with small volumes but a promising future," he continues. "The fact that Rollprint was so willing to work with us to develop a new product is impressive. They're helping us to make the blood supply safer, more economical and easier to manage."
Companies in this article