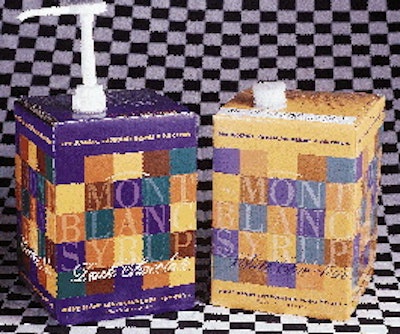 Marketers of gourmet food products sold at retail often give as much time and attention to their packaging as they do to the products themselves. But when that same specialty product is used in a foodservice environment, it's typically presented to a customer on a plate--not in its original package--and any market presence gained through packaging is lost.
Such was the bittersweet case for Mont Blanc Chocolatier, the Denver, CO-based cocoa manufacturer. With its products already known in gourmet retail circles, the 13-year-old company sought to gain a stronger market presence in the cafes and restaurants where it's used.
Mont Blanc had made its foodservice debut years before via its powdered cocoa products sold in bulk bags to cafes and restaurants that used the cocoas as ingredients in ice cream and coffee drinks. However, Mont Blanc chocolatier and proprieter Michael Szyliowicz had a sweet vision: a new syrup version of his cocoa that would be easier to use than powders. It would be sold to foodservice establishments in a disposable bag-in-box package fitted with a portion-controlled dispenser and adorned with the Mont Blanc name. Shelf stable even after opening, it would sit atop coffeehouse counters to allow simple handling by employees as well as full view by restaurant customers.
Szyliowicz's vision became a reality this past February, when three versions of Mont Blanc's syrups--dark chocolate, white chocolate and white chocolate caramel--were introduced in bag-in-box packages at the Fancy Foods show in San Francisco.
Perfecting the package
"A lot of our customers use bulk powders," says Szyliowicz, "but syrups are so much easier to use. Syrup offers precise measurement and isn't as messy. We wanted to give our customers an alternative to powders. We worked to create a great chocolate syrup, and then to create the best package we could."
To Szyliowicz, "the best package" meant one that was easy to use for foodservice employees. Although easier to use than powders, syrups typically come in squeezable bottles that must be refrigerated after use. If syrups are too cold, they are often difficult to pour.
Or, syrups are poured from bulk containers into stainless-steel dispensing tubs, which, says Szyliowicz, "can be a nuisance. You have to clean the tubs daily, and you must be sure the pump is clean. Plus, the syrup is being exposed to air, which lessens shelf life."
The bag-in-box package, he figured, would certainly eliminate messes. And because the bag is free of air, collapsing as the product is dispensed, shelf life would not be affected. And hot-filling would eliminate the need for refrigeration, says Szyliowicz.
Portion control was another concern. Szyliowicz desired dispensing in 1/2-oz increments. While most competitors use a 1-oz pump, he says, this special size allows foodservice establishments more versatility in formulating recipes. Carow (Crystal Lake, IL) provides the polypropylene-based dispensing unit. One pump is enclosed in each case of syrup and can be fitted onto the bag-in-box package.
There were also issues of size, given the small work areas in many restaurants. "What we wanted was the largest package we could get in a small footprint," Szyliowicz explains. "We didn't want the package to be prohibitively heavy. We wanted customers to be able to lift it and put it on a counter fairly easily."
Ideal Box & Graphics (Chicago, IL) helped develop the box structure, which measures 223/8" high x 125/8" wide and 71/2" deep. Filled, it holds 11/2 gallons and weighs roughly 15 lb. It consists of 32 ECT B-flute kraft corrugated. A 70#-test C1S preprinted liner, supplied by Huston Patterson (Decatur, IL), is glued to the box. The liner is litho-printed in four colors plus an aqueous coating. Ideal die-cuts and scores the boxes, which are sent knocked-down to Mont Blanc's contract packager. Graphics, depicting the Mont Blanc name within a bright checkered background, are provided by TaCito Design (Englewood, CO).
The 6-mil metallized polyester bag from Liqui-Box (Worthington, OH), is a fairly typical bag-in-box structure that can withstand the hot-filling, says a spokesperson from Liqui-Box. It's a two-ply structure with a 2-gal capacity. The bag contains a 38-mm threaded cap and fitment assembly, which is heat-sealed to the bag during manufacturing. It's made of high-density polyethylene.
Signing the contract
With all components in place, what remained for Mont Blanc was finding the right contract packager. According to Szyliowicz, finding one that could hot-fill chocolate syrup was no easy task, as many of the larger chocolate producers fill on-site.
"Basically," says Szyliowicz, "because we're filling the bag at such high temperatures, we're sterilizing--essentially pasteurizing the syrup." This helps Mont Blanc offer a shelf life of up to one year, he says, the longest shelf life on the market.
Because competition has been fierce since the product's introduction, he prefers not to have the name of his contract packager published. But Packaging World has learned various facts from a spokesperson there.
The bag-in-box assembly, for instance, is handled manually. Filling, on the other hand, is automated. A machine removes the cap, removes the air from the bag, fills it, places the cap on the fitment and then snaps it into place. Speeds, say the spokesperson, are never high when hot-filling syrups, and are not as important to Mont Blanc as producing a consistent package. They are difficult to quantify, PW is told, because filling for Mont Blanc occurs on a fill-to-order basis.
After filling, syrups are manually packed in groups of three into cases, which consist of double-wall 48 ECT B- and C-flute corrugated, also supplied by Ideal Box & Graphics. The cases are slightly taller than the bag-in-box to accommodate the dispensing unit and an additional folded corrugated piece that protects the dispenser and acts as void fill. Filled cases are shipped to a distributor or, in some cases, sent via UPS directly to customers.
Mont Blanc's bag-in-box for chocolate syrup is marketed to ice cream parlors and coffee houses throughout the U.S. The syrups sell for about $69 to $99, depending on variety.
Companies in this article