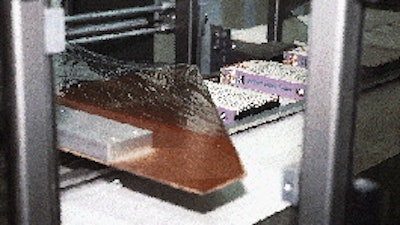 A VHS video cassette duplication and editing firm in Toronto, Canada, Provac has experienced a substantial surge in business volume over the last two years or so. This has led to the installation of an automated packaging line that occurred in two phases. In May of last year, a pressure-sensitive cassette labeler and a cartoner were installed. Then in July, Provac installed a film wrapper and shrink tunnel.
"Being in the video business, you naturally gravitate toward investing constantly in your video equipment," says owner and president Kai Voigt. "The last thing you seem to concentrate on is the packaging end of it. But eventually you have to recognize that even if the equipment you bought lets you duplicate like crazy, it won't do you much good if you can't get it out the back door. You realize it's time to invest in the packaging end of the business."
The new equipment meant an end to labeling and cartoning video cassettes by hand. It also replaced semi-automatic shrink wrapping.
"The semi-automatic shrink wrapper we had for about six months," says Voigt. "It was a fine machine, but our volume simply outgrew it."
The current configuration of machines begins with a pressure-sensitive labeler from Universal Labeling Systems (St. Petersburg, FL). An operator loads VHS tapes from large bulk totes onto an infeed conveyor leading to the labeler. A pressure-sensitive label is separated from its release liner by a peeler plate and applied to a cassette. After a brush smooths down the label, the cassette drops down onto a conveyor that takes it away at a right angle and feeds into a Little Giant cartoner supplied by Master Recording Supply (Newport Beach, CA).
Three-stage cartoning
Loading of the carton consists of three distinct stages. First, a carton blank is pulled from the bottom of a stack by vacuum cups. Next, vacuum cups from above pull up and then back while similar cups below hold the bottom of the blank nice and steady. The backward motion of the upper vaccuum cups "breaks" the carton open. Next the carton is pushed forward and mechanically squared up. Also, tabs hold the flaps open so the VHS tape can be smoothly inserted by a pusher bar.
Cartoned videotapes now are conveyed into a Series 1000 automatic L-sealer from TPA/Voneiff-Gibson (Baltimore, MD). A floor-level roll of center-folded shrink film feeds the machine. A powered unwind and a side chain gripper combine to advance film evenly from its roll to the station where the video cassettes are enveloped in film. Film advance is triggered when an incoming video cassette passes a photocell that signals a programmable logic controller to advance the film.
TPA/Voneiff-Gibson's Series 1000 is rated at up to 40 packs/min, the fastest in the industry according to the manufacturer. At peak production periods, Provac takes full advantage of the machine's speed. Contributing to its quickness is an infeed belt that runs continuously.
"Typically on this type of machine, when the exit belt stops, the infeed belt also stops," says TPA/Voneiff-Gibson's Elizabeth Beason. "On this machine, the exit belt stops long enough for the L-bar to accomplish its side and end seals. So it's still an intermittent-motion machine. But the infeed belt continues to run, placing the next product in front of the seal head and ready to enter."
Videotapes are conveyed out of the automatic film sealer and immediately enter a shrink tunnel that shrinks the film down tight around the sleeve. Operators load finished tapes into corrugated shippers and push the shippers through a top-and-bottom taper from Samuel Strapping Systems (Columbus OH).
According to Voigt, two other shrink film systems were considered. "But this one was the best bang for the buck by far. And it was handled by a Canadian agent with a good reputation whom we knew we could count on for post-installation service."
Growth at Provac hasn't slowed much since the automated equipment was installed. "We may have to add another line like the one we have now," says Voigt, who adds that he'll be at upcoming packaging shows to see the latest developments in equipment. In the meantime, he's pleased with the equipment he's invested in thus far. "It's been a winning combination," he says.
Companies in this article
Videos from Universal Labeling Systems, Inc.