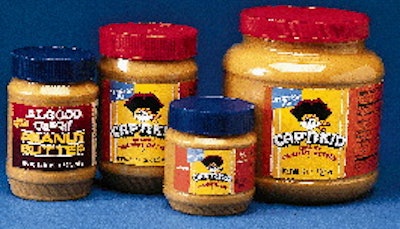 Two recently installed induction sealing systems from Lepel (Waukesha, WI) have greatly improved productivity at Algood Foods. This Louisville-based processor of branded and private-label product packs peanut butter in jars as small as 8 oz and totes as large as 1꺜 lb.
The induction sealers are found on Lines 1 and 2, where various size jars made of polyethylene terephthalate are filled. Line 1 handles primarily 12- and 18-oz sizes at speeds of 200/min. Line 2 is used primarily for 28-and 40-oz as well as 4- and 5-lb. The 5-lb jar runs at about 50/min.
Before the Lepel machines were installed, older induction sealers were in place. But these couldn't provide even heat distribution. This resulted not only in partial seals on some jars but burnt seals, and burnt peanut butter, on others. Way too much time was being wasted on clean-up.
Frequently interrupted to check seals, the production crew was losing patience. In addition to inefficiency and quality control problems, changeover times were lengthy because sealing heads had to be changed when cap sizes changed.
Algood overcame its downtime problems with two new TR2001 induction heating cap sealers from Lepel. These machines generate electromagnetic waves from a 2-kW generator, and these penetrate the cap and the inner seal as jars pass underneath. The seal is a metallized polyester with a heat seal coating. The electrical current causes the coating to heat quickly. At temperatures between 185° and 350°F, the heat seal coating is activated and bonds to the finish of the container. The heating elements are positioned to induce just enough heat for a complete seal without burning either the seal or the product.
Minimizing downtime
The new sealers have put Algood back on track. "Dependability is the key," says plant manger Glen Shram. "We run two shifts a day here, and since the new equipment was installed, we have virtually eliminated downtime related to seals. In addition, the Lepel sealers have been a help in improving our quality control efforts."
Production superintendent Danny Ludwig says the workers on the two lines are delighted that they no longer have to waste so much time rechecking seals. "And set-up time is faster, too," he adds. "The new sealer automatically accommodates our different size caps with no need to change sealing head, so we save time there, too." Supplied by Sun Coast Closures (Sarasota, FL), the injection-molded polypropylene closures come in four sizes: 70 mm (12- and 18-oz jars), 83 mm (28-oz jars), 89 mm (40-oz jar), and 110 mm (4- and 5-lb jars).
Changeover from short to tall jars or vice versa is considerably easier with the new induction sealers. Operators simply loosen a screw, raise or lower the sealing head, and retighten the screw. Minor adjustments to conveyor guide rails may or may not be required, depending on the size differential between the containers being changed from and to.
In operation at Algood for about a year, each induction sealer is about to be joined by a complementary piece of Lepel equipment: the Multi-Monitor. Algood is among the first to install this newly developed detection system.
It employs three photocells and one inductive proximity switch to detect for missing liners, cocked caps and misaligned bottles, which, because they don't run down the center of the sealing head, can cause a defective seal. The Multi-Monitor also tracks container speed. If a container speeds up or slows down beyond allowable parameters, thus receiving either too little or too much energy from the sealing head, this too is detected.
The Multi-Monitors installed at Algood will be connected to automatic faulty-bottle reject systems. Shram looks forward to the installation. "It's a pretty slick system," he says.
Companies in this article