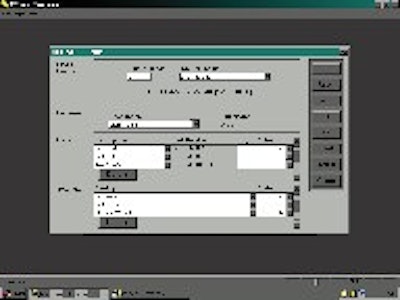 Last year, Bridgewater, NJ-based Pharmacia & Upjohn completed a three-year quick-changeover initiative (QCI) at its 33-acre manufacturing and packaging facility in Kalamazoo, MI, that saves the pharmaceutical firm more than $650ꯠ/yr.
QCI was one of several initiatives under an ambitious management strategy Pharmacia & Upjohn referred to as Global Supply Vision (see sidebar, p. 49). Two key quick-changeover concerns were identified:
* The exchange of parts on equipment to accommodate a different product, and
* The amount of time it takes to "ramp-up" the line to run at a steady, acceptable rate.
Confronting these concerns became the assignment for the QCI work team, headed by Wayne Johnson, packaging project manager; Steve Cornish, pharmaceutical operations specialist; and John Kroggel, a consultant from Prima Communications (Schoolcraft, MI), the company responsible for much of the technical documentation at the Kalamazoo facility.
Considering the size of the Kalamazoo plant, also called "Building 41," the QCI team had its work cut out for it. The complex houses 30 packaging lines that fill hundreds of items, including tablets, powders, ointments, blister-packed items, fluids and sterile products.
Targeting Line 24
"When we began the quick-changeover initiative three years ago, we were asked [by management] to target a line that had considerable changeovers," recalls Cornish.
"Line 24 [a tablet line] was changed over about 200 times last year," explains Johnson. Depending on which product is running, changeovers on that line can involve any or all of the line's nine major pieces of equipment, seven conveyor systems and five inspection systems. In sequence, the line includes a bottle unscrambler, desiccant feeder, tablet slat filler, cottoner, capper, induction sealer, labeler, cartoner or bundler.
Since most of the equipment on the line has been operational for years, this article will focus on changeovers rather than describe how each machine works.
Johnson says that initially the "quick-changeover team" planned to combine three lines (including Line 24) into two. "We went to management and said we could combine the lines and purchase new equipment that had quick-changeover capability built-in, at the cost of about $4 million. They came back and said let's look at the low-hanging fruit and do what we can without spending such a considerable sum."
"We pushed for repeatable changeovers so that when we went from product A to B, then back to A, the line could be set up quickly and easily," says Cornish. "But first we had to get a handle on the changeover process that was in place.
"We looked at the parts used to change a machine from one bottle size to another and made a list of those parts," he continues. "We developed a documented parts pick list [see Diagram A, p. 51] for each specific product with CCS [Corporate Coding System] numbers so that whoever was going to change the machinery on the line would know exactly what parts were needed for each piece of equipment. We also created a set-up checklist [Diagram B, p. 51] that would describe the steps that had to be taken and the proper settings each machine had to be set to in order to run a certain CCS number with the same repeatability. That information was entered into a database."
Phasing it in
Software was designed specifically for Pharmacia & Upjohn to use for identifying parts and to generate parts pick lists and the set-up checklists. These steps were considered Phase One of the QCI, as was the layout and organization of a new change parts room (see sidebar, p. 52).
These lists became a critical component of the company's set-up procedures. Prima Communications, including Kroggel and Betty Tonander, along with John Phillippe from Hi-Tech Electric (Portage, MI), were instrumental in delivering the software system, which was installed on the P&U network for use in new personal computers at Building 41.
Phase Two of the QCI involved Hi-Tech Electric's software updating and modification, as well as Prima's technical writing support.
Phase Two focused on dry-product lines, while Phase Three continued the process for fluids and ointments packaging lines. Phase Four included sterile product packaging lines.
Modifying equipment
Beyond documentation, the QCI team needed to identify key components on the equipment on Line 24 to help speed changeover times. Cornish explains that the QCI team built mechanical devices at an internal machine shop that were placed on many of the Line 24 machines, often replacing OEM components. The purpose of these changes was to further simplify changeovers.
On the magazine infeed of the line's cartoner, for example, several tools were once needed to loosen, remove and reposition the infeed components for a different product. Along with some machine shop modifications, P&U purchased turn handles and hand cranks that sped changeovers considerably.
To help identify areas where specific changeovers must be made on each machine, the quick-changeover team, specifically Randy Mark, affixed red metal circles to specific changeover areas on the equipment. The red circle includes a number that refers to a specific step on the set-up checklist. For example, step eight on the set-up checklist for the line's unscrambler, which lists "adjust high bottle air bars" as the action for the employee to take, corresponds with a red dot "8" on the unscrambler. Next to the numbered dot is a "scale" that represents another critical element of Pharmacia & Upjohn's quick-changeover efforts.
Scales, says Cornish, break down settings for machine components into tenths, so that a setting might read 1.0, 1.1, 1.2, etc. These settings, the company believes, are easier to set than settings such as 1/2" or 3/4" that might come on the original equipment.
"The one-to-ten scales are used along with pointers so that a team member can align the pointer with a specific number," explains Cornish. "So if the set-up checklist number indicates that change number 11 on the unscrambler requires a setting of 1.5, it's very easy for anyone to set that part of the machine to 1.5."
Building 41 employees contributed significantly to the success of the QCI. Among the many suggestions implemented at the plant were the following:
* Moving a clutch mechanism on a case labeler from the bottom of the machine to the top so that operator adjustments on an ointments line are easier.
* Keyways (described as a slot with an accompanying piece of square-shaped metal) were added to the bottle unscramblers to provide a square and true adjustment method that has reduced changeover time by 50% and nearly eliminated ramp-up adjustments.
* On the same unscrambler and cottoner, Delron nonlubricated chain has replaced lubricated chain. That reduces wear, extending chain sprocket life, and also lowers maintenance needs and costs.
* Guarding was hinged to allow for easy access to the cottoner without requiring the removal of fasteners. For the same machine, a second sprocket was added so that sprockets did not have to be changed for different line speeds. An idler sprocket was modified so that the chain is able to move back and forth between the drive sprockets. Also, a bypass switch was installed to disable the unit when cotton is not necessary.
No-tool changeovers
A common thread linking these machine modifications is making changeovers easy and repeatable for all employees in the plant, regardless of their particular skill or experience level. To that end, the team concept was implemented along with the QCI. The team concept includes all packaging operators participating in changeover, along with operations mechanics, Johnson notes. "The average packaging operator working on the line was 47 years old, with little mechanical expertise. To simplify changeovers, we wanted to add knobs, brackets and other devices so that operators wouldn't need tools to make most of the changeovers."
While top management paid for some 150 workers to leave the packaging floor for 10 hours to receive basic tool and machine dynamics training, tool-less changeover is still a key goal. Especially considering that a changeover can require hundreds of adjustments. The cartoner on Line 24, for example, has as many as 128 changes that can be made.
Besides the major pieces of equipment, the QCI targeted conveyor guiderail brackets as a key area to improve changeover efficiencies to accommodate various bottle widths. As Cornish explained during Packaging World's visit to the plant, using conveyors of different types, and from different vendors, can be rather vexing. "So much time was spent adjusting each section of conveyor guiderail brackets between the major pieces of equipment in the past that it really lengthened our ramp-up time."
To address the challenge, Pharmacia & Upjohn continues to add rail guides from Fenner Drives (Manheim, PA). "They really deserve credit because the guides have different configurations that reduce a great deal of set-up time." Another way the company is trying to speed conveyor-related changeovers is through the addition of new standardized modular conveyor equipment.
Beyond the impressive $650ꯠ/yr savings, what other bottom-line results has the three-year QCI initiative produced?
The bottom line
"Management looks at efficiencies to determine the success of the quick-changeover program," notes Johnson. "Maybe one modification by itself makes the changeover process faster by only a few minutes, but when incorporated with the changeovers for all the machines over multiple shifts per line per year, major savings are generated."
Never are those savings more evident than during "ramp-up " time, the period during which each machine on the line is set up. In the past, the process would begin with line set up, followed by an initial run, adjustments, a re-start, then tweaking until everything ran correctly. This ramping-up process could take up to four hours. Not only did ramp-up increase downtime, it also generated packaging and product waste.
Determining specific cost savings from the quick-changeover initiative isn't easy, as Johnson readily admits. "Many times, these can be soft numbers, but management has been pleased with the QCI's efficiency improvements."
On Line 24, for example, Pharmacia & Upjohn's John Howard, supervisor of technical operations/packaging, indicated that the line's efficiency is at 78% this year, a 14% increase from 1995. There's also a 27% increase in what the company calls "yield" savings. This refers to savings stemming from reducing product and packaging material waste.
What makes these bottom-line advantages even more impressive is the fact that Line 24 produced 1.6 million more "units" than it did in '96. That translated into a 15% increase in labor efficiency on the line.
What's next for Building 41? First, many of the improvements made to Line 24 continue to be incorporated into other lines. Pharmacia & Upjohn is also determining how some of the ideas from the QCI can be incorporated into new equipment that is expected to be installed in the next two or three years.
Meanwhile, quick-changeover ideas continue to emanate from Pharmacia & Upjohn employees, who are encouraged to provide ideas that are implemented on the packaging floor.
Companies in this article
Videos from All Packaging Machinery Corp.