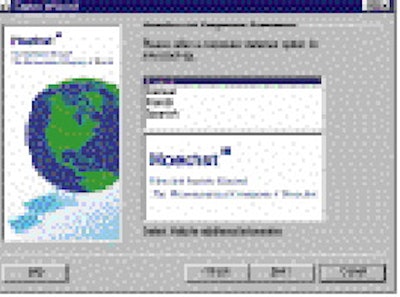 Not long after three major manufacturers of pharmaceutical products announced a merger, the new company is now putting in place a complete new design system for primary packaging that will eventually be adopted in locations as distant as Topkapi, Turkey; Jakarta, Indonesia; Casablanca, Morocco; or Guatemala City, Guatemala.
The company, Hoechst Marion Roussel, is the result of the merger of the pharmaceutical operations of Hoechst AG in Frankfurt am Main, Germany; Marion Merrill Dow of Kansas City, MO; and Roussel Uclaf, headquartered in Paris, France. The newly combined company sells about $9 billion annually in pharmaceuticals in some 160 different countries around the world.
To help the new company develop a unified global identity through its primary packaging, it retained Interbrand Gerstman+ Meyers (New York, NY). Known for both its brand identity programs and its packaging design, the consultants created a unique cubix graphic for the package front panel that displays the new Hoechst Marion Roussel logo.
"Prior to the unified global identity, we had the look of many different companies," says Martin Gekeler, HMR's director of marketing services. "We believe the new identity reflects the innovative and technologically advanced nature of our company and creates a unique visual identity."
The resulting design, says Michael Lucas, executive vp of IG+M, uses the HMR logo, but it's augmented with the cubix graphic that visually communicates the three separate entities converging and moving together, "forward and upward" (see Packaging World, April '98, p. 4). It creates synergy among all the HMR products, while it provides a framework for the identification of individual brand identities around the world.
"The challenge for us was to clearly create a corporate identity for packaging, and a package management system that would be adaptable across the world," Lucas says. "Our system had to accommodate varying package sizes, different languages, the pre-existing brandmarks, co-branding requirements and all the country-specific regulatory requirements."
Research first
Long before the graphic designers went to work, IG+M executives began an exhaustive research project around the world. Interviews of corporate-level personnel around the world were conducted to help gain a global perspective, while research in key customer countries provided a more local evaluation.
Because most of HMR's products are prescription drugs, IG+M closely interviewed "customers" who are pharmacists, doctors, nurses and other members of the medical community around the world. "After all," says Lucas, "these are the people that interact with the product and the package."
These healthcare professionals expected the manufacturer's name to be clearly visible on the package because it establishes a product's "reputation" even before the brand or product identification. "They wanted to understand this quickly, rather than having to find it on a back panel. At the same time, they didn't want the manufacturer's name to overwhelm the actual brand and product information," Lucas reports.
The research then uncovered that next in importance was the brand name. This was a surprise, because HMR and IG+M didn't expect these medical people to be as brand-sensitive as consumers. "They told us it was easier to refer to a drug by a known brand, rather than by its chemical name," Lucas says.
In recognition of regional differences and opinions, a global steering committee was established to help reconcile regional and cultural issues relating to the graphics. The committee also assisted in guiding the approval process.
As well, the consultants analyzed the legacies in copy and art of the three companies' previous brand identities, along with the packaging systems in place. Finally, all of this information was compared to what the medical professionals revealed were the trends in global pharmaceutical and healthcare packaging.
Nothing stays the same
The graphic redesign includes far more than just the front panel, points out David Sullivan, HMR's director of international standards, whose office is in Frankfurt am Main. "Since pharmaceutical labeling is very highly regulated around the world, it has been impossible to be able to standardize as much on other panels. Every package of every product manufactured for HMR in all the sites and countries around the world will be changed to this new graphic standard over a two-year period" ending in October 2002.
Even Sullivan isn't sure how many packages will be involved. "We don't have a total count of all of our worldwide stockkeeping units. We do know we have in excess of 20ꯠ products and sizes."
In part, the uncertainty is due to the continuing changes as the new company works to integrate all three partners. "We're in the process of 'rationalization' of the combined organization," Sullivan says. For example, the three separate companies operated about 100 manufacturing and packaging facilities around the world before the merger. That number will likely be reduced as the "rationalization" permits HMR to consolidate certain production.
Consolidating packaging, too
Just as the goal to create "efficiencies of scale" in manufacturing and packaging will dictate the closing of smaller, inefficient operations, the same philosophy is being applied to HMR's products too.
"It's important to divide the questions of Global Packaging Standards into two separate parts," Sullivan tells PW. "The project we undertook with Interbrand Gerstman+Meyers was for the unifying of the graphic standards. First, it concentrated on changing the graphic image for the new company, and we have now defined global graphics standards. We are now in the implementation stage around the world.
"The second phase is to create more efficient ways to produce the package artwork that will be used to manufacture these new packages.
"However, totally separate from our project with the design company, the second part of HMR's plan in packaging standardization involves the physical standardizing of packaging materials.
"Up to now," Sullivan continues, "this has been handled by HMR on a country-by-country basis.
"The sites that manufacture packages for us in individual countries have begun to standardize their packaging formats and sizes. In many cases, this involves a change from as many as sixteen to twenty different package format types to just a handful. In the most extreme cases, these converters are ending up with only two or three formats." What Sullivan calls formats include both primary package style (blister pack vs bottle for tablets and capsules), but also attempts to standardize on counts and package sizes.
Efficiency-driven standards
Unlike the production "rationalization" program, Sullivan says this program to reduce the variety of packages and sizes is not being implemented from the perspective of "economy of scale." It's not a cost-cutting program devised by HMR suppliers and converters, he points out.
The impetus behind this effort at standardization comes from HMR's facilities and the new company's plan to increase productivity and efficiency. "What's driving this is internal pressure to increase our production and packaging line efficiency and to reduce our packaging downtime," Sullivan reports.
However, he adds that in the future, it's possible that HMR will look to create stronger bonds with certain suppliers around the world in a program to concentrate larger portions of its business with fewer suppliers. "We are evaluating the possibility of reducing the supplier partnerships we have in the individual countries of Europe, just as we've done in the past in North America. Up to now, though, the standardization drivers are more related to internal efficiency rather than external third-party costs."
Software to assist art
Whether there will soon be fewer companies and locations producing packaging for HMR plants, the second part of the IG+M project should help make it easier. This relates to the graphics management system that Michael Lucas mentioned.
IG+M recommended its own Brand Wizard(TM) computer software program to help automate artwork retrieval and formats for HMR plants around the globe. A team at IG+M led by James Terry, technology director, has been customizing the software for HMR.
"What's revolutionary about this program is the creation of virtual templates and artwork for HMR that will allow future consistency of package appearance. Previously, the various regions each had different ways to create packaging. And some of them weren't even computerized," Terry says.
The software will allow artists to select the appropriate media, language and dimensions to apply the correct data onto the package. "When we shift to the Brand Wizard program, it will add more automation to the process, but it won't completely automate it," Sullivan says. "It's far more than just displaying design templates. There is logic in the program so it can make some calculations for the artist."
Initially, the software will be issued only to HMR's strategic sites. "After we gain some experience using it and feel comfortable, then it will be forwarded on to our smaller sites, as well. However, we just received the latest modifications in early May, so we really haven't evaluated it yet."
Physically, Sullivan says all the graphic elements will be loaded onto CD-Rom disks as well as on HMR's company intranet. Together, these two methods of transferring artwork and designs onto HMR's package-design computers will replace what could have been a 150-page manual. "The use of Brand Wizard will permit the computer operator to create package artwork in Adobe Illustrator," says Sullivan.
The graphics part of the project with IG+M has worked well so far, Sullivan states. "Most of the difficulties we've had to date relate to our ability to communicate effectively some of these complicated standards to some of our sites that are located in diverse parts of the globe."
Companies in this article