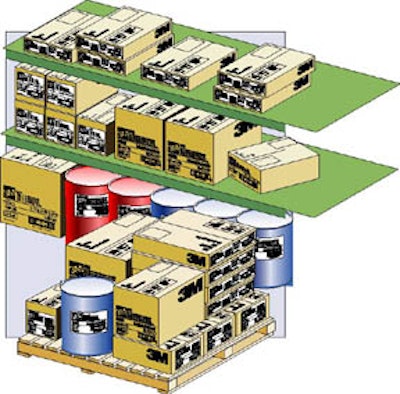 Most manufacturers shipping product to multiple markets around the world quickly learn that the corrugated shipper so tried and true on the domestic scene needs serious tweaking before going global. Variations in language, regulatory requirements that are inconsistent from nation to nation, and temperature and humidity fluctuations are just a few of the issues that must be addressed if a company wants its shippers to consistently put their best foot forward in every market they penetrate.
Two firms willing to share their global shipper strategies with Packaging World are 3M of St. Paul, MN, and Hewlett-Packard of Palo Alto, CA. Each recognized recently that current practice was not getting it done, and each devised a comprehensive strategy to improve.
3M does it all
Few multinational companies can lay claim to a broader range of consumer and industrial products than 3M. From tape to fabric treatments to medical devices, the firm has its fingers in plenty of pies.
The fastest-growing markets for this vast array of products are outside the U.S. But as the firm grows its business around the globe, the folks in marketing have discovered a critical need: Packaging to communicate a consistent 3M image as a supplier of quality brand products and services throughout the world.
To meet this need head on, 3M's Global Packaging Initiative Task Force recently developed what it calls Global Shipping Container Labeling Standards. It's at least one way, says task force member and package engineering manager Warren Chirhart, for 3M to present itself to all customers around the world with "one face/one voice."
"When we explained to the company's executive level the problems and costs associated with inconsistent global packaging, we were able to convince them that not every 3M division should be making the decisions for shipping container labeling," says Chirhart. "What we've created is a global standard based essentially on three things: regulatory requirements, what customers want, and what 3M wants."
High on the priority list, 3M wanted to protect the appearance of its logo on packaging. Brand names, too, are better served under the new scheme. Many are brands of market power, including the likes of Scotch(TM), Scotch-Brite(TM), and Post-it®.
"We spend an awful lot of money and effort creating and protecting a trade dress and brand strategy," says Chirhart. "And then, because a case of product packed in one region isn't labeled in the right language or doesn't have the required regulatory information, we wind up overlabeling and sometimes obscuring logos or brand names." By adopting a global labeling strategy for shipping containers, unfortunate overlabeling situations can be greatly reduced.
When Chirhart speaks of shipper "labeling," he refers to one of four methods: a preprinted corrugated shipper, a printed pressure-sensitive label applied to a shipper, a label printed and applied to a case on-line, or an image printed directly onto a shipper on-line.
"One huge challenge is trying to put multiple languages on shippers so that they can be used in multiple regions," says Chirhart. "If we can accomplish that, we can lower our inventories significantly."
Pushing pictograms
Minimizing text is one strategy that 3M finds useful. It could be called the "picture-is-worth-a-thousand-words" strategy.
"We're pushing hard for the freedom to use pictograms in place of text," says Chirhart. "It helps if our marketers simplify packaging and say less on the shipping containers and intermediates and keep that kind of information either on the primary package or on an insert of some kind."
Pictograms are crucial in 3M's newly adopted Global Shipping Container Labeling Standards. Chirhart and company have compiled images representing hundreds of different products, including sheets of sandpaper, Post-it brand notes, bottles, cans and spray containers. Also standardized are pictograms for shippers, and for intermediate containers that go inside a shipper.
Chirhart would also like to see the regular use of pictograms adopted by other companies. "We'd prefer not to have to create all these things ourselves," he observes. "We'd like to be able to go to an Internet site and search for the pictogram we need. If there's a fee for using it, fine. But so far we see nobody doing this."
Nancy Alcorn, labeling senior specialist, 3M corporate marketing, wouldn't mind taking pictograms a step further. "It would be nice to get some agreement from governments and international agencies on the use of common pictograms depicting content," says Alcorn, who leads 3M's efforts at expanding the use of pictograms. That kind of harmonization, she believes, would go a long way toward maximizing packaging efficiency for all packaged goods marketers.
No matter how clever a company gets with pictograms, however, some text will always be necessary. And according to Alcorn, it's increasingly important that the text be presented not only in English but in the local language as well.
"There was an '80s and early '90s attitude that a product identified in English meant quality," says Alcorn. "So we didn't worry much about having shipper copy in Polish or Czech or whatever. Now customers prefer both languages, English and the local one, especially in emerging countries.
"Enforcement, of course, may vary. China has a local language law, but you'll see plenty of packages there in English only. As far as 3M is concerned, we strive to comply with all requirements on a global basis. The presence of local languages should give us a competitive advantage. If consumers in China can read the package copy in their language, they'll respond positively."
The logistics of applying many languages cost-effectively, however, is no easy task.
"It's tough," says Alcorn. "Relabeling at the local level is one possibility, but that can wreak havoc with graphics or consistency of the company's image."
Multilingual labeling
To circumvent relabeling, 3M's new global standard calls for multiple languages on labels. That means anywhere from two to 12 languages on a single label. The number depends on product volumes and the distribution scheme.
For example, suppose 3M's kitchen floor degreaser is packaged and shipped from a U.S. plant to a distribution center in Europe. If markets in both Central and Eastern Europe draw from that distribution center but only in modest volumes, 3M will apply a shipper label in 12 languages for Eastern European countries and a separate 12-language label for Western European destinations. Ideally, of course, 3M would prefer to use more label varieties so that each could have fewer languages. But with low-turnover products, that degree of "localization" would be inefficient and costly from an inventory standpoint.
Localization of a shipper label does make economic sense, however, when sales volumes are high for a given product. In that case, the label would display four languages rather than 12. It adds to the number of label versions required in inventory, and it requires more care in packaging. But high volumes justify it.
On p. 36, Figure A represents 3M's global shipper label in a four-language format, Figure B in 12 languages. In the top line of Figure A is a prominent 3M "shipper graphic" along with a generic description of the product in each language. The second line is for catalog numbers and any other descriptive "info" necessary, such as a color, for instance, in each language. Line three describes a product's dimensions.
Line four is what Chirhart calls a "pack-out line." Using numbers and pictograms but no copy, this line tells any reader in any country that there are a certain number of Post-it note pads per bundle and a certain number of bundles per shipper. Finally, line five contains the case count, a bar code and various internal code numbers.
The unflinching regularity of it all is what pleases Chirhart. The order of languages is always the same, so customers get used to finding their language in the same place every time. The 3M shipper graphic never shifts its position. The bar code is in one place and one place only. Intermediate containers and shippers are always indicated by the same, exact pictogram.
"Some of these elements have been used by 3M in the past," says Chirhart. "But never have we been so consistent. For example, pictograms used in Europe differed from those in the U.S. Why? Because the company had no global standard to go by. Now we're in the process of developing a corporate pictogram database."
The advantages of standardization are enormous, says Chirhart. "Suppose we make a product in France and England. In the past, the shipper labels have not been consistent. So in a warehouse in Greece, which receives the same product from both plants, workers pulling orders could not be absolutely sure they were looking at the same product. They wound up opening cases and checking product, which not only compromises the integrity of the shipper but causes a delay in shipment as well." With a global shipper labeling standard, that problem will be eliminated. A case of product packed in France will look identical to one packaged in England.
The vision thing
According to Chirhart, the Global Shipping Container Labeling Standards dovetail with 3M's corporate vision of being the most innovative enterprise and the preferred supplier.
"Behind this vision," says Chirhart, "are three drivers: Pacing Plus, Earning Customer Loyalty, and Supply Chain Excellence. Pacing Plus means bringing new products to market at an accelerated pace. A global standard for shipper labels helps us quicken that pace. Years ago, we would launch a new product in one market and, if it did well, move it into other markets. But then we'd discover that we didn't have the packaging we needed for those other markets. We'd figure, never mind, they can always overlabel it. But that only adds cost and lengthens the time it takes to reach the marketplace. Today, we do simultaneous global launches, and no matter what region we enter, we can have the label that's required."
As for Earning Customer Loyalty, the regularity of the global shipper labels helps because the same large 3M shipper graphic appears consistently on all shippers. "No matter how unique or complex the primary package may be, at least the shipper consistently reinforces a link to 3M," says Chirhart.
And Supply Chain Excellence? "If you can deliver product to its destination without modification, overlabeling, rehandling, or repackaging, you improve cycle time and reduce cost," says Chirhart.
Both Chirhart and Alcorn are realistic enough to know that the sheer complexity of the global marketplace makes it unlikely that the new shipper label standards will ever be truly global. Take a country like Malaysia, for instance.
"Malaysia just passed a law that requires packages of hazardous materials to be identified in the Malaysian language, but also in a typeface larger than that used for any other language on the package," says Chirhart. "So 3M-Malaysia will simply have to differentiate its packaging at the local level."
Despite such bumps on the road to global standardization of shipper labels, 3M management expects the new scheme to be a powerful tool in earning customer loyalty around the world. The phase-in, which began officially in January, will take time, especially where inventories of old labels exist. Delays may also be inevitable in parts of the world where corporate decision makers have yet to wean themselves from repackaging and/or overlabeling strategies that have evolved over many years. But 3M management believes that ultimately, the advantages inherent in standardization will prove too good to pass up.
"All we're trying to do," says Chirhart, "is tell our customers that if they buy a product from us, regardless of where it's made, the label will be basically the same, and everybody, regardless of language, will be able to read and understand it."
Alcorn, for her part, would like to issue a call to action aimed at governments and regulatory agencies around the world. "Harmonization is the key," says Alcorn. "We need to get governments to work through some of the areas where they currently contradict each other. If we can all agree on which pictogram to use, or on how labeling should be handled generally, it would be a big boost to global commerce."
Postponement's the key at H-P
The shipper strategy implemented by Hewlett-Packard relies not on standardization but rather on postponement. That is, product is shipped in a bulk format and "localized" only when it nears its final destination. The end result is a substantial reduction in transportation, storage, materials handling and inventory costs. Just as important, product gets to market faster and damage is down to 0.01% of products shipped, considerably lower than in the past.
"It's one of the few things ever at H-P that we've been able to leverage to a variety of product lines around the world," says packaging logistics engineer Kevin Howard. "Virtually every major-volume product that we make uses this bulk-pack format. Printers were the guinea pigs."
The printers Howard refers to are H-P's DeskJet family of ink-jet printers. These have a generic design allowing them to be used anywhere in the world as long as a country-specific power supply module is used. When this module along with a language-specific manual and software are all packaged in a corrugated shipper with a printer, the printer is said to be "localized."
Before packaging postponement was put into practice, localization was done at the point of manufacture, either in Vancouver, Wa, or Singapore. Pallets of printers were then shipped to distribution centers (two in the U.S., two in Europe, and one in the Far East).
Around the world, there were 138 versions of the six basic printers. Forecasting how many of each version should be sent to each distribution center was difficult at best. And if a forecast was off target, it might result in one version being stacked ceiling-high while another version was completely out of stock.
'Relocalization'
Order fulfilment in the highly competitive printer market was essential. So if the out-of-stock version was in demand, workers at the distribution centers would unpack the overstocked printers and "relocalize" them for the market where they were needed. This resulted not only in wasted packaging materials but also in added labor costs and further delays in getting product to market.
So H-P management decided to box and ship generic printers to the distribution centers without power supply modules, manuals or software floppy disks in the shippers. These were added by workers at the distribution centers. First, of course, the shippers had to be redesigned with a patent-applied-for flap feature that let workers open and close each shipper and place the required components inside without a sealing system or compromising box strength.
Sensible as this scheme of postponed localization seems, implementing it was no simple task, writes Howard in Journal of Electronics Manufacturing: "There were cultural and organizational barriers to overcome. Procurement activities had to be shifted to the DCs. Localizable materials had to be inventoried at the DCs instead of the manufacturing plants, raising worldwide inventories of these accessories. There was also concern about quality control, of both the incoming accessories and the outgoing final products."
These and other barriers, however, were overcome, and the benefits of the new approach included:
* Substantial reduction in the number of printers needed in inventory since the DCs now only needed to stock a generic version instead of large quantities of localized versions,
* Decreased manufacturing costs due to continuous runs of generic printers,
* Decreased costs at the DCs since they no longer had to relocalize printers, and
* Opportunity for placement of last-minute marketing information by workers at the Dcs.
Impressive? Certainly. But it wasn't enough for a global leader like H-P. Just two years after Howard and colleagues initiated the above scheme, they were ready to take postponement packaging one step further by eliminating corrugated shippers at the manufacturing sites and bulk packing the printers in cavitated foamed trays instead. It then became the responsibility of the DCs to pack the printers in their corrugated shippers.
Cube advantages
The cube advantages were substantial. Instead of shipping a boxed printer occupying 4괠 cu", H-P now shipped unboxed printers occupying 2굶 cu".
"By eliminating shippers at the manufacturing site, we were able to go from 32 boxed printers per pallet to 60 per pallet," says Howard. "And the forty-by-forty-eight pallet occupied exactly the same amount of volumetric space."
Initially each bulk pack held four layers of printers, 15 per layer. Two layers were on one wood pallet and two layers on another. A forklift was used to stack the top two layers on top of the bottom two. Then corner posts and stretch wrap were applied.
"But after awhile," says Howard, "we realized that the wood pallets were adding a lot of weight and occupying about 10 inches of valuable space. So we eliminated the wood pallets and now use a plastic slip sheet instead. That gave us room to add a fifth layer of 15 printers to a bulk-pack."
The slip sheet is 100%-recycled high-density polyethylene. On that goes an expanded polystyrene tray with cavities molded to fit 15 printers. A matching EPS top fits over the tops of the printers. Printers are stacked five layers high and topped with a corrugated slip sheet. Corner posts of 175#-test, C-flute corrugated and stretch wrap complete the pallet.
Despite the dramatic benefits available through this second phase of H-P's postponement strategy, implementing it was once again no piece of cake. "One concern was that of decentralizing quality control," writes Howard in Journal of Electronics Manufac-turing. "Another [was] the investment in capital equipment necessary for the packaging processes to be transferred from manufacturing to the distribution center. The cost of labor increased with packaging postponement owing to the need for more people worldwide to perform the packaging function, which was previously performed by just two sites. However, all possible negative or difficult aspects of instituting such a program were slight compared with the benefits: millions of dollars saved."
In the end it was more than just innovative packaging design that netted H-P such significant savings. It was that plus a dash of willingness on the part of a large corporation to redefine its traditional views of who manufactures and who warehouses. And to hear Howard tell it, that process of redefinition is anything but over.
"We have to keep reevaluating these things as time goes on," he says. "We do more regional manufacturing now, in Europe for example, and the mid-Americas. I wonder if the next step is to take a look at how those manufacturing sites alter our approach to packaging logistics. I don't like to view the bulk pack as a panacea for all problems."
That's the kind of thinking that keeps a large company like H-P nimble enough to remain a leader in the global marketplace. It's evident at 3M as well. At both firms it comes down to having people saying "I wonder if the next step is..."
Companies in this article