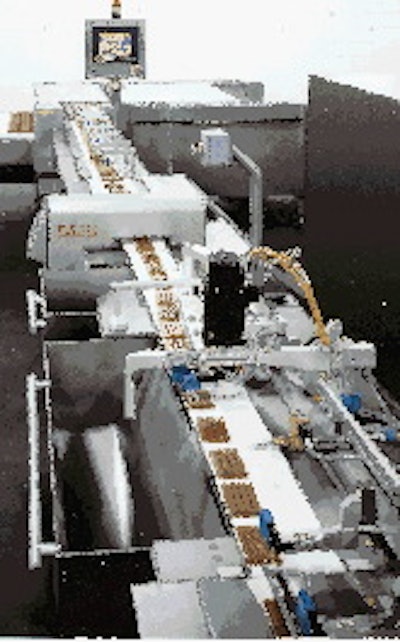 At Hershey Chocolate U.S.A., the passion for "open standards" for packaging machine control runs strong and deep. That's especially true for motion control standards, the method that the drives, say on a flow wrapper for candy bars, use to communicate with that machine's motion controller.
Whenever it can, Hershey specifies packaging equipment, drives and motion controllers that conform to the SERCOS motion-control networking standard. SERCOS, which stands for SErial Realtime COmmunications System, is an International Electrotechnical Commission (IEC) standard supported worldwide by more than 27 manufacturers of controls, drives and motors. It is not owned nor dominated by any one supplier. (For details on how SERCOS functions, see "What SERCOS is and isn't," p. 64.)
The bottom line for packaging, says Keith Campbell, manager of manufacturing and technical systems at Hershey, is a reduction in time spent on machine construction, installation, start-up and maintenance-all from using packaging equipment that conforms to an open standard such as SERCOS.
Adds Wade Latz, manager of packaging systems engineering: "We're also afforded a wider resource pool of qualified technical people from several vendors, as well as within our company, to help get a new line started up as quickly as possible."
Benefits of SERCOS
Earlier this year, Packaging World traveled to the company's headquarters in Hershey, PA, to learn about the benefits Hershey receives from using SERCOS on its packaging machinery.
The SERCOS standard allows Hershey to mix and match motion controllers, drives and motors from different manufacturers on a given packaging machine. That any supplier can manufacture a fully SERCOS-compatible component is why the standard is considered "open."
"On the other hand," says Campbell, "with a proprietary motion-control network, if you use Company A's drives, that means you have to use Company A's motors and Company A's controllers. It can be very limiting."
SERCOS also makes it easier, according to Campbell, for Hershey to make packaging line changes or upgrades. "Say three years down the road, if I need to change a machine, and maybe the controller supplier went belly-up in the meantime, I can drop in somebody else's SERCOS-compliant controller in that machine, reprogram it and be up and running," says Campbell. "But if we had a proprietary network, we'd have to change all the communications, the drives, the controller and maybe even the motors, in order to replace any one part of the system."
Benefits of digital control
At its heart, SERCOS is a digital motion-control network, versus one that uses analog signals.
Wade Latz explains the difference between analog and digital for motion control in packaging: "In analog, there's a plus-or-minus ten-volt signal from the controller that tells the drive how fast to go. With SERCOS, that same information is transmitted digitally over a fiber-optic cable, in real-time."
"SERCOS transmits more than just position, velocity, acceleration and torque commands," Latz continues. "It also communicates back to the controller error signals, drive status, motor status and many types of diagnostic information not possible with an analog system." With this information, the controller then issues any necessary corrective direction back to all the drives on the machine.
"From the point of view of machine reliability and preventive maintenance, it's a much better, feature-rich system," says Latz.
For a packaging machine, digital servo drives on an open digital motion-control network permit motors to be positioned exactly where they need to be during the wrapping cycle, consistently and at extremely high speeds. (For an explanation of how this works, see "Understanding high-speed motion control," p. 63.)
"We can get our wrapping material positioned more precisely over our candy bars, and we can run at higher speeds," says Latz. Hershey would not divulge operating speeds. When asked if the company's wrappers operate at the 1ꯠ+/min speed capabilities of the newest wrappers, Latz acknowledged that it is certainly possible "to buy [such] equipment with those speeds off a trade-show floor."
The benefit of precise, repeatable positioning also translates into much faster changeovers. "Before servos, it used to take us about two hours to change over a flow wrapper that we used to package peanut butter cups, say from a single pack to a two-pack," recalls Latz. "With digital servo control on our wrappers, it now takes us fifteen minutes."
SERCOS at Hershey
What kinds of packaging applications does Hershey use SERCOS for? Anywhere there's high-speed movement. "Horizontal flow wrappers, vertical form/fill/seal equipment, case packers, pick-and-place robots and chocolate depositors," says Latz. "We also use it for infeed systems and candy bar conveyor distribution systems from the moulding line out to the wrapping system. Basically any multi-axis, high-speed application."
Although Hershey primarily specifies SERCOS when it buys new machinery, the company typically does not rebuild or retrofit solely to add SERCOS-compliant components. However, when overhauling a machine, Hershey has added SERCOS to obtain high-speed, synchronized motion control to a formerly mechanical machine.
Standardizing on SERCOS allows Hershey to better leverage its investment in training. That's because it can spread the same skills across its engineering staff, rather than splintering the staff's skills based upon different manufacturers' technologies.
Hershey has been using SERCOS in packaging since 1993, and both Campbell and Latz estimate the company has an installed base of more than 100 packaging machines that use SERCOS in all plants.
Although SERCOS permits Hershey to mix and match drives and controllers from several manufacturers, the company has standardized on drives from Indramat (Hoffman Estates, IL). Latz says that's because "we wanted to select a supplier that could support us in the U.S. and our machinery suppliers in Europe. Indramat is based in Europe, and it also has a good service and support organization and solid reputation in the U.S. The company has been very responsive to us."
Adds Campbell: "Indramat continues to be a leader in the [motion control] industry and in developing control system components that comply with the SERCOS standard. At any point in time, you can find one supplier that's moved ahead of the next, but to us, it's the long-term track record of a supplier that's important. Also, some of our packaging machinery suppliers prefer to use Indramat components, as well. That makes it easy when we specify equipment."
For motion controllers, Hershey has two primary vendors: Indramat is one, and the other is Pacific Scientific (Rockford, IL), which markets a controller made by Automation Intelligence (Duluth, GA). AI, formerly a division of Pacific Scientific, is a systems integrator that helped automate Hershey's Kit Kat® candy bar packaging lines in 1995. AI's "controller" is actually software that runs on a compact, industrial PC inside the packaging machine's control cabinet.
Although Indramat didn't have a high-speed controller at the time Hershey began its SERCOS push, today the components maker also has a software-based motion controller that runs on a PC. Latz says it "is now rapidly approaching the functionality of the AI controller."
Economics are favorable
Both Campbell and Latz say the SERCOS control standard does not increase the initial cost of packaging machinery, especially since many of its machinery builders already use it. "If you look at total cost of ownership, including parts, training, maintenance, support and start-up curves, we are convinced that it reduces our costs," says Campbell.
Latz believes that if more packagers encourage packaging machinery builders to implement a standard motion-control network like SERCOS, it could actually drive machinery prices down.
"These packaging equipment builders could be lowering their costs by moving to servos and digital motion-control networks," says Latz. "We know wiring costs are less expensive. And the number of mechanical components is drastically reduced, as well. The cost of the motion-controller hardware, which in many cases is PC-based, is dropping continuously," Latz continues. "And the software packages are coming down in cost. We buy equipment from several companies that have adopted digital servo technology, and we're seeing their prices come down."
"The ability to build machines out of standard modules, rather than creating a whole custom machine, also drops costs," adds Campbell.
Finally, as more and more component suppliers rally around the SERCOS standard, Hershey expects competition will reduce component prices. "Look at what's happened with PCs, how the Wintel standard [Microsoft's Windows(TM) operating system running on Intel microprocessors] has driven down costs and made extremely high levels of technology available to everybody," says Campbell. "Standards drive down the cost of the hardware, and they drive down the cost of doing an application."
PW asked Hershey for hard cost justification numbers that might underscore the economic benefits of adopting this technology. Campbell says it's difficult to point to hard numbers because Hershey's experience involves a systematic push since 1993 that encompasses many machines, lines and plants over time. Campbell justifies Hershey's packaging controls strategy this way: "We have been through this many times in many other areas, whether in batching systems twenty years ago, or PLC systems fifteen years ago, or instrument systems ten years ago, and device networks more recently. Every time we've gone digital, and every time we've gone with standards, we've reduced cycle time, improved performance and reduced costs. Whenever we've allowed proprietary controls to come into our plants, eventually we found ourselves having to rip them out, and rip out a lot of other stuff with it and replace it at a big cost."
Ultimately, the fact that SERCOS is an open communications standard is more important to Hershey than its particular technical features and benefits.
"SERCOS may or may not be the best motion-control network," Campbell concedes. "I don't know, and I don't care. What SERCOS is, however, is an open motion-control network with wide acceptance by many vendors, which has been capable of meeting every challenge that we have thrown at it. That's why we're a proponent of it."
Companies in this article