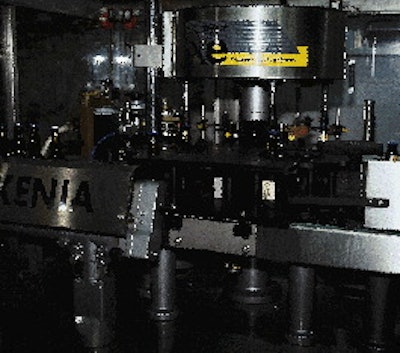 Beer lovers of Ontario have enjoyed Amsterdam Brewing Co.'s lagers and ales for years, but only in restaurants and taverns. That's because Amsterdam offered its brews solely in kegs. But that all changed last July when the Toronto craft brewer installed its very own bottling line and started selling 341-mL (11.53 oz) bottles of beer through Ontario's beer retailing system, i.e., outlets operated by either the Liquor Control Board of Ontario or by Brewers Retail, Inc.
"The packaging line is running beautifully," says head brewer Joel Manning. "Everyone is delighted at how smoothly the transition has gone."
No one is more delighted than Manning himself. When it comes to suppliers of automatic equipment designed for beer in modest volumes, the options are limited. "Once you get below one hundred bottles per minute, there aren't a lot of beer fillers out there," he adds.
Manning evaluated three sources of turnkey lines and visited a commercial installation of each. In the end, he selected Criveller Co. (Niagara Falls, Ontario, Canada). He's not disappointed. "We haven't had them in here since they left after the installation," he says.
Criveller didn't manufacture the equipment; instead, the company represents the Italian manufacturers (Fimer, Bertolasso, Oxe) that did. According to company partner Bruno Criveller, the emergence of machinery that meets the needs of small brewers is welcome.
"What small brewing operations often used to do is install a wine-filling system and adapt it to beer," says Criveller. "But such equipment isn't really designed for beer. It's not as acidic as wine, so with beer you need a machine that's more readily sanitized. Beer requires proper fobbing devices, too, so you can minimize residual oxygen in the headspace before applying the crown." The "fobbing" Criveller refers to is the practice of injecting a narrow stream of high-pressure filtered water into the filled bottle so that rising foam will drive out ambient atmosphere from the head space.
Filling at 40/min
The line installed at Amsterdam runs at about 40 bottles/min. Bottles are introduced to the line by hand as workers unpack reshippers and place the bottles on a rotary turntable. It empties into a conveyor leading to a Fimer rinser.
Amsterdam fills returnable bottles. Built into the selling price paid by the consumer for Amsterdam's beer is the 10¢/bottle deposit that is redeemed when the bottle is returned.
In the 16-station Fimer rinser, spring-mounted grippers grab and invert bottles for a rinse with filtered water. Exiting the rinser, the bottles are conveyed to the feedscrew/starwheel infeed of the Bertolasso filler/crowner monoblock. Each incoming bottle is seated on a platform and raised to meet the valve. First ambient air is evacuated to a level of about minus 10 psi.
"Beer is so susceptible to oxidation, so we want to remove as much ambient air as we can," says Manning. "To do that we draw a pretty strong vacuum on the bottle. That's one reason we don't run the machine faster. Mechanically it might run twice as fast, but this way we can allow the bottle to spend more time in the evacuation station."
Next is a carbon dioxide backflush, until pressure inside the bottle matches that of the filling bowl. Then the beer, at 34integralF, is sprayed into the bottle, cascading down the sidewalls. The flow from this counterpressure filler is halted when the beer reaches the vent tube on the filling nozzle. The bottle exits through a discharge star/feedscrew combination.
Accuracy, says Manning, is among the filler features he appreciates most. "The target is three hundred forty-one milliliters, and this machine hits it bang on," he says. Bottles are pulled at random for test purposes.
Self-diagnostics
Another feature Manning appreciates is the machine's diagnostics. "For as small as it is, the filler has an extensive range of self-diagnostic capability," he points out. "It's one of the things that sets it apart from others we looked at. If a stoppage occurs, it will tell you to check infeed star or discharge worm. If a safety clutch is out, it will display which one and tell you what's wrong. That part has been brilliant. It's really cut downtime."
Immediately after filling, a short conveyor connection leads bottles to a starwheel that guides the bottle into the crowner. Before the crown is applied, a high-pressure water fobber initiates foaming. "We have it timed so that foam is just reaching the top of the finish and coming over a bit when the crown is applied. This drives air out," says Manning.
A wash station is next, primarily to remove any beer from under the skirt of the cap. The beer could dry and make it difficult for the consumer to remove the twist-off crown. Two air knives from Sonic Air Systems (Brea, CA) dry bottles to make them more receptive to the labels. The rotary cold-glue labeler from Oxe has two stations. In the first, front and neck paper labels are applied. Back labels are applied last.
"The neck label covers two hundred and seventy degrees of the neck circumference, which means it's pretty long," says Manning. "That could leave us vulnerable to flagging. But the labeler has been very good about applying it without any problems." Printed offset in five colors, the labels are supplied by Aluglass (Scarborough, Ontario, Canada). Mounted on the labeler is an ink date coder that prints the label while it's being transferred from the magazine to the bottle. The six-digit code includes month, day, year and batch number.
"We ask the distribution network to return bottles to us after ninety days if they're not yet in the hands of consumers," says Manning. "Shelf life is considerably longer, more than a year in fact if the bottles are kept refrigerated. But we don't want to take any chances."
That attitude toward quality appears to be paying off, as Amsterdam's bottled beers in attractive six-pack cartons are selling briskly in more than 180 retail outlets. Supplied by Image Pac, (Toronto, Ontario, Canada), the cartons are made of E-flute corrugated and have a surface linerboard that is flexographically preprinted in four colors. Operators load the auto-bottom cartons by hand and tape the top flap shut.
"For years people have been waiting for us to bottle our beers," says Manning. "Now that we are, it's been incredible to see how quickly we're on our way to exceeding our capacity."
Companies in this article