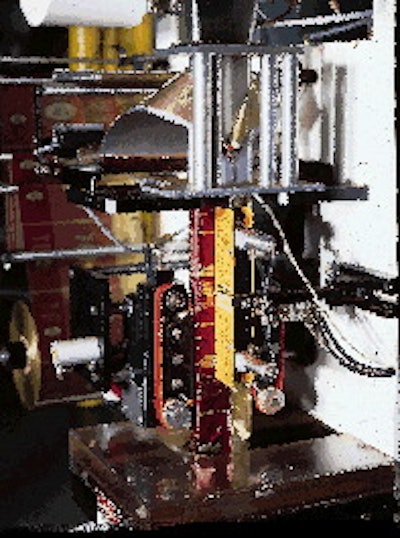 Business is good at S&D Coffee. So good, in fact, that this summer the Concord, NC, company installed a third vertical form/fill/seal machine for its flourishing bag-in-bag and multipacks of ground coffee packs for foodservice and institutional accounts.
The term "bag-in-bag" refers to a single pack-coffee filled into a paper filter bag that is then film-wrapped. In contrast, multipacks contain between two and five filter bags that are wrapped into one plastic bag. Pretty standard stuff, except that primary bagging in filter paper and overwrapping in film are both completed in-line on the same machine, a Key-Pak vf/f/s unit from Research & Development (Lebanon, NJ).
The new unit joins two other bag-in-bag Key-Paks at S&D. One was added earlier this year, the first, in '93. Used for 12 to 15 SKUs, the three machines fill individual bags containing between 1/2 oz and 2 oz of ground coffee for hotels, fast-food chains, restaurants, offices, airlines, and health care facilities.
"We produce coffee on 17 lines here in Concord," says Jerry Collier, the company's director of manufacturing. "But the Key-Paks are the only ones that produce our bag-in-bag singles and multipacks. Since we started making these packs, we've seen double-digit growth for them each year," he says. "In fact, sales are up 60 percent this year compared to last. This growth prompted us to buy the new machinery."
Collier estimates that the three Key-Paks will produce in excess of 40 million total bags next year, nearly 20% of the company's overall volume. S&D sells coffee under its own brand names and makes packs for private-label offerings and for well-known names like McDonald's. Much of S&D's bag-in-bag business is attributable to a partnership with Mr. Coffee Concepts for hotels/motels. In this instance, S&D supplies lodging establishments with coffee to be brewed in Mr. Coffee coffee makers.
First, bag filling . . .
Coffee beans are processed by S&D, with ground product dumped into the hopper of an auger filler supplied in this instance by Spee-Dee (Sturtevant, WI). S&D selected this particular auger because of its success on the firm's two other Key-Pak machines. Economic factors and the newer auger's stepper motor controls also played a role in the decision.
The first Key-Pak component beneath the auger filler is a Model V200S bagger. For each fill cycle, the auger revolves a certain number of times to dispense a precise amount of coffee down the chute of the roll-fed V200S. Paper filter bag material is supplied by Dexter (Windsor Locks, CT). The nonwoven paper consists of a cellulose/synthetic fiber mixture that permits heat sealing, with a basis weight of 25 g/m2.
Paper unwinds through a series of idler rollers. Stepper motor-driven belts provide proper tension to pull the paper through the intermittent-motion vf/f/s machine. Paper is then pulled around a forming collar, with a heated bar producing the back fin seal. Next, heat sealing jaws create a horizontal seal for the top of the leading bag and bottom of the next bag. After the auger releases its charge of coffee, the machine indexes to seal the top of the filled bag, simultaneously creating the bottom for the next bag. An air cylinder activates a knife that cuts between the horizontal seal area, releasing the filter bag. The V200S produces about 95 filter bags/min, says Collier.
. . . then overwrapping
The filled and sealed bag descends by gravity through a chute into the funnel of the second Key-Pak vf/f/s system, a Model V250S. It functions much like the V200S, but without the need for an auger.
Essentially, film unwinds through a series of rollers around a forming collar. The fin and bottom seals are made by heated tools, with one or more filter bags released through the film's open top. Both vf/f/s machines are microprocessor-controlled so that, among other functions, the proper number of bags is delivered into the film. The V250S is designed to overwrap single bags of coffee at the same 95 bpm speed as the unit above it.
S&D uses two primary film vendors, Curwood (Oshkosh, WI) and Plicon (Columbus, GA). Structures vary, but one example would include an outer 75-ga layer of oriented polypropylene that's reverse-printed flexographically in three to five colors, depending on the product. Other layers in the 2.8-mil three-ply adhesive lamination are a linear low-density polyethylene laminated to a coextrusion of 70-ga OPP and polyvinylidene chloride.
Before the film is sealed around the paper bag(s), the Key-Pak machine nitrogen-flushes the pack, which helps provide a 90- to 120-day shelf life.
Rapid payback
"We've been building our bag-in-bag and multipack business steadily since we added the first Key-Pak machine," says Collier. "Especially for in-room hotel and airline use where an outer sanitary plastic wrap is required over the single bag-in-bag."
The premeasured coffee bags make a specific number of cups. The bags obviate the need to measure and dispense coffee from another container into a separate filter. Instead, the user simply discards the outer plastic overwrap, places the bag in the coffee maker, then throws out the used bag of grounds once the coffee is made. These packs provide user convenience, Collier explains. "For example, at a fast-food outlet, a worker can just use a filter bag to make coffee. He doesn't have to open a package and [risk] spilling coffee all over."
S&D's satisfaction with its first Key-Pak led to the purchase of another early this year. But with escalating product demand, a third machine was added during the summer. "We had to stay ahead of the demand," Collier notes. "The Key-Pak machines are pretty simple to operate and change over. Our people were already familiar with how to run the equipment, and we never had any problems with the other two, so adding another was the right way to go for us."
Besides providing S&D with the ability to run both bag-in-bag singles or multipacks, the machine is occasionally used to make just the filter bags that are then packed in large quantities into an outer corrugated shipping case. In this case, only the top bagging unit would be used.
S&D can also use the machine to produce flexible film bags of coffee that don't require the paper filter bags. In this instance, the film roll would be placed on the unwind on the top bagging system, in place of the paper web, without using the bottom bagging system. This latter scenario is unlikely, however, according to S&D, as flexible film bags are produced on higher-speed machines at Concord.
He points out that S&D couldn't get the new Key-Pak machine quickly enough. "Frankly, we were having trouble filling orders," Collier admits. "Our volume was such that we needed to have product co-packed for us. We had the machine operational the day it arrived at our plant here in Concord. We're pleased with the machine, and we're running it two eight-hour shifts, five days a week for most of the year. And because we basically were desperate for the machine, our payback was pretty quick-less than six months."
Companies in this article