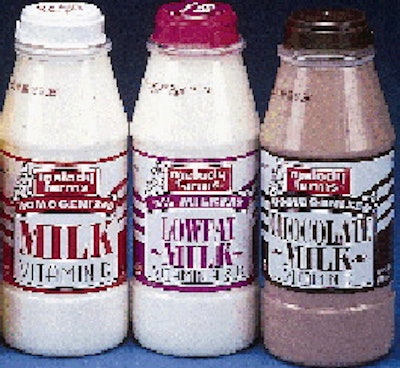 Is a new age dawning in milk packaging? Several recent and about-to-be-unveiled offerings provide evidence that milk marketers are thinking (and packaging) "outside the box," or more precisely, the gabletop carton and high-density polyethylene jug. While those traditional packages will likely maintain a dominant presence in coolers, bottles of polyethylene terephthalate and HDPE targeted to "on the go" consumers are coming onstream at an impressive pace.
Geographically, one of the most significant entrants is Milk Chugs from regional dairy Dean Foods (see Packaging World, Oct. '97, p. 2). Three white-pigmented round HDPE bottles were introduced. One is an 8-oz version targeted for home, work, school, or in the car. Six of these are shrink-wrapped in printed film and sold as a Chug Pack multipack. Sold individually are 16- and 32-oz bottles. These are decorated with colorful full-body shrink labels. All bottles feature an unusual flared twist-on/off closure that provides resealability. These bottles are replacing paperboard gabletop cartons for all of Dean's customers except school lunch programs.
"The bottles fit in with the everyday lives of consumers," contends Sylvia Oriatti, marketing director for the Franklin Park, IL, dairy and specialty foods manufacturer. "They're resealable, with a wide opening like chuggable beverages, and they fit into the cup holders of cars and vans."
Dean's is investing a reported $40 million to equip all of its regional dairies with the machinery necessary to fill the bottles. Oriatti anticipates this process won't be completed until the end of next year. Dean's would not provide details on the equipment or the bottles themselves.
Dean's did, however, share its sales successes. At a 50-store chain of gasoline/convenience stores, monthly sales of pints soared 72% from year-earlier sales of paperboard cartons, according to Dean's. And "in the first year of market testing," claims Jim Page, Dean's vp of marketing, "Milk Chugs were responsible for sales increases of 96 percent in pints of chocolate milk, and 77 percent overall."
Oriatti says the bottles cost more than the cartons. Whether that cost is passed along to consumers will be up to retailers. She says, "Retailers have the choice of increasing prices. Though in our research, consumers told us that they're willing to pay a premium for this package because they see advantages in its resealability and portability. They also perceive it as keeping the milk colder and fresher" than in cartons.
At press time, Milk Chugs were scheduled to be available in selected Midwest and Florida markets. Additional locations will receive the new packages next year.
'Viva' PET
At the end of September, Meadow Gold Dairies, a division of Southern Foods Group, Ogden, UT, introduced plastic bottles (right) for its 16-oz Viva®-brand 2% reduced-fat white and chocolate milks in the Salt Lake City area. They retail for 99¢.
"It's the first time we've used PET to market milk," says Jeni Forman, product manager. The injection stretch/blow-molded bottles are supplied by Reid Plastics (City of Industry, CA). The dairy plans to replace 16-oz paperboard cartons with the bottles.
Meadow Gold uses slender, rounded bottles that taper inward from shoulder to finish. A tamper-evident pull tab makes for easy opening. Striking transparent 2-mil polystyrene labels are flexo-printed in three colors by Superior Label Systems (Mason, OH).
"Milk's been surpassed by a lot of other beverages when it comes to packaging," Forman says. "We wanted to bring milk into the 1990s with a more consumer-friendly package in an effort to make milk a 'cool' beverage to drink. We felt this [PET bottle] was the right way to go because it has an exciting look to it, and it's convenient for consumers."
On Nov. 1, Viva was scheduled to be introduced in the Tulsa, OK, market, and by Jan. 1, 1998, the new packages will be sold throughout Meadow Gold's mountain region. Some dairies will sell under Meadow Gold's Viva brand, others under the Borden name.
Milk gets a 'free' ride
Sometimes, milk packaging is updated for other reasons. Cincinnati-based co-op United Dairy Farmers operates 210 convenience stores in four major Ohio cities. In May, UDF introduced to its C-stores 16-oz PET bottles for milks (right), juices, sports drinks and teas. The bottles are injection stretch/blow-molded by Double-R Enterprises (New Castle, PA), using resin from Eastman Chemical (Kingsport, TN). UDF's milk pints had previously been packaged only in paperboard cartons.
"We're trying to increase milk's attractiveness and product sales by putting it in a bottle," says Pamela Gibson, UDF's brand manager for milk and ice cream. "The packaging is more expensive. But it's very attractive on the shelf, and it helps milk to compete with soft drinks, juices and other beverages."
The shift to the PET bottle was driven mainly by the nonmilk beverages. UDF offers its stores better profit margins with the juices, drinks and teas, says Rocky Volpp, operations manager. Milk in the PET bottle sells for 79¢, the same as the previous carton. However, the shift to the bottle did allow UDF to bring packaging in-house. The paperboard cartons had been filled by a contract packager.
"We didn't have the capability to fill gable-top cartons," explains Volpp. "But with the switch to PET bottles, we use an older half-gallon filling machine that we've had for years. So this adds tonnage that we didn't have before. We're producing more items here at our plant, products that give our stores better profit margins. And without a major capital investment." The plant did add new bottle handling and conveying equipment from AIS Container Handling (Dutton, MI).
"We wanted to supply our stores with a premium package and a premium label. The quality image and clarity of PET is why we selected it," Volpp says. He estimates that PET is double the cost of HDPE.
The color of the milk is visible through the clear bottle, and through the transparent label from Superior Label Systems (Mason, OH). The 2-mil polystyrene labels are flexo-printed in six or seven colors, depending on the product. The injection-molded low-density polyethylene closures are from Portola Packaging (San Jose, CA). The reclosable snap-on/off closure has a tamper-evident tear strip. A sell-by date is ink-jet coded on the bottle's shoulder.
"So far, we've experienced incremental gains in sales of milk and other beverages filled in bottles," says Gibson. "And we'll also sell egg nog in different sizes during the upcoming holiday season."
Milk bottle copacker
One of the "pioneers" in selling milk in round plastic containers was Lansing, MI-based Quality Dairy Co., both a dairy and owner of 31 C-stores in that city. As of early last year, QDC began selling PET pints (below) at its C-stores.
"Consumers want convenience, resealability, and a container they can take with them when they travel," says Stanley Martin, QDC's president. He feels that milk has been left far behind by other beverages when it comes to packaging. "We now sell a variety of flavored milks, juices and water in PET rounds and they've helped us increase sales." The company also co-packs milks, juices and water in the PET bottles for companies that sell in outlets other than QDC's C-stores.
Last year, QDC invested in an injection/stretch-blow molding machine to manufacture the PET bottles for both its own products, and to sell to other dairies. The machine, an SB3-500LL-75 from Aoki Laboratories in Japan, was acquired through Schram Plastics Systems (Mt. Prospect, IL). Resin is sourced through Eastman Chemical (Kingsport, TN). Bottles are made at the dairy's QDC Plastic Container Co. Div. (Lansing, MI).
Strong shelf presence
One of the most recent dairies to market milk in bottles made by the QDC division is Melody Farms Dairy, Livonia, MI. Melody Farms began selling milks and juices in PET in mid-'97, in Michigan and Northern Ohio, as an alternative to paperboard containers.
"The whole idea behind using PET bottles for our dairy product is that it . . . allows consumers to see the product they are drinking before they buy it. It's also portable, and it puts milk in the beverage arena, which opens up new market possibilities," says Rodney George, president of the dairy.
Three milk varieties (right) and one orange juice are sold in these bottles, all in a 16-oz size. "We're charging a premium to our customers for the bottle," explains marketing manager Steve George. "With the carton, we suggested a price of 69 cents, and sometimes our customers received discounts. We're suggesting 89 cents for the bottle, and we won't discount it."
The additional income helps offset costs for the PET bottle, which George says averages out to about 10¢ more than a paperboard carton. On top of that, the company had to invest in equipment to fill the products at its plant in Lansing, MI. Greg McNeil, the dairy's vp of production, explains that a Federal (Milwaukee, WI) filler, which had been used to fill 1-gal plastic jugs, was switched over to handle the new 16-oz PET bottles. A new machine from Fogg Filler (Holland, MI) was purchased to fill the higher-volume jugs. Additionally, the PET line now has a refurbished bottle unscrambler/sorter from New England Machinery (Bradenton, FL), new wraparound labeler from Superior Label Systems (Mason, OH), and a new coder from Videojet Systems (Wood Dale, IL). Fill rates are about 90/min, though McNeil expects that to rise as employees become more experienced using the equipment. "Speed is an issue because we can't fill them quickly enough. That's kind of an unusual problem in our business," McNeil quips.
Strong early sales help justify the equipment purchases and the added costs of the PET bottle. Steve George tells PW, "Since we switched to the PET bottle in early summer, our pint sales have tripled. Some of our customers [at both C-stores and, more recently, supermarkets] have just stopped carrying the paperboard container because they like the plastic so well. It's clear, more appealing, and there are no leakers."
McNeil adds, "The single-serve-type bottle represents a dramatic change in marketing milk. You just cannot imagine the type of response we've had. There's not a week that goes by that we don't receive some type of acclaim. And the bottle does a beautiful job of merchandising the products on the shelf."
Sales success
Portland, ME-based Oakhurst Dairy replaced paperboard cartons with HDPE bottles for milk in pints in May. As a result, sales shot up more than 50%, compared to year-earlier figures. "Our sales of pints in paper had been declining in recent years," states Stanley Bennett, the dairy's president. "So, we decided to be the first Maine dairy to go that route."
To fill plastic bottles, Oakhurst expanded its plant. The HDPE bottles are blown by Franklin Plastics (Franklin, MA). Bottles are conveyed to a labeler from Trine Labeling Systems (Bensalem, PA) with quick-change features. The wraparound label is printed flexographically in five to seven colors, and sourced from Huhtamaki (DeSoto, KS).
Labeled bottles are then filled on a new 21-valve filler from Federal (Milwaukee, WI), then capped. The HDPE screw-on caps, with a breakaway TE band, come from Portola Packaging (San Jose, CA). Oakhurst's vp of sales, Dick White, credits the cap with much of the overall package's appeal. "Our customers love the screw caps," he says. "They can drink half of the bottle and put the cap back on. They can tip the bottle over and the beverage won't spill."
After capping, Oakhurst uses a Spot-Pak® system from Delkor Systems (Minneapolis, MN) to create 12-bottle multipacks. In the process, a pad passes by nozzles that apply four lanes of a light-bond adhesive. Meanwhile, bottles are collated into a 3x4 pattern and vacuum heads place them onto the adhesive lanes on the pad, a 200#-test, C- or B-flute board.
The multipack is then conveyed through an in-line wrapper that applies a 2-mil low-density polyethylene shrink film. The bundle is passed through a shrink tunnel so the film holds the bottles tightly.
Oakhurst represents the first time that the Spot-Pak system has been used for bottles; it previously was used for tapered dairy containers. The system was modified to handle bottles. An Oakhurst representative says the system was purchased to "significantly" reduce material costs and environmental impact.
Oakhurst distributes directly to C-stores and supermarkets in Maine and New Hampshire. Three pint varieties, including a coffee-flavored milk and seven juices, are filled and sold in the HDPE pints. Milks retail for about 89¢, roughly 10¢ more than the paper pint containers. The hike, obviously, hasn't caused consumers to shy away. The added income also helps Oakhurst offset the package's higher costs, compared to paperboard cartons.
The dairy claims that it was the first to package chocolate milk in these bottles for Hershey's. It sees contract packaging as another means of making its equipment investment reap dividends in the future.
Interestingly, Bennett, like other dairy executives contacted for this article, sees plastic bottles helping milk compete with other beverages. "We consider our biggest competitors to be carbonated beverages and other juice companies. For dairy products to compete head to head with soft drinks is great for the dairy industry," says Bennett.
Aseptic pouch test
While rigid bottles are being called upon for most of the new milk packs entering the market, flexible pouches may enter the mix, even though they're more popular in other parts of the world. Two very recent developments are worth noting.
Within the past few months, a firm in Germany tested for sterility a pilot EP 4000 aseptic vertical form/fill/seal machine. The machine fills a nutritional beverage that contains milk into the new Elopouch(TM). This pillow pouch, from Elopak (New Hudson, MI), was scheduled to debut at the Worldwide Food Expo 97 late last month.
The test in Germany used a five-layer, approximately 4.75-mil coextruded structure designed to provide light and gas barriers, as well as tear-resistance. According to Elopak's director of business development, Jrg Weltert, the structure includes a combination of high- and low-density polyethylenes, and ethylene vinyl alcohol (EVOH). While he would not disclose the name of the dairy involved in the test, he did say that company was purchasing the first commercial EP 4000. The machine is made by the Packaging Machinery Division of Robert Bosch GmbH (S. Plainfield, NJ), and marketed by Elopak. Weltert says the Elopouch is designed to compete with brick packs, and will yield a four- to six-month shelf life.
Stand-up pouch for schools
The initial use of an unusual stand-up pouch with an integral sipping "tube" begins this month in certain elementary and high schools in Canada. Neilson® in Georgetown, Ontario, Canada, is the first to use the A-Pak(TM) pouch (right) developed by Arkmount Systems (Toronto, Ontario, Canada). The A-Pak includes reverse-printed polyester on the outside, with an inner metallocene-based sealant layer. Film suppliers had not been finalized at press time.
The A-Pak's sipping tube resembles the finger of a latex glove. A tear tab permits the user to open the tube and drink from it just like a straw. According to Arkmount, the pouch can be tipped over without spilling. That's accomplished by a patented "restriction" in the area where the main body or pouch "chamber" leads into the sipping tube. The restriction is not a flap or piece of material, rather, it's a result of the vertical form/fill/seal process carried out by a new machine made by Arkmount's strategic business partner, ATS Automation Tooling Systems (Cambridge, Ontario, Canada). Neilson is the first company to use the A-Pak 2000 machine, for filling 250-mL varieties of calcium- and phosphorus-enhanced white and chocolate milk into the pouches.
The pouches are replacing paperboard cartons primarily as a means of source reduction, according to a Neilson spokesperson. The dairy, part of the Westin Group that also owns the Canadian rights to Wonder® bread, is using that brand's colorful red, blue and yellow balloon graphics for what it's calling the Wonder pouch.
Change was necessary
Alternative packages for milk couldn't hit the market soon enough as far as the dairy industry is concerned. The Fluid Milk Strategic Thinking Project (FMSTP), for example, in its Official Report to the Industry, 1996, points out that between 1971 and 1995, per capita milk consumption dropped from 23 to 19 gallons. Packaging, the report claims, has been part of the problem.
"Milk packaging, when compared to that of other beverages, is not as attention-getting, attractive, convenient or consumer friendly, and does not promote portable consumption. Processors need to stop viewing packaging as merely an expense and start using it as a powerful marketing tool that can sell more product," the report notes.
FMSTP was formed in early '95 to develop ways to increase milk sales and make it more competitive with other beverages. It is a collaboration between milk producer and processor associations, including Dairy Management, Inc., and the International Dairy Foods Assn. (Washington, DC). Several of the processors contacted by PW for this article referred to the FMSTP report as a key factor in persuading them to market and package milk more creatively in an effort to compete with other beverages.
Considering the renewed effort to market milk, PW editors found it curious that none of the new packs discussed here used graphics to tout their advantages.
Increasing long-term sales of milk in these new packages could prove to be an uphill battle. Most U.S. consumers are so used to purchasing the product in plastic jugs and paperboard cartons that acceptance of alternative packs may take time.
There's also the possibility that suppliers may be reluctant when it comes to developing equipment or materials for such a mature market segment. One machinery manufacturer said that milk is such a mature product that it's not worth developing new equipment when that money could be used to market products/ packages with stronger growth potential.
Still, the attractive graphics, portability, and reclosability of some of these new milk containers are attributes that have stimulated sales in competitive beverages such as bottled waters, juices, isotonic sports drinks and carbonated soft drinks. How will consumers respond? Time will tell, but dairies are demonstrating that they're willing to invest in packaging alternatives to promote the mature product to younger generations.
Companies in this article
Videos from New England Machinery