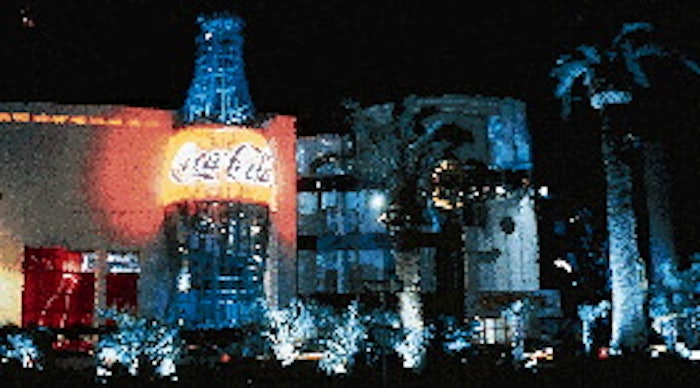 The "ca-chink, ca-chink" sounds of gaming devices and chips will be drowned out by the hum and buzz from operating packaging equipment next month when Pack Expo West opens at the Sands Expo and Convention Center in Las Vegas. The show, October 13 to 16, is sponsored by the Packaging Machinery Manufacturers Institute (Arlington, VA). This year the show includes the concurrent International Exposition for Food Processors, sponsored by the Food Processing Machinery & Supplies Assn. (Alexandria, VA).
The success of Pack Expo West 95 and the addition of the IEFP and Solutions 97 Conference have sponsors enthusiastic about increased attendance. PMMI estimates that nearly 17ꯠ visitors will attend to see more than 500 packaging exhibits that cover 250ꯠ sq'.
The IEFP adds another 250 exhibitors covering 125ꯠ sq'. More than 9ꯠ attended last year's IEFP in San Francisco, and a larger international delegation is expected this year. One registration admits visitors to both shows.
The shows will be open from 9 a.m. to 4 p.m. Monday through Wednesday, Oct. 13 through 15; on Thursday, Oct. 16, show hours are 9 a.m. to 2 p.m.
"Greater value" is how other groups see the combination of shows. "We highly recommend this event to all members," said Gary Lile of Anheuser-Busch in a letter to members of the National Beverage Packaging Assn. Lile is president of NBPA. Referring to the Solutions 97 program, Lile told members, "You can be assured of plenty of seminars daily, targeted to your needs. There will be a seminar on the filling and handling of contoured cans that should be of great interest to processors and suppliers alike."
Nostalgia may also bring beverage makers to Las Vegas. In July, the Coca-Cola Co., Atlanta, opened the "World of Coca-Cola Las Vegas." After an elevator ride inside a 100'-tall glass contour Coke bottle, visitors to the 28ꯠ-sq' attraction will experience a historical look back through decades of American life, as well as watch a film of a complete Coca-Cola bottling line.
"We are especially excited this year since the IEFP will be held concurrently with Pack Expo West, bringing even greater value to participants," says Jeff Boese, executive director of the California League of Food Processors. NBPA and CLFP are just two of the diverse groups that are helping to promote the shows.
Advance registration is available by contacting PMMI by mail or phone, or by e-mail at expo@ pmmi.org. PMMI and FPM&SA also have a Fax-on-Demand service (800/585-8098), and registration is free by using PMMI's web site: http://www.packexpo. com.
Easy access plays role
Pack Expo West and the IEFP both like Las Vegas as a show venue because it's centrally located and easy to reach by all Western manufacturers, not just those located in California. According to PMMI, the 15 Western states account for approximately 25% of what it estimates as the complete $80 billion U.S. packaging market.
In addition, Pack Expo West and IEFP expect more international attendance than ever before. In '95, Pack Expo West entertained nearly 800 international visitors from 59 countries, including Mexico, Latin America and countries in the Asian Pacific area.
This year, Pack Expo West is the only packaging show in the West to be selected for the U.S. Department of Commerce's International Buyer Program. At the same time, the IEFP expects that 23% of its attendees will come from 60 foreign countries.
Along with the two shows, the extensive 21-session Solutions 97 program will be a magnet for packagers and processors alike. A complete program is described in detail (see sidebar, p. 43).
After hours, the "entertainment capital of the world" has loads of options to help attendees unwind. Visitors can take in a wide variety of shows and concerts, enjoy the many casinos or dine in fine restaurants.
A list of Pack Expo West and packaging-related IEFP exhibitors follows, with the exhibitors grouped into 23 categories of machinery and materials.
Companies in this article