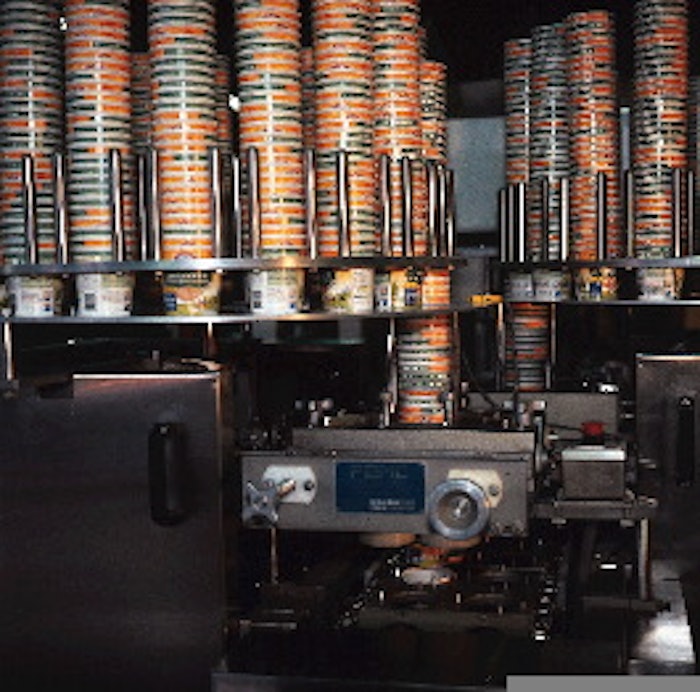 Charged with reducing a high cholesterol count eight years ago, Jim Ahrens enrolled in the McDougall Program, a 12-day, live-in arrangement that relies heavily on a vegetarian diet therapy. Little did he know that, in addition to lowering his cholesterol count, his stay would lead to a whole new food company driven by a million-dollar packaging line that Ahrens believes is the most sophisticated and accurate of its kind at filling dry soup in cups. "We're the king of cups," he says proudly.
Dr. McDougall's Right Foods is the name of Ahrens' South San Francisco, CA, firm. Joining him as co-founder is Dr. John McDougall, founder of the McDougall Program and a nationally recognized nutrition expert who teaches better health through vegetarian cuisine. Ahrens and McDougall became friends after Ahrens underwent the McDougall Program, and their friendship led to the formation of a new company guided by McDougall's philosophies on nutrition.
The two-year-old firm now markets 12 products formulated by McDougall. All are single-serve portions of dried or dehydrated foods to be reconstituted by adding boiling water. Though most are soup or soup-like offerings averaging 2 oz (56.7 g) in dry weight, the line also includes a rice pudding dessert and two varieties of oatmeal. Nutritionally, all are high in dietary fiber, have no cholesterol or added oil, and use minimal salt and sugar. They retail for between $1 and $1.50.
As for the million-dollar packaging line, there were few other options, says Ahrens.
"After capitalizing the company, with help from 280 shareholders, we looked first at co-packing as a way to get launched," says Ahrens. "But after visiting a number of plants, we realized that co-packing would be difficult because we didn't want our product to come in contact with machines that might have run oils or dairy products like dried cheese or milk. We wanted a 'clean' product."
The other drawback to the co-packers, says Ahrens, was that most of their packaging lines didn't offer the number of ingredient filling stations that McDougall's needed for the multi-component products it was planning. They couldn't guarantee accurate weighments either. "We wanted the same amount of each item in each cup each time," says Ahrens.
The search begins
The search for equipment led Ahrens and plant manager Nick Vacalo to Food Equipment Manufacturing Co. (Bedford, OH). That firm provided the backbone of the filling and lidding system that McDougall's has now been running since April '96. But plenty of other vendors were involved.
Cup feeding, transport, and lidding are the main responsibilities of the FEMC equipment. Mounted on or installed beside it is a variety of equipment that handles ingredient placement, which occurs at as many as four separate stations.
Prior to packaging is the ingredient blender, supplied by Ashbrook (Houston, TX). Here again Vacalo and Ahrens spared no expense in getting the best equipment available.
"Many food firms in our situation might use a ribbon or paddle blender," says Vacalo. "But ours is a plow blender like you'd expect to find in a pharmaceutical company. It will blend minute amounts of one ingredient in a large batch evenly in three minutes without generating lots of heat that might harm or degrade the product." Batches are dumped into wheeled totes for transfer to the nearby packaging line.
First is cup feeding, which is accomplished by a pair of FEMC rotary cup feeders, one for each lane of the two-across system. Each feeder holds 20 stacks of 50 nested cups, and when one column is empty, the next one automatically rotates into position over the denesting tools. These tools are basically four rotating screws that grab ahold of the lip of the cup and cleanly separate it from its stack before dropping it into a pocket on the transport belt. The feeders hold about 20 minutes' worth of cups at filling speeds typically in the range of 100/min.
Once a pair of cups has been pocketed, they're conveyed into the first filling station, which is served by a 12-bucket Ishida combination scale from Heat and Control (San Francisco, CA). It's divided down the center so that six buckets drop their contents down a tube into one lane and the other six feed the other lane. Used typically for weighing ingredients such as baked chips, pasta shreds or oats, the scale is accurate to within ±1/2 g on a 30-g fill.
The second filling station is occupied by a dual-head Spee-Dee (Sturtevant, WI) volumetric cup filler. The Model CME filler includes a staging valve option that helps increase speeds by holding one fill in the staging area while the next fill is being measured above it.
Unlike the combination scale, which is fed by two bucket elevators from Deamco (City of Commerce, CA), the hopper of the Spee-Dee unit is fed by a vacuum transport system from Piab (Hingham, MA). "It's the best way to deliver delicate items like freeze-dried apples, for example, without breaking them up," says Nick Vacalo. Though the volumetric cup filler is not as accurate as the combination scale, Vacalo says it doesn't need to be because the ingredients handled in this second fill station are not nearly as expensive as those weighed in the first station. Fills are well within the targeted range, adds Vacalo.
Next in line are two auger fillers from GEI Mateer-Burt (Wayne, PA) that deliver ingredients like beans or rice. Each receives product through a single Deamco bucket elevator system. A gate diverts the ingredients into whichever Mateer-Burt hopper needs it.
The ingredient feed system at this point in the line has a special feature designed into it at Vacalo's request. Often in auger filling, the amount of product in the hopper may drop as low as 20 lb or so before the sensor signals for replenishment. But when the hopper has been refilled, it might hold 200 lb. This big difference in product weight can be accompanied by a proportional fluctuation in head pressure that can cause uneven fills. One revolution of the auger when the hopper is full may discharge more product than when the hopper is nearly empty.
To avoid such inconsistencies, Deamco added a product level sensor closer to the top of each Mateer-Burt hopper. This results in virtually constant replenishment of the hopper, which in turn means steadier head pressure at the auger and more consistent product discharge with each and every cycle. Accuracy is about the same as it is on the Spee-Dee volumetric filler upstream.
The fourth and final ingredient metering station is for spices. It's occupied by two more auger fillers from GEI Mateer-Burt that have the same Deamco product feeding and diverting system as the first two. But servo motors and a computerized weighing system make these auger fillers considerably more accurate (see sidebar on p. 40).
Vacuum removes dust
With all ingredients deposited, cups are conveyed through a vacuum station that removes dust from their rims to help ensure the integrity of the cup-to-lid seal. Then cups are automatically rotated until a SICK Optic-Electronic (Eden Prairie, MN) scanner determines that the UPC bar code on the sidewall is properly positioned to receive the lid. When the paper lid is applied, cover pull tabs are positioned uniformly in the center of the back panel. It's a matter of consistency in appearance, says Ahrens.
Lids are picked by vacuum cups from magazines and placed on cups, which then pass through two heating stations. The first station performs a flat seal only. But in the second, the material is crimped over the edge and sealed. "By sealing over the edge," says Vacalo, "we get a much more secure seal than if we just sealed to the flat surface."
After ejection from the machine, cups pass through a metal detector from Graseby Goring Kerr (Amherst, NY) that's followed by ink-jet coding on each lid, performed by an Excel unit from Videojet (Wood Dale, IL). The information printed includes a lot number so if a recall becomes necessary it can be done easily.
Just before an accumulation turntable, a final checkweigher from Heat and Control checks weights and rejects bad cups. Then operators manually load cups into corrugated shippers erected by hand. The shippers hold only six cups each so that retailers can stock a greater flavor variety than if McDougall's Right Foods were in 12-count cases.
Finished cases are sent through a top-and-bottom taper from 3M (St. Paul, MN). McDougall's uses the same 175#-test C-flute case for all 12 SKUs, printing four lines of variable information on-line with a Videojet ink-jet coder.
"One of the goals of this line is efficiency in changeover, because you can't anticipate, especially in a new and growing market, how your orders are going to come in," says Vacalo. "With this on-line system we enter the information right there at the case taper and move right into production. We don't have time to look for preprinted cases."
Running now for almost a year, the line is used primarily for McDougall's own brand of product but gets occasional use for co-packing assignments from other marketers of food in cups. Future additions to the line are already on the drawing boards, including a robotic case packer. That would probably mean the line could run with one less operator than the four who currently man it.
One other adjustment under consideration is the possibility of shrink wrapping cups or groups of cups in clear film having oxygen and moisture barrier properties as well as oxygen scavenging ability. Minimizing moisture will keep product from clumping during long-distance shipments to humid climates. Keeping oxygen out, and absorbing it in a sorbent film when it does enter, will prolong product taste and freshness by keeping tomato components from oxidizing.
Whatever other changes the firm comes up with, they'll all be aimed at enhancing its ability to capitalize on a trend whose time, says Ahrens, has come.
"Consumption of vegetarian meals is skyrocketing, whereas five years ago you could hardly give those products away," he observes. He's convinced the trend will continue, and with the packaging line he and Vacalo have assembled, McDougall's is ready to take full advantage.
Companies in this article