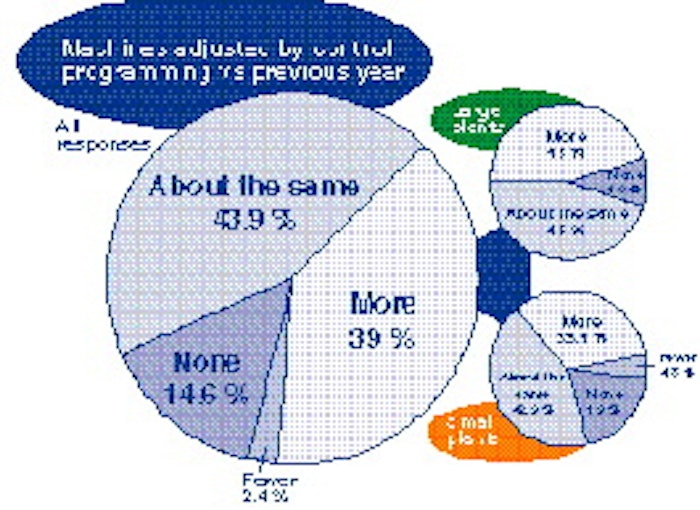 Programmable machine memory, adjustable parts and machines equipped for tool-less changes. These are the equipment technologies packagers seek to help them slash downtime by minimizing the amount of time invested in changing over equipment for differing products and sizes.
That's what readers of Packaging World from both large and small companies told us in a recent survey conducted by Frambach & Associates (Elm Grove, WI). The survey was conducted by personal interviews with engineering and production executives, half from small companies (50 to 99 employees), the other half from large companies (1ꯠ or more employees).
In the first report on the survey (see PW, March '97, p. 38), we showed the wide disparity in frequency of changeovers, the amount of time needed for changes, and which workers were responsible for changing over equipment. The participants also revealed trends like more operator involvement in changes and explained how many plants modify equipment to make changes faster.
Eliminating the tools
If changeover is the current strategy du jour for improving packaging productivity, one of the hottest tactics to achieve it is a reduction or elimination of the need to use tools in making changes to equipment.
Tool-less changeover should cut down on the time needed to accomplish changeover. Certainly that's why many plant operations personnel want to move toward equipment that minimizes the requirement for tools.
A packaging engineer for a regional dairy predicts tool-less changeover will minimize downtime. "We look for adjustments that can be made by hand, rather than with wrenches, especially on box equipment," he says. "Hand-wheel adjusting is faster. If we can get computerized changeover on other types of machines, that's a big plus."
A specialty foods maker's plant manager agrees. "We look for ease of changeover in machinery. We need quick changes, and especially changeovers that require no tools." It also is vital to the flexibility needed by contract packagers. "Some of the new machines have indicators and ratchet settings," says one CP's maintenance engineer. "These features help us make changes quicker, and that's really important."
However, speed of changeover isn't the only advantage of machines that don't require tools. In fact, by reducing the reliance on tools for resetting equipment, some companies can take advantage of another trend: using machine operators, rather than mechanics, to change over machinery. This is generally quicker and less costly.
"Because the newer machines often require fewer tools, our operators can help with changeover," says a maintenance engineer at a beverage packing operation.
Mechanical skill important
Changing over a line may not require tools, but it still requires mechanical skills. That came through loud and clear (Chart 1), when participants were asked which skill was most important in changeover. But maybe not as clear as the answer would have been a year ago or earlier. Overall, 71.2% of responses cited mechanical as the most important skill for machinery changeover.
However, a bit more than one in five participants (20.8%) said that control programming was most important now. As expected, control programming was cited most often by the large plant respondents; 28.6% of them rated control programming as the most important skill. Even the participants from small plants view control programming as the second most important. They answered 80% for mechanical, 12% for control programming. The remaining answers, electric and electronic and other, registered only single digits among the total responses.
Importance of tools
As clear as the concern over tools has become to packaging operators and mechanics, we're not completely clear how to interpret the survey responses to a question that rated the importance of tools in changeover (Chart 2).
On one hand, 27.5% of all respondents say tools are unnecessary. Yet another 25% say tools are very important in changeover. Nearly a third of all participants say that tools are relatively important.
Machinery trends
The survey asked respondents to track whether their plants were buying an increasing number of machines that were adjustable in a number of ways. For example, more than a third of all participants said their plants had more machines in '96 that required adjustment or change parts vs '95 (Chart 3). In fact, just under 5% reported that their plants had fewer machines that needed adjustment or change parts.
All of those reporting fewer machines were from the smaller plants. Not one of the participants from a larger plant reported fewer adjustable machines. In the large plants, 45% of the respondents claimed their operations had more equipment that required adjustment or change parts. Among the representatives of the smaller plants, 28.6% reported that they had more equipment for adjustment.
Not surprising is that most participants, whether from large or small plants, reported the number of adjustable machines in their plants was about the same. Of course that doesn't mean the majority of these plants didn't buy new adjustable machines. When they bought new equipment, the new machines replaced adjustable, older equipment.
More programmable machines
The results were even more interesting when the survey asked about the trend toward more programmable equipment (Chart 4). Nearly the same number of overall responses reported more programmable equipment in '96 as those who said the number of programmable machines was about the same as in '95, 39% to 43%.
In fact, it was exactly even among the respondents from large plants. With just one in 10 reporting no programmable machinery, 45% said they had more and 45% said they had about the same number of programmable machines last year compared to '95.
We were surprised that only 19% of the participants from small plants reported they had no equipment with programmable controls. Even more unexpected was the response that nearly 5% of the participants from small plants say there were fewer programmable machines last year, compared to '95. Still, at these smaller plants, more than a third of the respondents said the number of programmable machines had increased.
The trend toward more equipment controlled by electronic programs was attested to when participants were asked about what types of equipment they were seeking.
Programmability sought
A sizable number of participants obviously recognize the ease and speed of equipment that can be adjusted automatically via programming. A wide variety of engineers and production people are avidly looking to add this type of machine.
The director of engineering for a food processor seeks both programmable changes and simpler machines. "We're looking for less complicated machinery that can be set up quickly," he says. "On our form/fill/seal machines, we can use servo motors [that adjust via] programming through PLCs."
The production manager for a medical products manufacturer says his company is planning this route, too. "We are moving toward more automated and computer-controlled machinery."
A project manager at a national food processor agrees, saying, "On new machines, control programming can give us the flexibility we need."
Even industrial packagers like those that serve the automotive aftermarket acknowledge a move toward programmable equipment. "We're looking for more control programming to give us the most repeatable equipment possible," says the industrial engineer for one such firm.
An engineer with a household products company may have described the advantages best: "Changeover is really just as important as running time performance," he tells PW. "We look for easy adjustments . . . or memory that helps set up the machine for various packages."
However, an engineer for a maker of recreational products is cautious about moving toward computer-controlled packaging machinery. "We can't cost-justify the easiest and most high-technology equipment," he admits. "At the same time, we don't want to over-complicate our process either."
Big factor in buying
Just as shortening changeover time and effort on packaging lines is a major goal of these packagers today, it will also be a strong consideration when these plants purchase new equipment. The survey asked how important ease of changeover was in purchasing equipment, and offered five possible answers, from unnecessary to very important (Chart 5).
Among all respondents, not a single response claimed that changeover was either relatively unimportant or unnecessary in the selection of new equipment.
Overall, the responses seem to closely track those companies that experience the most frequent changeovers to their lines (see sidebar, p. 46). Since the smaller plants tended to report more changeovers per shift, changeover was considered very important in the selection of new machines by 76% of these participants. Only 4.8% of the respondents from smaller plants even called it relatively important.
The answers were nearly the same from those in large plants. Of these readers, 71.4% said changeover was very important in selecting new machines, and another 23.8% said it was important.
Companies in this article