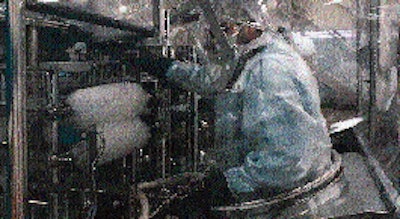 When Del Monte Foods Sud Europa decided to seek a more affordable plastic bottle for its hot-filled teas and fruit drinks, it's doubtful that anyone envisioned a whole new aseptic packaging concept. But that's exactly what emerged when Del Monte, of San Feline sul Panaro, Italy, teamed up with Procomac (Parma, Italy) and SIPA (Vittorio Veneto, Italy) to develop ASIS®: Aseptic Integrated System.
Offered jointly by the two Italian machinery manufacturers, (see Packaging World, June '96, p. 83), ASIS cleverly combines an aseptic bottle-making system with an aseptic filling system inside a controlled and sterilized environment. Del Monte uses it to fill two noncarbonated beverages: Teati ready-to-drink teas and Batik fruit drinks (with a minimum of 20% fruit juice). Each sells in Italian supermarkets and shops for the equivalent of $1.50 per 1.5-L bottle.
ASIS represents a significant investment for Del Monte. But it allows an impressive reduction in bottle weight, and consequently in cost. While its former 1.5-L heat-set bottle of polyethylene terephthalate weighed 68 g, the new PETbottle is 32% lighter at 46 g. Little wonder that hot-filling has been phased out.
"The heat-set bottle was two to two-and-a-half times more costly," says Tom Warner, director of operations for Del Monte's plants in Italy and Greece. The improved profit margin gained by the switch in bottles, he adds, has enabled the firm to spend more on marketing and promotion that will expand market share in a very competitive category.
New size
Also produced on the new system is a 1/2-L PET bottle weighing just 30 g. This is brand new for Del Monte. It was impractical when the firm was hot-filling, because the resin cost to produce a heat-set bottle in that size would have eliminated the profit margin or pushed the retail price beyond what the marketplace allows.
Both bottle sizes produced by Del Monte on the integrated aseptic system are custom designs. This represents another marketing advantage the new concept offers compared to heat-set PET, which typically is only available from commercial bottle makers in stock designs.
As Warner tells it, Del Monte's ASIS operation was preceded by an earlier proposal by Procomac that called for a more conventional aseptic filling system. In this scheme, Del Monte would have purchased bottles from a commercial blow molder, then sterilized them and aseptically filled them. But this didn't exactly excite Warner and company.
"We still would have been trucking empty PET bottles all over the landscape," he observes. "And then we'd have to chemically wash the container and remove the chemical wash before filling. It can be done but it's extremely complex and would have required a large investment."
The bottom line? "That approach just wasn't going to reduce the cost significantly enough." So it was back to the drawing boards, this time with SIPA's involvement.
"SIPA and Procomac came back with a proposal for a sterile bottle maker hooked to a sterile filler/capper," says Warner. Because the SIPA Model ECS 32/24 integrates preform molding with bottle blowing, the new proposal eliminated any need for commercial preform molders, commercial blow molders or the shipping of preforms or empty bottles. It also meant not having to sterilize the bottles prior to filling.
"PET bottles are automatically sterile when they come out of the mold because they're blown at intense heat," says Warner. "It's keeping them sterile until they reach the filler that was the missing link. That's the part Procomac and SIPA had to engineer."
The solution was Convair C air conveyors from Procomac. Featuring a fully enclosed and overpressured stainless steel track from which bottles are suspended by their neck rings, it uses HEPA-filtered air to push bottles along. It guarantees Class 100 air quality as the bottles are transported from the discharge of the blow-molding machine to the infeed starwheel of the filler.
Regulating bacteria
Regulating bacteria levels to establish a sanitary environment begins well ahead of this Class 100 air conveyor. In fact, the entire ASIS system-SIPA bottle making, Convair air conveyors, and Procomac filler/capper block-is housed inside a room with filtered and overpressured air that keeps it at a Class 100ꯠ level.
Within this room is a specially sealed cabinet for the SIPA system that further eliminates possible bacterial contamination. Prior to commercial startup, the entire cabin and the machine itself were cleaned and degreased with ethanol and other suitable solvents. Also, the air blowing circuit was disinfected with a sanitizer solution prior to assembly.
In addition to these final steps of the system's installation, ongoing sterilization techniques were specially developed for the SIPA blow molding system. For instance, the cabinet is overpressured with filtered air to bring it to a Class 1ꯠ status. Also, bottles pass beneath ultraviolet lights aimed specifically at points where preform or bottle neck comes in contact with the transport system that carries preforms from preform conditioning to blow molding to bottle discharge.
Even more unusual is that the cabinet is equipped with spray ducts through which hydrogen peroxide in an aerosol solution is sprayed at the beginning of a production cycle. In Del Monte's case, where production is underway around the clock five days a week, the beginning of a cycle is each Monday morning. After thorough washing, the operators initiate an automatic aerosol spray lasting approximately 30 min. Theoretically it won't have to be repeated until the following Monday morning when the cycle begins again. But if the cabinet has to be opened for any reason, the half-hour aerosol spray will be repeated, preceded by manual cleaning.
Degreasing, disinfecting and washing of the machine is performed each weekend. Size changeovers are typically limited to weekends as well, since the Class 1ꯠ environment inside the SIPA cabinet must be broken when molds are changed. According to Warner, it takes four operators 12 hours to change to a new bottle size and reestablish the Class 1ꯠ environment.
Linear, not rotary
Like conventional SIPA systems that integrate injection molding and blow molding, this one has a linear orientation rather than the rotary orientation more typical in PET blow molding systems (see Packaging World, Dec. '95, p. 30). The process moves forward in a straight line from extruder to preform molding to preform conditioning to bottle blowing and ejection. Though possessing only one extruder, the machine has two six-cavity bottle forming lines, one on each side. So finished bottles emerge in two parallel conveyors that merge into one in the Convair conveyors. Del Monte runs at about 96 bottles/min, peak output of the SIPA system.
Next in line is another overpressured "room within a room," this one holding the Procomac Fillstar Fx-M filler linked in a block format with a capping machine built to Procomac's specs. Here the level of sterility is down to Class 10. So it's an orderly increase in sterility from Class 100ꯠ for the white room, Class 1ꯠ for the SIPA bottle making system, Class 100 for the Convair conveyor, and Class 10 where bottle meets product and cap.
The enclosure surrounding the filler/capper block is a clear flexible material in which are ports fitted with "intervention gloves." These allow operators to clear jams and make other adjustments without really entering the sterile area or compromising asepsis. There's even an intervention suit built into the system, near the infeed starwheel, that an operator can enter when corrective action during production must be performed. Though unusual, to say the least, in a beverage operation, these measures are common in the barrier isolation systems found in the pharmaceutical industry. Procomac borrowed the idea from the pharmaceutical business.
In a packaging installation filled with "firsts," the 50-head filler is yet another. To Procomac it represents the first use of magnetic inductive flow meters to control each filling valve. The aseptic product reaches the filler from an external tank outside the Class 10 area that is kept at a constant level and pressure. By means of a rotating manifold, the product is distributed to the 50 filling heads, each of which has a magnetic flow meter and an electronically controlled valve. The magnetic flow meter reads the quantity of product passing through and supplies this value to a PLC that closes the valve once the preset value has been reached. Bottles are held by their neck rings as they move through the filler.
'Dramatic simplification'
"It's a dramatic simplification of filling," says Procomac's Carlo Ferrari. "There are no complicated valves, thus no water traps that can be possible sources of pollution. Sterilization is done simply with steam."
Filled bottles are fed immediately to a 20-head rotary capper that, like the filler, also suspends bottles by their neck rings. It was specially built to Procomac's specs.
Injection-molded of high-density polyethylene by Novembal (Les Creres, France), the 32-mm caps with breakaway TE bands are dumped into a hopper that feeds a cap elevator/orienter. Next is a "sterilizing screw" down which caps travel, passing first a spray of hydrogen peroxide and then a heat zone. Only then does the cap penetrate the Class 10 zone surrounding the filler/capper block. They're presented to the capping chuck in each station and torqued down on the bottles. Bottles exit the sterile zone and proceed toward secondary packaging operations. Shelf life for the product is one year.
Installed in March, the ASIS operation was put to the test quickly as the peak production season for teas and fruit drinks commenced at about the same time. According to Warner, the new system passed with flying colors.
"When all initial trials were done and we set out to produce a sterile product in a sterile package, the very first bottle was sterile," says Warner. "We ran all season and it's a dream," he adds. It also runs without much need for human intervention. Just one operator and one mechanic occupy the white room during production.
With one full season of tea and fruit juice production under its belt, Del Monte now plans to test the ASIS system for much more viscous fruit nectars that are popular in Italy during fall and winter. Traditionally, these are almost exclusively in glass. So the weight savings and shatter-resistance that Del Monte can offer if it switches to PET could be significant consumer benefits.
"I think it's a great concept," says Warner.
Companies in this article