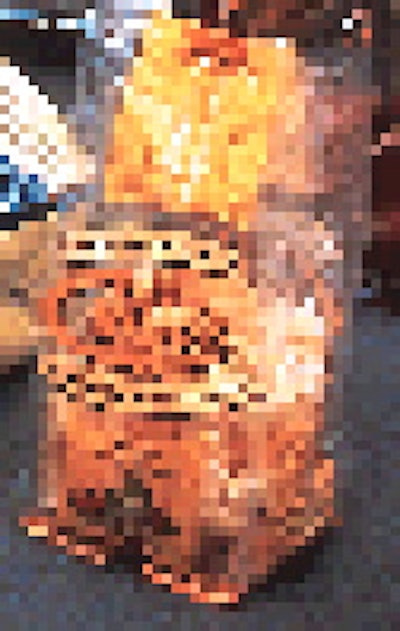 The American consumer has never been fond of them. And large U.S. packaged goods marketers probably won't really appreciate them until they can be filled at higher speeds.
But stand-up pouches have had little trouble lately impressing the judges of the DuPont Awards competition. For the second year in a row, this package style won the competition's prestigious Diamond Award. This 10th competition for Innovation in Food Processing and Packaging was judged by an independent nine-member panel. The six awards and two honorable mentions they handed out represent markets as far flung as India, Japan, the Netherlands, Germany, Mexico-even Texas.
Winning the Diamond Award was the Spacepack (1), a stand-up pouch concept from Kobusch Folien GmbH (Warburg, Germany). First commercialized in early '95 by Degussa AG for a powdered component used by dental technicians, the Spacepack is now in widespread use in Europe. Its inventor, Rod Imer, hails from Australia. After Imer unveiled the concept at interpack 93 in Dsseldorf, Kobusch Folien was selected to become the partner he needed to get the Spacepack to market. Currently, Kobusch has exclusive rights to market the patented technology in Europe.
The pouch can be as small as 50 mL or as large as 20 L. It can be marketed as a refill pack, it can sport a hang-tab, or it can be engineered for reclosure via an optional reseal feature. Structurally, the pouch uses vertical edge stiffeners and side welds to create flaps that fold under the pack for stability. Plus, it's made from films thinner than most other stand-up pouches. Finally, it's suitable for liquids as well as powders or granulates.
Among the firms earliest to adopt the Spacepack is Agreco. Based in Emmeloord, the Netherlands, the firm has marketed a line of four cooked, spiced potatoes in the Spacepack for about 18 months. "We wanted a good presentation and we found it with this stand-up pouch," says Dal Huesean, Agreco's quality assurance manager.
Formed from rollstock on an Altamat (Wettenberg, Germany) vf/f/s system at about 35 packs/min, each 390-g (13.76-oz) pack is evacuated and backflushed with a mix of carbon dioxide and nitrogen for extended shelf life. Kobusch supplies Agreco with a 65-micron (21/2-mil) film consisting of flexo reverse-printed polyester that's adhesively laminated to a three-layer coextrusion of polyethylene/ethylene vinyl alcohol/polyethylene. Distributed and displayed under refrigeration, the pouches have a two-week shelf life and retail for the U.S. equivalent of about $1.50 ea.
Pouches aplenty
The Diamond Award winner wasn't the only pouch recognized this year. There were four others, one stand-up and three lay-flats.
Daiwa Gravure Co., Ltd., (Nagoya, Japan) won an award in the non-food category with a unique stand-up refill pouch. Dubbed Cartridge Pack (2), the pouch has been used in Japan for the past two and a half years by Mandom Corp. for a line of haircare products, which are sold in 600-mL quantities.
The Cartridge Pack allows consumers to refill and reuse a rigid dispensing container. Unlike a traditional refill pouch that's opened with scissors or has an expensive built-in spout, the gussetted Cartridge Pack pouch requires neither. Instead it's simply inserted upside down into the container. The end of the pump's dip tube is sharp, so it punctures the flat bottom of the pouch. The pump is then screwed onto the container and the package is ready to use.
What makes this pack unique is the film structure, what the company calls a "laminated structure with 'a special film coating' that's designed to cling tightly to the tube after puncturing." That, Daiwa says, is why there are no leaks, the key to this package.
The pouch costs half as much as pouches with a built-in spout, according to the company, and it can be used with either a pump dispenser or trigger sprayer.
Refill pouch for oils
An "Easy-Fill" refill pouch (3) for cooking oil won an honorable mention for pouch maker Flex Industries Ltd. (Noida, India). The preformed pouch was developed jointly with India's leading edible oil producer ITC Agro-Tech, Secundrabad, India, for its Sundrop sunflower oil. The pouches are emptied into another container in the home.
The structure consists of a 48-ga polyester reverse-printed by gravure in seven colors. It's adhesive-laminated to a special 4.3-mil coextrusion the pouchmaker won't identify. It is said to provide a high barrier to oxygen as well as moisture. By reducing overall packaging costs, the pouch allows ITC Agro-Tech to sell at a lower retail price compared to rigid oil containers.
Indian oil packers such as ITC Agro-Tech have tried producing f/f/s packs, but sealing difficulties resulted in leakers. In contrast, this three-side-sealed pouch is formed on a sophisticated pouchmaking machine from Nishibe Kikai Co. (Kunagoya, Japan). By making the seals away from any product contamination, it virtually eliminates leakers. A special pouch filling and sealing machine developed by a Flex Industries sister company for ITC Agro-Tech runs at speeds to 30/min compared to 12/min for f/f/s packs.
Like other refill pouches, these 1- and 2-L offerings provide substantial source reduction. The smaller pouch weighs only 11 g empty compared to 40 g for a typical 1-L PET bottle and 90-g for a 1-L HDPE container in India, says the supplier.
Milk pouch in Mexico
An honorable mention in the food category was awarded to an aseptically packaged 1-L pouch of milk (4) marketed without refrigeration by Productora Agropecuaria Mautam of Puebla, Mexico.
While unrefrigerated milk is common in aseptic brick-style packs, this is a flexible pouch. "The pouch is cheaper than other shelf-stable packages. It uses less material, making it more environmentally friendly," says Emilio Maurer Espinosa, one of three brothers who own Mautam.
The product's shelf life, approximately six months, comes by way of machinery and material. The packaging machine is DuPont's DA-4000 aseptic vertical form/fill/seal machine. According to Bruce George, manager of aseptic systems for the Liquid Packaging Division of DuPont Canada (Whitby, Ontario, Canada), Mautam is the first to use this system.
Mautam installed the system in late '95. Espinosa tells PW, "This is the only extended shelf-life pouch sold in Mexico. We distribute it in non-refrigerated trucks to southern states in Mexico, where it's sold by grocery stores and big department stores."
Espinosa admits that ESL milk is not an easy sell. "People still don't believe that a package can keep the milk fresh for so long," he explains. But through educational marketing and advertising, retailers and consumers alike, "are getting used to the idea and they're starting to like it."
Pouches are sold individually and in cartons of 12. The price of the 1-L pouch is about 40 pesos (about 6¢) more than 1 L of refrigerated milk, but the shelf life is far superior to the two to four days offered by the refrigerated milk. Once the pouch is opened, the product must be refrigerated. It then provides the same shelf life as refrigerated milk.
Like the equipment that produces the pouch, the material also comes from DuPont. It's a 4-mil coextrusion of polyethylene/ethylene vinyl alcohol/polyethylene from DuPont. The material is reverse-printed flexographically in four colors.
Success with sorbent film
The final pouch recognized this year is made of an oxygen-absorbing lamination. It will allow the U.S. Army to eliminate an oxygen-scavenging sachet in its packaged bread (5) for MREs (Meals-Ready-to-Eat) without reducing the current three-year shelf life. The package is in the final phase of qualification and commercialization. It resulted from a cooperative development effort among converter Cadillac Products (Troy, MI), U.S. Army Natick RD&E Center, and Amoco Chemical (Chicago, IL).
The Army sees several advantages in using "active" packaging that's capable of scavenging its own oxygen. First, there has always been a concern about the theoretical possibility that the sachet or its contents might be perceived as ingredients and thus might be ingested. Second, by eliminating a component, packaging line productivity should increase. Third, product distortion is eliminated. And fourth, elimination of the sachet means a reduction in waste.
Sterling Bakery of Sterling, TX, has the current contract for the Army's MRE breads and will remain the vendor using premade pouches from Cadillac that it fills and heat seals. Ahead of pouch-making in the converting process is a coextrusion of Amoco's Amosorb® material into the sealant layer. This coextrusion is then taken to a tandem laminator. In its first station, a reverse-printed 48-ga polyester is extrusion laminated to foil. At the second station, the Amosorb sealant coextrusion is adhesive laminated so that it becomes the innermost layer, thus contacting the bread.
Just what is Amosorb? While patent applications are pending, Amoco isn't saying. It does identify the material as generally recognized as safe (GRAS). Amoco believes this new sorbent technology holds great promise for commercial applications, too.
3-D graphics
Winning an honorable mention in the nonfood category was Soft Soap Aquarium (6) from New York-based Colgate-Palmolive. The 7.5-oz polyethylene terephthalate bottle employs a clear film "label" that floats in the clear soap. Front and back clear film labels carry graphics that complement the aquarium-based graphics on the floating label. The end result is a three-dimensional aquarium scene.
Launched nationwide in October '95, the pump-style bottle of soap retails for $1.79. While material specifications are considered proprietary, vendors who helped develop the unusual floating label are identified as Quality Assured Label (Hopkins, MN) and ink supplier Sun Chemical (Carlstadt, NJ). Especially challenging was finding a film structure and suitable inks that could stay submerged in the soap product throughout the life of the product without breaking down.
RF processing of meat
APV Processed Food Sector (Crawley, England) won its award for ingenuity in food processing, although packaging certainly plays a role in the first installation. What APV came up with is a system of radio frequency cooking of meat that greatly reduces the cook time. Following the cooking system is an in-line flow wrapper, ink-jet printer, checkweigher and vacuum sealer.
The first installation of the unusual system is at Tulip Intl. AS, based in Aarhus, Denmark, to process and package luncheon ham that stores slice to order for their customers.
With the APV system, whole muscle meat that has already gone through a tumble/tenderize/season process is dumped into a reservoir holding about 2ꯠ lb. A twin-piston metering pump sends the meat through pipework to the two sequential cooking units, each about 15' long and 8' high. As the meat is pumped through the cookers, it's formed by the tubes into the final 4" x 4" shape. Radio frequency energy pasteurizes the meat to 72°C in less than five minutes as the meat flows through the cooking tubes made of engineering-grade plastics. That compares to nearly five hours under conventional processing methods. The combination of heat and pressure causes the proteins to change, and what once were individual chunks of meat become part of a solid mass.
Emerging from the second radio frequency cooker is a continuous log of meat. It's cut automatically into 36" sections and conveyed into an in-line flow wrapper. This machine wraps it in a metallized polyethylene described as unextraordinary by Per Moller, managing director of Tulip's Ham Div. It's then date-coded by an ink-jet system from Videojet (Wood Dale, IL) and checkweighed automatically. Finally the pack is vacuum sealed by a system developed in-house by Tulip.
APV claims the combined processing/packaging system reduces both production costs and the risk of bacterial contamination. The production system at Tulip can churn out 2ꯠ tons of meat/hr but requires only 25% of the space and 25% of the labor for similar output where conventional methods are used, says APV.
As Packaging World went to press, only limited quantities of meat had been produced, and in fact the system was out of operation for improvements. But Tulip is clearly excited by the potential of the APV system, developed under sponsorship of the Danish Ministry of Agriculture over a six-year period.
Lightweighted film for cook-in ham
Downgauging from a 10-mil to an 8-mil clear barrier film structure for cook-in ham (7) and poultry merited a food category award for Bayer Corp./Wolff Walsrode (Burr Ridge, IL). The film is manufactured in Walsrode, Germany, and slit at the company's Burr Ridge facility. Bayer/Wolff Walsrode began customer testing of its Combitherm HAM film in early '95. Tim McDivit, the company's general manager, describes the film as an 8-mil, seven-layer coextrusion that includes nylon and DuPont's Surlyn®.
One firm using the film commercially is Clougherty Packing Co. for its Farmer John-brand cook-in hams. Says Peter Auer, general plant manager for the Los Angeles company, "The film offers a nice, shiny appearance and the barrier qualities we need, especially for UV lighting conditions." He says the downgauged structure reduces material costs as well. Clougherty packs the ham on a Tetra Laval Tiromat (Avon, MA) thermo-form/fill/seal machine.
DuPont and Bayer/Wolff Walsrode jointly developed the Combitherm film. It uses modified nylon 6 with altered crystallinity that is said to provide an inherent ultraviolet light barrier. This helps prevent discoloration that can happen when product is displayed under fluorescent lights in supermarkets. The film also offers improved oxygen barrier.
Companies in this article