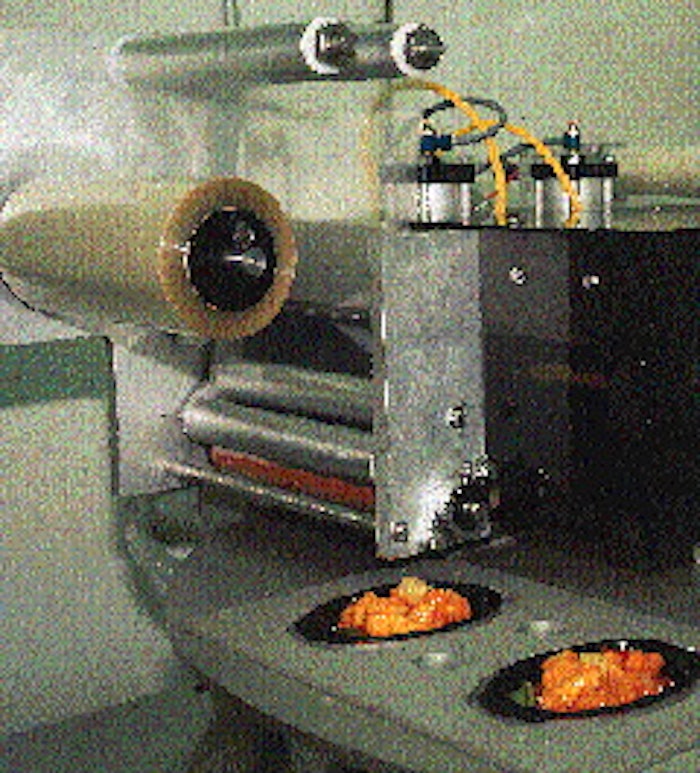 Can modified atmosphere packaging combined with distribution in the frozen state enable a small Chinese food marketer to get cooked, packaged entrees into the refrigerated deli sections of the nation's supermarkets?
Jeff Devon of Neptune, NJ-based Ling Ling Foods hopes so. He's spearheading the launch of a line of Chinese entrees-rice, vegetables, and chicken or pork-that are given MAP treatment and then immediately frozen. At the supermarket, deli operators thaw the product for display in the refrigerated case, and that's when the modified atmosphere inside the package kicks in, providing a shelf life of up to seven days. Consumers simply reheat the items in a microwave or conventional oven.
Why distribute frozen when traditionally the whole idea behind MAP is that it permits distribution of a fresh product? Because Devon tried chilled fresh foods once before at Grace Culinary Systems, the Laurel, MD, firm that drew considerable attention in the late '80s for its bold commitment to marketing fresh prepared foods via sous vide technology. That firm exists no more, but the lessons Devon learned there have him convinced that "the realities of distribution" make freezing indispensable.
"Back then we were all touting the Marks and Spencer system that had proven itself so successful in the U.K.," says Devon. "But I guess nobody ever took out a map and compared the size of the U.S. to the U.K. Not only was distance a problem in the U.S., there was no distribution infrastructure in place."
That's not to say Devon has given up the hope of one day marketing fresh, never frozen, prepared entrees in MAP packages in U.S. supermarkets. The way he sees it, Ling Ling's current package is an important stepping stone in that direction. It consists of:
* a stock crystallized polyethylene terephthalate tray thermoformed by Mullinix (Fort Wayne, IN)
* from DuPont (Wilmington, DE), a clear peelable Mylar® polyester lidding with antifog additive
* a snap-fit protective PET dome thermoformed by Mullinix.
Though polyester is not considered the world's most efficient gas barrier, Ling Ling's CPET tray and polyester lidstock provide enough barrier to get the product from plant to central warehouse to supermarket deli to consumer. Devon admits he's done no tests to determine how long the product can remain frozen and still be saleable when thawed. He estimates it's somewhere in the range of nine months. But he says the question is moot because the only retailers he's targeting are those who know how to turn their frozen inventory long before shelf life becomes an issue.
Just another frozen food?
It's tempting to dismiss Ling Ling's program as nothing more than another line of frozen food. But Devon disagrees, because at the point where consumer meets package, a Ling's Chinese Deli package is nothing like a Healthy Choice or Budget Gourmet item found in the freezer.
"When you buy a frozen food package, you're buying photography," says Devon. "The product inside looks nothing like what's on the package. With our package, consumers see exactly what they're buying. And the look of the black oval is terrific."
The decision to avoid an outer carton and let the food sell itself is a deliberate reversal of the strategy pursued in the late '80s by firms like Nestlé, Kraft and General Foods. They were the U.S. pioneers who, also smitten by the Marks and Spencer miracle, tried to market refrigerated foods with MAP providing extended shelf life. (Remember brands like Fresh-Nes and Culinova?) Not one succeeded. Devon admits that one of their problems was that they were ahead of the marketplace. But he also observes that all of them relied on glossy photography on folding cartons to sell their product to consumers. Ling Ling was determined from the outset to avoid that mistake. Still, Devon wonders if that will make enough of a difference to U.S. retailers.
"As good as our packaging is," says Devon, "the real challenge for small manufacturers like us is in finding the retailer that understands cutting edge products and packaging and is willing to partner with the manufacturer to make it happen. New innovation often comes from the small manufacturers, but without retailer support of the process, such innovation will cease."
One of Ling Ling's advantages is that it already has a solid relationship with its supermarket customers. Since 1989 it has provided them with frozen 3-lb bulk packs of cooked chicken or pork with sauce in flexible pouches. Like the new single-serving line, these are thawed out by deli operators and displayed chilled. But because they're not prepackaged, they must be scooped into take-out containers by deli personnel and then weighed and labeled, all of which takes time.
This non-MAP bulk business will continue to represent the lion's share of Ling Ling's business. But Devon says some retailers are stepping away from the service deli concept because it requires too much investment in personnel. This retreat by retailers is the main motivation behind Ling Ling's launch of its prepacked line in dual-ovenable trays.
Semi-automatic filling
Filling of the CPET trays is done semi-automatically. It begins with manual placement of 6 oz of cooked white rice into trays on a single-file conveyor line. Next is an automatic piston depositor from Orics (Flushing, NY) that deposits 4 oz of sauce. After operators weigh 3 oz of either chicken or pork into the tray, they top it with green and red peppers and water chestnuts if the items are supposed to include vegetables. Two trays are then loaded into the cavities of the rotary table that takes them through a model R-20 rotary lidding system, also from Orics.
Though the machine is capable of 30 cycles/min, Ling Ling produces more like 10 to 15/min. In each cycle, two trays are evacuated and backflushed with a mix of carbon dioxide (to retard microbial growth) and nitrogen (to keep the package from collapsing as CO2 is adsorbed into the tissue of the food products). Also, a clear flexible lidding material pulled from rollstock is heat-sealed to the flange of the tray. Supplied by DuPont, the 150-ga 150 OLAF Mylar® polyester has an oxygen transmission rate of 3 cc/100 sq"/24 hrs. The tray has not been tested for OTR, but Devon says the material is perfectly adequate where permeability is concerned. The sheet from which the tray is thermoformed is 35 mils thick; in its thermoformed state the tray gets as thin as 15 mils.
Filled and covered with peelable lidding, trays are racked and wheeled to a freezer. Later they're each given a clear PET dome and decorative paperboard band before being packed in corrugated shippers, eight per shipper. Though Devon likes the graphic impact gained with the band, he doesn't like that its moisture-resistant coating drives its cost to about 11¢/ unit. So he's looking for a replacement.
Cases are sent to supermarkets' central warehouses by common carrier with instructions for the deli managers in the individual stores to code-date the price label they apply in-store. Suggested retail price is $2.50.
Lessons learned the first year
In its earliest efforts, Ling Ling didn't offer the line of products that include the vegetables.
"We realized early on," says Devon, "that if we were going to include vegetables, shelf life in the refrigerated state would be very short because the relatively high water content in vegetables means faster-growing micro-organisms and, consequently, faster food spoilage. So we opted for a seven-day shelf life and left the vegetables out."
Some retailers, however, felt vegetables were a must. As Devon puts it, "Vegetables are expected in Chinese foods."
So 12 months following the April '95 launch of the five-item Ling's Chinese Deli line, a "parallel" line including vegetables was added. Recommended shelf life after thawing out is three days for these products, which, Devon says, shocked supermarket deli buyers at first. But then a few realized it might be a good idea.
"All we hear retailers say anymore is that they need to compete with Boston Market, they need to offer home meal replacement items," says Devon. "But when we showed them prepackaged entrees with great taste, great vegetables, great texture, and, oh by the way, a three-day shelf life after thawing, at first they said forget it. But then we pointed out that if they expect to compete with Boston Market, how can they expect to do it with seven-day-old food? That's gotten some of them to think that maybe prepackaged food with a three-day shelf life isn't such a bad idea after all."
The evacuation and back-flush of gases to retard microbial growth is the same whether vegetables are included or not. Devon admits that when the intended shelf life following thawing is a mere three days, the MAP part of the picture could almost be skipped. But, he adds, "It's just one more cushion in case the retailer or consumer mishandles the package from a temperature standpoint or tries to stretch the intended expiration date."
Devon points out that Ling's Chinese Deli products were tested for shelf life at abuse temperatures and ideal temperature, and the results under the abuse conditions served as guidelines. He also observes that "shelf life" should probably be clarified.
"When it comes to refrigerated shelf life on the items that include vegetables, for instance, microbiologically or food safety-wise it's probably seven to ten days, not three. But the organoleptic quality starts to deteriorate because the broccoli gets limp and begins to yellow after four or five days." By recommending that the retailer give the package a sell-by date of three days, that kind of deterioration is avoided.
Another point Devon emphasizes is that Ling's Chinese Deli items will not be aimed at all retailers.
"We're going to be selective," he says. "We'll stick with market leaders who not only have a commitment to fresh prepared food in the deli but also have managed to attract a base of customers who are familiar with it and willing to pay for it. Otherwise, we'd have to create an awareness that our product category exists, and we're too small to do that."
Private label push
Another strategy is to try to find ways of making the retailer a partner in the marketing of the concept, possibly through private-label packaging. Toward that end, Ling Ling had a booth at the Private Label Manufacturers Assn.'s annual trade show last November, and the response was good. More than one firm is now developing a label under which it plans to market Ling Ling's line. The first to reach the market will be the Shurfresh Brand of Shurfine, Intl., a private-label buying group based in Northlake, IL.
"Home meal replacement is a hot button," says Shurfine's George Zerente, product manager for perishables. "Grab-and-go meals like those developed by Ling Ling are not only attractive but have a price point that I think fits a need of our member customers." Zerente opted for the vegetable-free line of products because the seven-day shelf life was attractive. But he says the items that include vegetables are a possibility in the future.
Devon welcomes the private-label push his program is beginning to get.
"We radically underestimated the cost of getting into this business," he says. "Marketing, merchandising, promotional materials, slotting fees-these things can kill a little company like ours. So we're trying to determine if a private-label approach might be a way to make the retailer a partner with us in marketing efforts and other forms of support."
Devon believes private-label business may be the best way to create widespread consumer awareness of this still-new package/product concept because it enlists the considerable resources of the retailer. Once the category exists, a manufacturer like Ling Ling can go back to focusing on its branded product because now, thanks to the marketing and merchandising support of the retailers, a recognizeable category exists. Consumers understand the concept and know where to look for examples of it.
"There are strategies you can use, too, so that when you do refocus on your own brand, you avoid competing directly with the private-label 'partner' you just relied upon to create the category," says Devon.
Ling Ling's progress-or lack of it-over the next few quarters should be instructive, particularly in this current era of renewed interest in MAP items sold in the refrigerated section. The timing may at last be right for such products in the U.S. marketplace. As the deli buyer at one prominent supermarket chain in the Northeast puts it, "Fresh, chilled, prepared foods in MAP will be the order of the day in the not too distant future."
Companies in this article