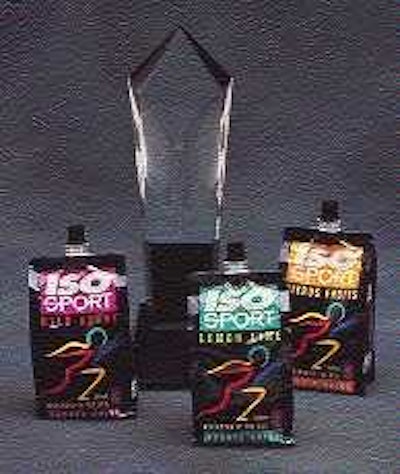 Nine special packages were winners in this year's ninth annual DuPont Awards for Innovation in Food Processing and Packaging. Beverage products made an especially strong showing, as did flexible materials.
An eight-member, independent judging panel selected the winners from 67 entries. With winners hailing from Australia, Japan, Belgium, Italy, France and Puerto Rico, DuPont's Ninth awards program was again peppered with an international flavor. The competition's prestigious Diamond Award went to the most innovative food category winner: the CheerPack flexible beverage container (1) from Hosokawa Yoko, Japan, and Southcorp Packaging, Australia.
According to Mario Capazario, marketing manager for converter Southcorp Packaging (Melbourne, Australia), Hosokawa Yoko (Tokyo, Japan) designed the stand-up pouch and also manufactures it in Japan. "And we own the licensing rights to manufacture it in Australia," he says.
The first commercial application of the pouch is for Isosport, a salt-containing isotonic beverage marketed in various sizes and flavors by Adelaide, Australia-based Berrivale Orchards Pty. Ltd. The package was launched last year.
The adhesive-laminated CheerPack structure includes an external layer of 48-ga polyester for printability/36-ga aluminum foil for oxygen barrier/48-ga of polyester for impact and pressure resistance/4-mil inner layer of polyethylene as a food contact and sealant layer. Southcorp gravure-prints the pouches in up to six colors.
CheerPack incorporates a protruding rigid drinking spout with a permanently attached internal straw. The pouch's dual-function design gives the consumer the option of drinking from the straw or pouring from the spout.
Much like its competitors in the aseptic brick pack market, Southcorp provides the material (in this instance, rollstock) and the equipment to hot-fill the pouches. "We're a systems supplier," says Capazario. "And we also helped to identify the sports drink market as a good one for CheerPack in Australia. Most of these drinks are sold in glass bottles, or in a plastic bottle. This pouch is positioned ideally for the sports market in that it is easy to squeeze and carry around for the active person. It stays cold a long time, and provides an eight- to nine-month shelf life."
Hot-fill, shelf-stable juice pouch
While the flexible container won cheers in Australia, DuPont cited Santa Isabel, Puerto Rico-based Procesadora Campofresco's Caribik Sun® (2) as the first hot-filled, shelf-stable pouch for packaging 100% natural orange juice, tropical juices and fruit-flavored drinks. Pouches are produced from DuPont film, a barrier structure described as a coextrusion of linear low-density polyethylene and ethylene vinyl alcohol that's filled at rates to 100/min on a proprietary DuPont form/fill/seal machine.
Procesadora vice president Carlos Carrillo prefers not to divulge more specific film or filler specifications, as the process is patent-pending.
First marketed last January, single-serve 4-oz pouches of Caribik Sun were part of the Federal School Lunch program in Puerto Rico, with hundreds of thousands sold daily. Prior to this, school lunch juices were in tin cans containing 46 oz. Compared with the can, Carrillo says the pouch generates 70% less waste for disposal, both by weight and volume. Compared to aseptic brick packs, he says the pouch provides satisfactory flavor, aroma and appearance characteristics, but with less cost and storage demands. "And the pouch provides over four months of shelf life on orange juice, and over six months on our other beverages," he notes.
The pouch helped create an outlet for locally grown oranges, of which some 40% had been left to rot for lack of markets. Procesadora, the island's only fruit processor, now works with nearly 700 farmers (up from less than 200 originally) in a program that's "been so effective and well-received that we introduced the pouches recently to retail markets," says Carrillo. "Kids are accustomed to the straw and pouch package and we believe they'll be receptive to Sakito, which means 'little sack' and uses a kangaroo as a mascot to emphasize its namesake."
Sakito pouches are now sold retail in four flavors, and in four sizes ranging from 4 to 8 oz. Carrillo notes that the pouches are now sold in the U.S. Virgin Islands as well. Carrillo also tells PW that Procesadora Campofresco "has conducted tests on dairy products using this pouch, and there's a possibility of [using it commercially] down the road."
RPET for shelf-stable juice containers
Another juice container, Veryfine Products' blended juice and juice cocktails, was recognized as an environmental category winner. The Westford, MA-based juice packer's container (3) represents a first for plastic shelf-stable single-serve offerings in this category (see PW, July '94, page 64.) The five-layer structure includes polyethylene terephthalate/ ethylene vinyl alcohol/post-consumer recycled PET/EVOH/virgin PET.
As an alternative to glass, aluminum and multilayer aseptic boxes, the 8- and 16-oz hot-fillable single-serve juice bottles have an overall post-consumer recycled content of 35%, which Veryfine ultimately hopes to increase to 50%.
Injection stretch/blow-molded by Continental PET Technologies (Florence, KY), the bottle utilizes the two ultra-thin layers of EVOH to protect the RPET layer from product contact as well as provide an oxygen barrier that's three to four times that of monolayer PET. The EVOH layers, which account for only 1.5% of the container's weight, do not prevent the containers from being recycled in the general PET recycling stream, according to Continental.
Designed for foodservice and vending applications, the bottle initially debuted in a 16-oz version in July '94 for Veryfine Chillers® and Apple Quenchers(TM) juice products (retailing for $1.19 and 99¢, respectively). The 8-oz bottle came out in May '95 for Juice-Ups(TM), which sells for $3.39 for a six-pack. Although the containers are more expensive to manufacture than glass, Veryfine says it has not upped the consumer cost.
Continental molds the container via its proprietary sequential co-injection technology, which involves injecting virgin PET and EVOH followed by RPET into each cavity. Electrostatic hydrogen bonding cause the dissimilar PET and EVOH layers to "stick" together, which makes it possible to avoid the use of adhesive layers that would interfere with container recyclability. The two-stage reheat-and-blow stretch/blow process yields containers capable of withstanding filling temperatures of 185°F. For its part, Veryfine had to design a custom bottling line capable of hot-filling PET at line speeds equal to or greater than that for glass bottles.
Refillable PET in Netherlands
Thirst quenching Spa brand mineral water (4) garnered an environmental category award for Brussels, Belgium-based Spadel. Spadel uses a refillable 1.5-L polyethylene terephthalate bottle that's capable of withstanding cleaning temperatures to 167°F. Bottles are injection/stretch-blown by Spadel on a French-made Sidel (Doraville, GA) SRCF 6/10 two-stage blow molding machine. The container was developed for product sold in the Netherlands in response to that country's stringent environmental guidelines favoring refillable or recyclable containers. (Interestingly, PET is not considered a widely recyclable plastic in that country.)
Although this package replaced single-use PET, the marketer views it as an alternative to glass, which is the other refillable package of choice in the Netherlands. Although other bottlers have since come out with refillable PET bottles in that country for mineral water (in sizes from 1 to 2 L), Spadel was the first, debuting its container in June '94. Empties are returned via the product's distributors.
What is it about the bottle that allows it to withstand the higher temperatures? It's blown, heated, and then blown again on a second wheel. This gives the finished bottle an unusually high degree of crystallinity, which in turn means better heat resistance. The higher crystallinity also enhances the gas barrier in both directions, slowing O2 intake and decreasing CO2 loss in the case of Spa's carbonated water.
The two-stage molding process consists of a preform infeed system that reheats cold preforms, followed by the first blow wheel that produces an oversized container. Bottles then pass through a "recovery" (where they shrink) and crystallization oven heated by infrared radiation that heat-conditions the container. Bottles then enter the second blow wheel for final blow molding. The result, in the case of Spadel, is a container with a sidewall crystallinity of 40%.
So far Spadel is using the refillable PET bottle only in the Netherlands and nearby Luxembourg, with a limited market test currently being conducted in Belgium. In all its other European markets, Spadel continues to use single-use PET bottles (blown on other Sidel equipment), although marketing manager Bruno Van Sieleghem says use of the refillable-PET bottle could be extended to the rest of Belgium, Germany and France, depending on the outcome of current environmental legislation.
Dispenser pump
Winning a special citation in the non-food category is Taplast® (Povolaro, Italy) for an all-plastic dispenser pump (5). It replaces a metal spring with a plastic bellows system design for a completely recyclable dispenser that uses less material.
It consists of external conical bellows made of polypropylene, with the blower, tube and internal membrane made of polyethylene. The bellows system needs 20% less pressure for smoother dispensing. A locking nozzle, opened or sealed with a 90° rotation, eliminates leaks.
Italian cosmetics manufacturer Henkel SpA is using the dispenser for its Neutromed liquid soap. The 300-mL bottle is sold throughout Italy with distribution soon expanding into Austria.
Shipper spears new prospects
Primarily used for shipping asparagus from California to Mexico, South America, Europe and Asia, Advanced Container's (Tracy, CA) patented new corrugated plastic asparagus container (6) has been slow to gain attention in the U.S. However, it was a winner in the food category of this year's DuPont awards.
Designed to replace traditional wooden crates and waxed corrugated boxes, the polypropylene containers are one-piece, interlocking boxes that weigh 50% less than wax-coated paper boxes. They hold either five or six kilos. They're shipped to end-users like Jacobs, Malcolm and Burtt, a San-Francisco-based grower and marketer of asparagus, which switched to the containers as soon as they became available in 1994. Leo Rolandelli, president, cites shipping cost savings as the number one benefit: "On an LD7 or LD3 airplane, you can put 125 more boxes in the same square footage. The more you can put on, the lower the unit price gets for your customer."
Though reusable, Rolandelli says that shipping distance doesn't warrant the return of the containers. They are, however, fully recyclable and can withstand hydro cooling and refrigeration without deterioration. Additional benefits of the package come in stacking strength, as well as refrigeration and cooling. Die-cut holes allow heat and air to escape, maintaining freshness equivalent to wooden crates and superior to wax cascaded paper boxes, says the company.
The containers have been so successful that they are currently being redesigned for other produce. They're also being considered for nonfood applications.
Earning a special citation in the food category was Tetra Pak (Chicago, IL), and Cincinnati-based Chiquita for the TR/6 Slim(TM) SiOx-coated gabletop carton used for Chiquita Light beverages (see PW, April '95, page 24).
Multiple companies received a joint award for adding reclosable zippers to stand-up pouches in the snack and pet food areas. They include Newport, KY-based Heinz Pet Products' 9 Lives Meaty Morsels cat food in stand-up pouches (see PW, March '95, page 24). Printed and laminated by James River (Milford, OH), the pouches include a reclosable zipper from Minigrip/Zip-Pak (Manteno, IL).
Also winning for stand-up pouches with reclosable zippers were two snack mixes: Fisher Nut and Procter & Gamble won with pouches made by converter American National Can (Chicago, IL) and Nabisco Biscuit won with vendors Printpack (Atlanta, GA), Toray Plastics (North Kingstown, RI), Presto Products (Appleton, WI), and Klockner Bartelt (Sarasota, FL).
Finally, in the non-food category, Lion Precision (St. Paul, MN), was recognized as the first to use capacitance technology for sensing of clear film labels.
Companies in this article